The Smoky Mountains STEM Collaborative
Bridging the Gaps in the K-12 to Post-Secondary Education Pathway
               
STEM is an acronym for Science, Technology, Engineering and Mathematics, which are powerful tools in our society and our economy, and which impact our life daily.  
Southwestern Community College has been awarded a grant from NASA (National Aeronautics and Space Administration) to enrich STEM education in our schools and communities, in partnership with Appalachian State University. As part of the Smoky Mountain STEM Collaborative, SCC and ASU will be working with local partners to expand opportunities for STEM education in western North Carolina: the Pisgah Astronomical Research Institute, the Great Smoky Mountains National Park, NASA Marshall Space Flight Center, Cherokee Central Schools, Jackson County Public Schools, Macon County Public Schools, and Swain County Public Schools.
For undergraduates
the grant will provide opportunities:
To participate in faculty-led research with established scientists from Appalachian State University and Southwestern Community College.
To work with experts on research at the Pisgah Astronomical Research Institute during a two-day stay.
For younger students
additional projects will be funded through this grant to increase student engagement and success in STEM, and increase the number of local students who decide to pursue these excellent and fulfilling careers. These include:
Working with local math and science teachers in middle and high schools to incorporate some of the science NASA has been researching since 1958 to strengthen and enrich those classes,
Professional development workshops will be held for middle school and high school teachers in science and mathematics, highlighting many NASA educational resources. Workshops will be arranged to maximize teacher attendance.
GLOBE (Global Learning and Observations to Benefit the Environment) training will be offered for one teacher in each area (Jackson, Macon, and Swain counties, and Cherokee Central Schools). This training helps teachers incorporate inquiry into science classes by having students collect real data to be shared online.
Orientation sessions describing NASA and related STEM educational opportunities and career choices will be held for middle and high school guidance counselors.
STEM camp one week each summer for rising fifth through tenth graders. STEM camp will include a one day visit to Appalachian State University to introduce students to scientists engaged in research, and a one day program at Pisgah Astronomical Research Institute.
For the public
the Smoky Mountain STEM Collaborative will provide local opportunities to increase understanding of scientific principles through events like Starry Nights, where telescopes will be set up and available for the public to see the night sky and hear experts discuss what they see.
STEM technological and instructional resources will be gathered in a physical and virtual collection to be shared with educators in the region.  
Job opportunities in STEM fields are expected to continue to grow in the coming years. The local, state and federal workers involved in STEM jobs range from park ranger and teacher to surgeon and astronaut. Many take care of our most basic needs, like our daily need for clean water and electricity.
---
2019 Total Lunar Eclipse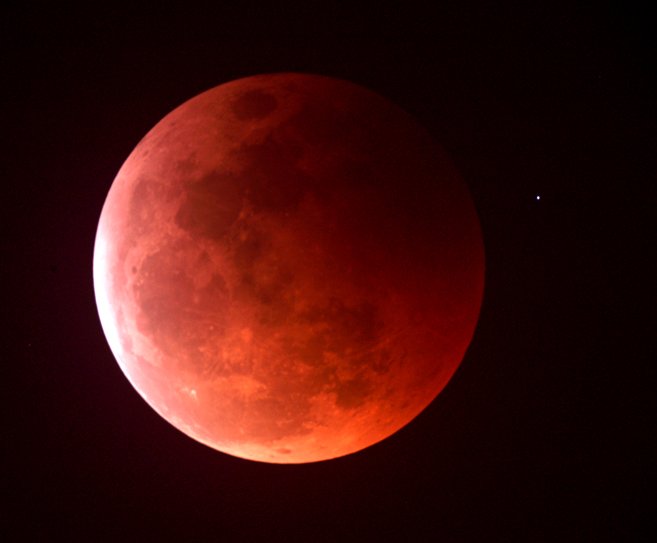 The Public Event at the Cullowhee Airport has been canceled.
The total lunar eclipse has totality lasting over an hour so you can still catch glimpses of the red-tinged Moon in Earth's shadow beginning at 11:41 PM - it will be well worth a quick pop outside to see this event from your driveway or backyard.
Remember to take the same precautions you would against cold weather that you would normally because the sky may be clear but the temperature will be in the teens!
Be sure to check back here frequently for details about your next chance to peek through a telescope - coming in March we will be hosting another star party!
Current Status: Due to inclement weather and extreme temperatures this public event has been canceled. 
---
Summer STEM Academy

A week-long hands-on experience for Jackson County school children exploring STEM topics.
Runs June 18th- 22nd
For children entering grades 4 - 8 as of Fall 2018.
Breakfast and lunch will be provided.
Students are expected to be dropped off by 8 am and picked up by 1 pm.
Hosted by Smokey Mountain Elementary.
Applications for 2018 are now being accepted, click this link to apply!
---
Appalachian State University - Student Summer Research Experience

A month-long (June 2019) research experience for community college students (ages 18 or older) on the campus of Appalachian State University.
Student Researchers will spend four weeks housed in a dorm on App State's campus as they work with App State faculty doing research in either mathematics, physics, or astronomy.
Room and board are covered so the experience is at no cost to students!
Students will stay in private bedrooms at the luxurious Appalachian Heights well within walking distance to campus and beautiful downtown Boone!
In addition to conducting their own research and learning about the research of other faculty; students will have downtime to explore campus and the greater Boone area with opportunities to enjoy hiking or paddling down a river!
Students will have the opportunity to share the results of their research with fellow participants at the end of June and with a wider audience at a regional meeting in the fall!
Students will receive a stipend of $250.00 and funds are available to assist in travel to and from Boone.
Applications for 2019 are now being accepted,
click this link to apply!
For more information regarding the Summer Research Experience;
please contact Matt Cass (
mcass[at]southwesterncc[dot]edu
) or
Rene Salinas (
salinasra[at]appstate[dot]edu
).
---