Cosmetology students provide salon services this semester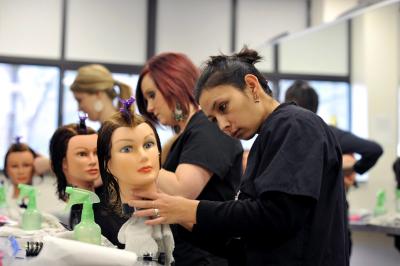 Hannah Wildcat (front) of Cherokee works on a mannequin during a recent Cosmetology class at SCC. In the background are Kaylee Marsengill (center) of Franklin and Shannon Marsden of Sylva.
As an essential element of the learning experience, cosmetology students at Southwestern Community College students are offering haircuts, manicures and nail tech services this spring.
Students provide haircuts on a first-come, first-serve basis from 8-11 a.m. on Tuesdays through Thursdays at SCC's Jackson Campus. Pricing is $12 for women and $8 for men. Shampoo and style costs $10, and other services are offered at discounted rates.
All faculty, staff and students that present a current student ID or schedule will receive services at half-price.
There is limited availability in the afternoons by appointment only. Call Randy McCall, SCC's cosmetology program coordinator, at 828.339.4238 to reserve a time slot.
Work is done entirely by students, who are supervised by SCC instructors. McCall said SCC cosmetology students are required to gain 1,052 hours of advanced lab work prior to graduation. The first 448 of those are spent strictly working with mannequins.
Students must complete a mandated number of live model performances, so clients from our community are essential to the success of our Cosmetology students in the classroom.
Manicuring and nail tech students offer their services from 6-8 p.m. on Tuesdays and Thursday. McCall recommends calling ahead to check availability.
For more information about the cosmetology program at SCC, contact McCall at
rmccall[at]southwesterncc[dot]edu
.