Fall Foursome will be Sept. 16 at Balsam Mountain Preserve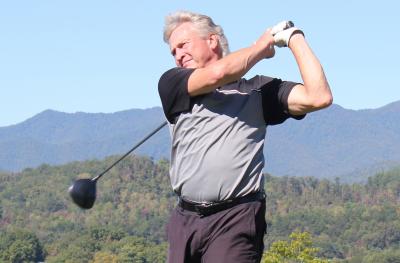 Bill Hambling of the Andy Shaw Ford team tees off at the SCC Foundation's Fall Foursome last year. This year's event, which raises money for scholarships, will be held at the Balsam Mountain Preserve.
The Southwestern Community College Foundation has secured a Sept. 16 date to host its 26th annual Fall Foursome golf tournament at Balsam Mountain Preserve.
It's the first time the college's fundraising arm will hold its tournament at the private Arnold Palmer design in Jackson County. The event raises money for scholarships to help students pursue their higher education at Southwestern.
"We are delighted that Balsam Mountain Preserve has agreed to let us use their beautiful course for this event," said Mary Otto Selzer, director of the SCC Foundation. "It's a rare opportunity for many area golfers to experience Balsam Mountain Preserve while helping make a difference in our community."
More details, including sponsorship and entry rates, will be released this summer.
The SCC Foundation will begin taking registrations on July 15, but anyone interested in fielding a foursome can get on the waiting list for the event by contacting Kathy Posey, SCC's Institutional Development Associate, at 828.339.4227 or
k_posey[at]southwesterncc[dot]edu
.