mySCC - Where do I find my Grades, Transcripts and Schedule
1.  Open your Internet Browser and type www.southwesterncc.edu, which will take you to the college's web site.
2.  From the college's web site, click on the Login mySCC button, which is located in the upper right hand corner of the page.
3.  Login with your user name and password.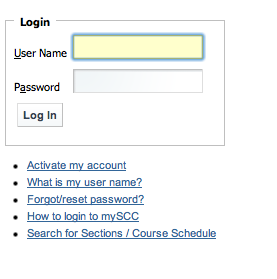 4.  You will be prompted to read and accept Southwestern Community College's Appropriate Use of Computing Resources.
      
5.  Then you will be asked to setup your Password Reset Questions and Change your password. Please make sure to click the save button under the questions and click OK to save your password.
      
6.  Click on the WebAdvisor icon in the upper left corner to access your grades, transcript or schedule.
      

7.   Click on the Student Menu button located to the right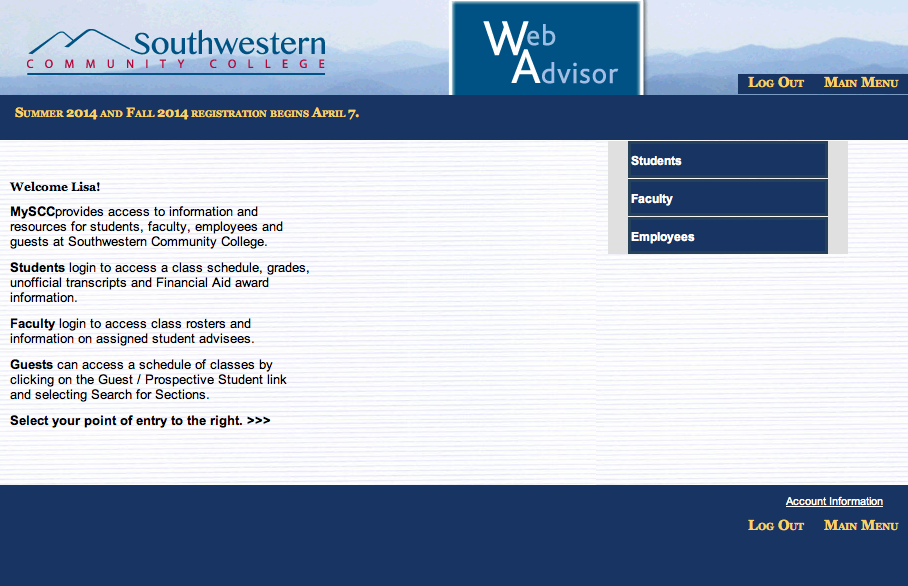 8.  Here you will see the Student Menu where you can choose from the following:
   

   
      
Grades - To view your grades for specific term, click on GRADES. Select the term and click on the Submit button at the bottom of the page.
Unofficial Transcripts - To view an unofficial copy of your transcript, click on the UNOFFICIAL -Transcript. Under Transcript Type, make sure Curriculum Transcript is showing - then click the Submit button.
 ** FULL TRANSCRIPTS MAY BE DELAYED**
My Class Schedule - To View your class schedule, click on My Class Schedule. Select the term for which you wish to see your class schedule, click on the Submit Button
Search for Sections - To search for open sections of courses for the next term, click on Search for Sections. Select the term (ex: Spring 2014) and follow the directions.
PRINT - You can print any of this information by using the Internet browser's print option.