Print
HOLT LIBRARY - ITS COLLECTIONS AND SERVICES
Holt Library is located on the south end of Jackson campus in an energy-efficient building of 11,000 square feet with 110 seating spaces divided into three study areas (collaborative, quiet, and silent).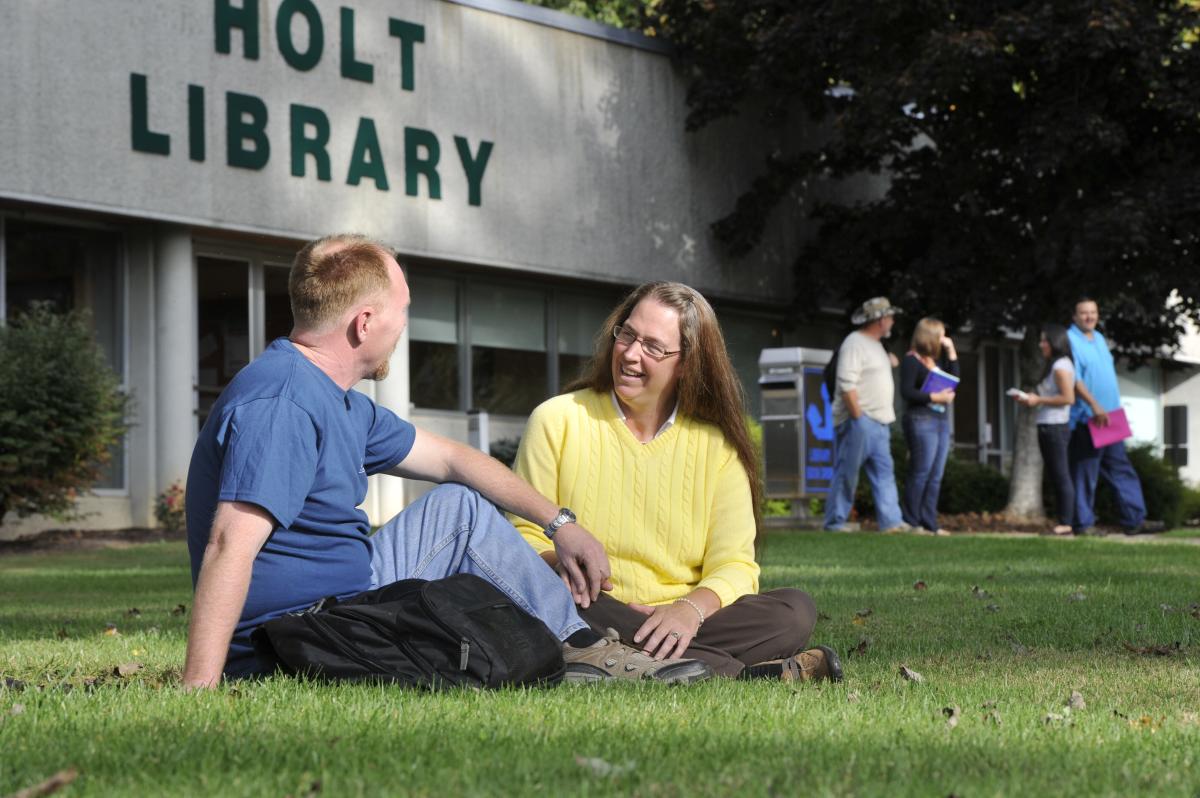 The building houses a collection capacity of 40,000 books, periodicals, audiovisuals and online databases, as well as a networked computer lab with 24 workstations and wireless laptop access. Computer workstations are loaded with the Microsoft Office suite.
The book collection currently has 31,000 Non-fiction volumes that relate directly to academic course offerings, as well as the Fiction collection, North Carolina collection, and a Reference collection of specialized resources, subject encyclopedias, and literary criticism. The Library subscribes to 130 academic journals, magazines and newspapers.
The audiovisual media collection includes DVDs, videotapes, and CDs that may be used in the study rooms or checked out by Faculty members.
Instructors, students, and study groups may schedule the Conference/Instruction room, one small group study room, and one individual study room.
The Library provides services and library cards to local community residents with a driver's license.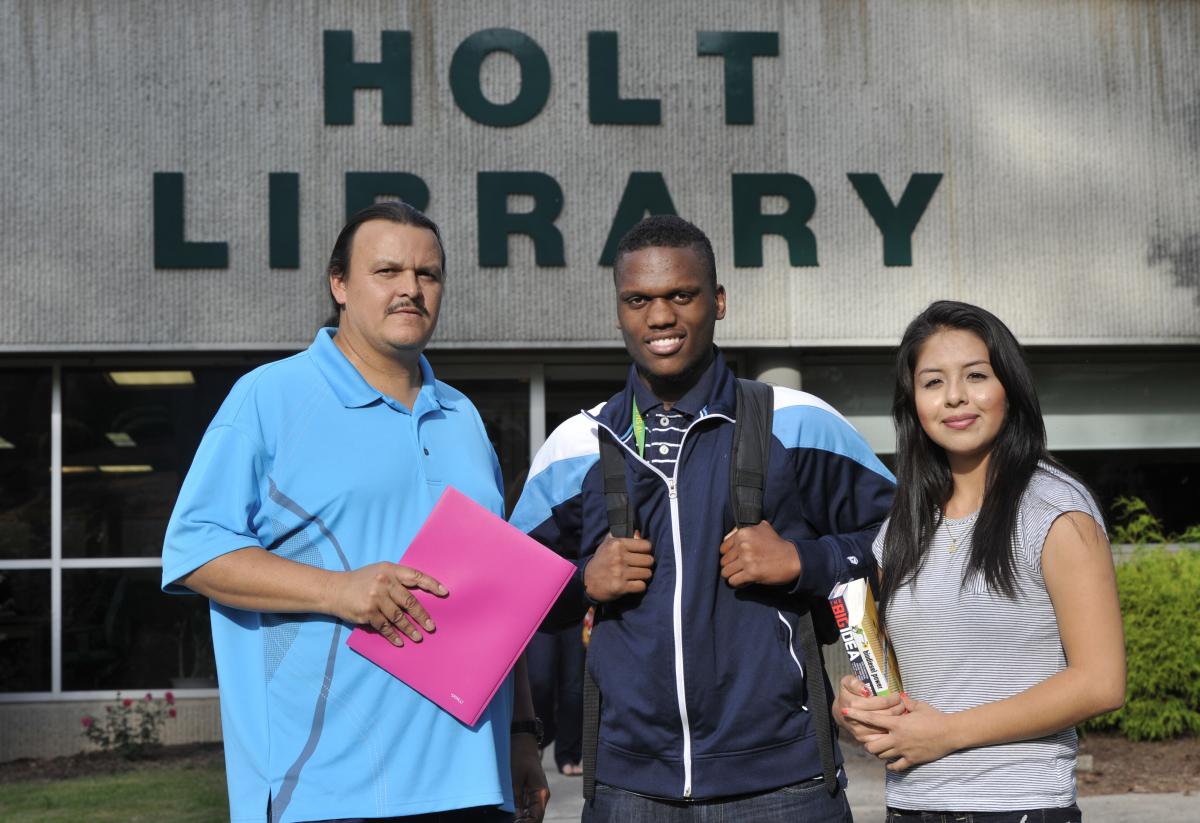 ONLINE RESOURCES
To access Holt Library resources online, students and SCC employees can use their MySCC login, and then select the Library tab. This portal is an excellent starting point to locate research sources and learn about Holt Library's services and resources.
CCLINC
 is the online catalog of our local library collection and 49 community college libraries across North Carolina that share collections with registered users. Users may borrow from the Holt Library or request materials from other libraries, and the library receives them by mail in about a week. Nationwide Interlibrary Loan services are also available by contacting library staff. All checked-out library materials must be returned or renewed by the due date. Overdue library accounts must be cleared before students are allowed to register, graduate or receive a transcript.
NC LIVE
, a collection of 120 online databases, provides full-text and subject indexing for magazine articles, national and local newspapers, professional and business journals, research articles, scholarly publications and reference sources. NC LIVE is accessible through the Library website and offers indexing for over 25,000 journals and reference materials. Full-text articles are included for over 16,000 periodical titles. NCLIVE passwords are available within MySCC access: simply login and select the Library tab.
NC KNOWS
: An online reference chat service that connects students to a Librarian to provide 24/7 answers, articles and more.  
INSTRUCTION and HOURS
Research workshops are offered to classes upon faculty request and can be customized for current assignments. Research assistance for individuals is always available upon request.

Library Hours when SCC classes are in session:  Monday through Thursday 8 am to 8 pm; Friday 8 a.m. to 4 p.m.

If the College is closed for a holiday or emergency weather conditions, the Library is also closed.
 
Basic Policies and Procedures
LIBRARY HOURS
8 a.m. to 8 p.m. Monday – Thursday
8 a.m. to 4 p.m. Friday*
*Please call about breaks and holiday hours.

LIBRARY/I.D. CARDS
According to the SCC Student Handbook, students are required to carry their SCC photo ID at all times. The SCC photo ID is also the Library card. Students and faculty should bring their photo ID card to the Library to register their unique barcode number and create a library user account.
Library staff need to scan the barcode on the card to access the user account at each checkout, so it is important to bring the card for all library transactions. 


FINDING BOOKS & ARTICLES
Students/Faculty:  Login to MySCC and select the Library tab. Select the CCLINC Library Catalog to search for books and audiovisuals.  To search for scholarly articles, select NC LIVE.
Please feel free to ask, call, or e-mail library staff for help.


CHECKOUTS
Books check out for 2 weeks and can be renewed for another 2 weeks.  DVDs, magazines and journals check out for 7 days. SCC students are allowed to check out 8 items at a time, including up to 3 DVDs. Residents of the SCC service area - Jackson, Macon and Swain counties - may use the Library, apply for a borrower's card and check out 4 items at a time. 


RENEWALS
Users can call the library at 828.339.4288, or email a librarian to renew materials and avoid overdue fines.


OVERDUE FINES
The Library charges ten cents per overdue item, per day, except days when the library is closed. Written notices are mailed to remind users of overdue item status.

As stated in the Student Handbook, "All library materials must be returned by the end of each semester and accounts cleared before students will be allowed to register, graduate or receive a transcript."


COPY MACHINE & PRINTER
A self-service copy machine with a coin/bill changer is located near the library's information desk. Copies cost 10 cents per page. The changer will accept small bills, quarters, dimes, and nickels.

Users are responsible for bringing correct change. Students may print "school-related" information from a library workstation for free. Please limit personal printing to 10 pages per day.​
 
CCLINC Library Account

TO REGISTER FOR A LIBRARY ACCOUNT:
SCC Students, Faculty & Staff: Request a SCC Photo ID card from the Cashier at the Business Office. Your Colleague ID number is on the front, and your unique Library barcode/number is on the back.
Bring the photo ID card to the Library and fill in a Holt Library Account Registration Form.
Library staff will verify your identity and then create a user account for you.
THIS IS A ONE-TIME-ONLY PROCESS. To update your contact information, please e-mail or call 828.339.4288. Library staff at 828.339.4288 or by e-mail.
Macon Campus: Please obtain SCC ID card from SCC Business Office on Macon Campus, then call or e-mail the Holt Library, and staff can create your user account for you. Please use only SCC e-mail accounts. 

TO REQUEST PASSWORD FOR NC LIVE:
SCC Students, Faculty & Staff: Login to MySCC. Select the "Library" tab at top of page, and find all Library links, including NC LIVE password information.
If you are an NC resident, (not a SCC student), you may request the NC LIVE password from the closest public library.​
How to Find Books
CALL NUMBERS & CLASSIFICATION OF LIBRARY COLLECTIONS
Our collection is arranged by the Dewey Decimal System, which is the system most frequently used in small libraries. The Dewey system organizes books and audiovisuals on similar subjects together, using call numbers assigned by librarians.
The call number on each item represents its main subject. Books on similar subjects should be shelved close together, so that library users can find information by browsing the shelves in their favorite section.
The Dewey Decimal System divides all knowledge into ten main subject classifications. Each of these areas is sub-divided by more detailed subjects. Here are the basic ten Dewey Decimal Subject Classifications:
000-099   Computers & General Works
100-199   Philosophy & Psychology
200-299   Religions
300-399   Social Sciences
400-499   Languages
500-599   Mathematics & Pure Sciences
600-699   Applied Sciences
700-799   Arts & Recreation
800-899   Literature
900-999   Geography, Biography & History
 
The General Collection (Nonfiction) includes informational books that can be checked out. Nonfiction call numbers include a classification number and the first letter of the author's last name. For example: 610.73 L
The Reference Collection includes specialized books for research, legal reference, encyclopedias, dictionaries, statistics, atlases, and more. These books do not check out. Reference books have an "R" above the call number.
The North Carolina Collection includes writing by NC authors and information about North Carolina. These books have an "N" above the call number.
Novels comprise the Fiction Collection, labeled with an "F" for fiction, then shelved alphabetically by the first three letters of the author's last name. For example, novels by Ernest Hemingway would be labeled F Hem.
Books for young children are known as the Juvenile Collection, so they have a "J" before the call number. The collection contains both fiction and nonfiction.
The Audiovisual Collection is cataloged in the same manner as books, with the type of media appearing as part of the call number. Example: DVD / 973 / B
How to Find Books in Holt Library and CCLINC System
CCLINC is the online library catalog for SCC. No password is needed to search the catalog, though a current library card allows students to interact with their account online.
In CCLINC, one can search the local community college library, or search all 46 college collections at once. This catalog provides access to about 2 million items. Books owned by other community colleges may be requested (see "Interlibrary Loan" section below).
How to use the CCLINC Library Catalog:
Staff and students log in to MySCC, choose the library tab, and select the library catalog link. Other users click here.
In the drop-down list of CCLINC libraries, select In the drop-down list of CCLINC libraries, select Southwestern Community College.
The next screen is a search engine for Library books and audiovisuals owned by SCC. Type in your keywords or phrase in the box and select the "Search" button. A drop-down list can be selected to search by exact author, title, subject, or series.
On the "Search Results" screen, each item is listed with a CALL NUMBER above the title. Example: 610.73 B (All library books have a call number label on the spine so they can be located on the shelves.)
Make a note of call numbers and titles of books you wish to find. Library staff can help you locate the right shelf section.
For more information about a specific title, click the "Details" button beside it. The complete cataloging record on the item is visible here.

How to Find Periodicals
Periodicals
The Library subscribes to 170 magazines, journals and newspapers. A printable list of titles and holdings is available on the Library website.
Current issues are displayed alphabetically by title on the racks near the circulation desk. Newspapers are displayed on a rack next to the periodical display.
Periodicals contain the most current information available in print. As such, they provide an essential component in the academic research process.
Magazines and journals, both current issues and back issues, may be checked out for 7 days.
   Indexes for Periodicals
An index is used to locate articles about a chosen subject. Indexing for articles is available online in NCLIVE, as well as in print.
The Library receives two periodical indexes in print format, shelved in the Reference Collection:
Cumulative Index to Nursing and Allied Health Literature (CINAHL)
Reader's Guide to Periodical Literature

NCLIVE (North Carolina Libraries In Virtual Education)
The N.C. General Assembly and N.C. independent colleges and universities provide funding for NC LIVE resources and make them available to all registered users of North Carolina libraries.

NC LIVE provides North Carolina residents and students with access to high quality information - searchable collections of magazine, newspaper, full-text journal articles, electronic books, historical materials, maps, and much more - covering a wide range of topics.

These research sources include the following categories:

Art & Images 
Audio Books (downloadable)
Auto Repair
Business & Investing
Career & Test Prep
Data & Demographics
Electronic, Full-text Books
Encyclopedias
History & Genealogy
Homework Help
Legal
Literature & Criticism
Magazines & Journals
Maps
Medical & Health
Newspapers & Current Issues
North Carolina Data & Resources
Resources for Teachers
Science & Technology
Video
PASSWORD: Login to MySCC and select the Library tab. Password is in "Holt Library News" section.
Community patrons can ask for NC LIVE passwords from local public libraries.
Internet Access & Computer Lab at Holt Library
The Southwestern Community College computer lab network is available to students, faculty and staff for research and academic purposes. Library lab computers are equipped with Windows operating software, Internet access, and Microsoft Office suite. A centrally located black-and-white laser printer is connected to these computer lab workstations.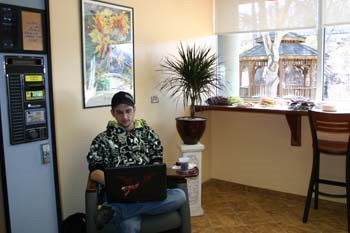 ACADEMIC COMPUTER LAB USER POLICY
Internet computers are provided for academically-related learning, research and information. Time may be limited if others are waiting. Users are expected to be computer literate, and all computer users are expected to bring their own storage media to save their work. Users are expected to treat these learning resources in a responsible manner, consistent with the educational and informational purposes for which they are provided, and to follow the College's basic rules and regulations. Chat and gaming sessions are not permitted. Users may not engage in any activity that is disruptive to others. Users may not print copyrighted information or copy licensed software unless such use is authorized by law.
Library Faculty Services
SELECTION AND ORDERING OF LEARNING MATERIALS
Library materials are ordered annually.
Faculty members participate in the selection of instructional materials (books, magazines, DVDs, CD-ROMs, etc.) for the library collection.
Materials may be requested by emailing or by sending a publisher's brochure or catalog to the Library Director.
When new books & other materials are ready, a list of new materials will be posted on the Library homepage.
Please notify library staff of upcoming assignments so we can coordinate availability of library sources.
BIBLIOGRAPHIC INSTRUCTION WORKSHOPS (RESEARCH SKILLS)
The Librarian can customize a workshop appropriate for your class. Please contact Tracy at
t_musick[at]southwesterncc[dot]edu
 or 828.339.4268. The following workshops and activities describe the various levels of instruction:
Basic Services: Library tour and general services, getting a card, brief overview of catalog and NC LIVE. (30 minutes) / ACA  &  ENG 111 courses.
Basic Research Strategies: Interlibrary loans, specific databases (according to research assignment), and a "hands-on" activity at computer workstation to practice navigating the databases. (30-40 minutes)
In-depth Services: Demonstration of Library's website, interlibrary loans, NC LIVE tutorials, overview of 6-8 databases (audio books, videos, e-books, EBSCO, CQ Researcher, NC databases, Health, Literature, and/or subject-specific databases. (45 min)
In-depth Research Strategies: Advanced database searching, saving articles with an EBSCO folder, cited reference searches. e.g., BIO 175, EDU 216, Nursing courses. (45-55 min)
Online Library Services PowerPoint: Students, individually or as a class, may complete the PowerPoint as a self-paced activity. This online resource is appropriate for distance learners and all students who want basic background information about library services and contact information.  
BOOK LOANS
Faculty members may keep books checked out as long as necessary.
Notices are sent periodically as reminders; no fines are charged to SCC employees.
Notify Library staff to renew the materials if you need more time.
Books are subject to recall after the initial loan period if another user has requested them.
CHECK-OUT PERIODS for FACULTY
Books . . . . . . . . . . . . . . . . . 14 days
Periodicals . . . . . . . . . . . . . . 7 days
Audiovisuals . . . . . . . . . . . . 60 days
Interlibrary Loans . . . . . . . . varies

RESERVES
Contact us, at least one day in advance, to place instructional materials on the Reserve shelves for student use.
Reserves are shelved by surname of the faculty member and the course name.
Library-owned materials are removed from reserve at the end of the semester unless otherwise advised.
Please bring Reserve materials to the Information Desk, and supply us with the following information:
Name & Phone #
Department & Course #
Item title & Author, Edition or Issue/Volume
Loan period: In-house only / overnight/ 3 day/ 7 day

COPYRIGHT CONCERNS
​For some good information on Copyright legality please click here first.
Fair Use limits photocopied materials' term of use to one semester per instructor per course.
The Holt Library adheres to the American Library Association (ALA) standards for sharing copyrighted material through paper-based reserves.
The amount of material should be reasonable in relation to the total amount of material assigned for one term of a course, taking into account the nature of the course, its subject matter and level. See 17 U.S.C. § 107(1) and (3).
The number of copies should be reasonable in light of the number of students enrolled, the difficulty and timing of assignments, and the number of other courses which may assign the same materials. See 17 U.S.C. § 107(1) and (3).
The material should contain a notice of copyright. See 17 U.S.C. § 401.
The effect of photocopying the material should not be detrimental to the market for the work. (In general, the library should own at least one copy of the work.) See 17 U.S.C. § 107(4).
 CONFERENCE / INSTRUCTION / STUDY & TUTORIAL ROOMS
Rooms are available on a first-come, first-serve basis.
Contact library staff to schedule or reserve in advance if a specific day & time is needed.
Conference Room # 112 seats 22 (white board, projector, computer)
Conference/Instructional Room #112 seats 24 (white board, projector, computer)
Instruction Room #119 seats 12 (white board, projector, computer)
Study Room #120 seats 1-2 (computer & large screen, DVD/VHS player, webcam for web conferencing, Perfect Interview)
If no rooms are available, tables in the collaborative study zone can be used.