Print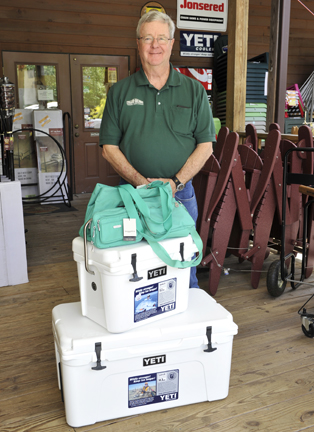 Cashiers businessman Jim Zoller stands beside several of the items he's donating to the silent auction and raffle portion of the "Wine & Dine Under the Stars" gala, which will be held Saturday evening (July 19) in Cashiers.
Click here for more information about the gala or to purchase tickets.
Two distinctive musical acts have been booked.
Dozens of silent auction and raffle items, ranging from the intriguing to the artistic, have been secured.
And a savory menu from one of Cashiers' finest dining establishments has been set.
All that's left is the fun.
On Saturday, July 19, "Wine and Dine Under the Stars" gala will offer area residents an opportunity to enjoy the tastes and sounds of Southwestern North Carolina – all in the name of raising money for college scholarships. Held at the Cashiers Village Green Commons, the event benefits the Southwestern Community College Foundation's Student Success Endowment.
 "We could not be more excited about how this event has come together," said Mary Otto Selzer, director of the SCC Foundation. "This will be an evening when you can enjoy the company of friends and neighbors, feast on a fabulous meal, bid on a wide variety of silent auction items and delight in the sounds of some extremely talented musicians at one of the most scenic venues in our region."
A limited number of tickets remain on sale at $150 each. Table sponsorships are also available.
Providing entertainment for the evening will be Pinnacle Ridge with John Warren and Benny Queen as well as classics singer Steve Johannessen.
Pinnacle Ridge plays bluegrass and gospel music while Johannessen performs tunes made famous by the likes of Frank Sinatra, Tony Bennett and Nat King Cole.
Among the silent auction and raffle items are works of art from potter Joel Queen as well as a luxury spa package from Harrah's Cherokee Casino Resort, which includes a one-night stay, dinner for two at Brio Tuscan Grille and a Sacred Feather Ritual Massage for two at Mandara Spa.
A list of silent auction and raffle items is available at 
http://www.southwesterncc.edu/Foundation/2014-gala-silent-auctionraffle-...
​.
"Everyone who attends is going to have a wonderful evening," said Cashiers businessman Jim Zoller, who is chairman of the SCC Foundation board of directors. "The best part is that this benefits the Student Success Endowment, which is going to help more people pursue their educational dreams. So many of the people who live and work in our communities got their degrees – or at least some of their training – at SCC. By attending our gala, you're investing in our communities."
The meal will be catered by The Orchard Restaurant and features an entrée of herb-rubbed and pan-roasted pork tenderloin served with a black cherry demi-glace; pan-roasted Ashley Farms chicken breast served with a roasted Roma tomato sauce; rosemary roasted new potatoes; quinoa with fresh herbs and summer vegetables; charred corn and jalapeno with mint, cilantro and parsley; roasted heirloom grape tomatoes and shallots; stewed field peas with carrots and tomatoes; sautéed summer squash; and grilled asparagus with a roasted red pepper vinaigrette.
Hors d'oeuvres include Dark Cove Farms goat cheese antipasta platter with Kalamata olives, roasted garlic and sun-dried tomato olive oil; duck confit crostinis with a honey fig jam; Carolina Mountain Smoked Trout phyllo cups; and mini crab cakes with a sweet Dijon sauce.
There will also be an Orchard garden salad served with the restaurant's Vidalia onion poppy seed vinaigrette and fresh rolls.
For dessert, the menu has Bailey's Irish Cream Mini Crème Brulees, chocolate-dipped strawberries, five chocolate brownie bites and Southern-style banana pudding.
Centerpieces and venue decorations will be provided by Scotlyn's Yard Nursery.
For more information or to purchase tickets, visit 
www.southwesterncc.edu/foundation/gala
 or call 828.339.4227.