With 100-percent employment rate, Civil Engineering program seeks students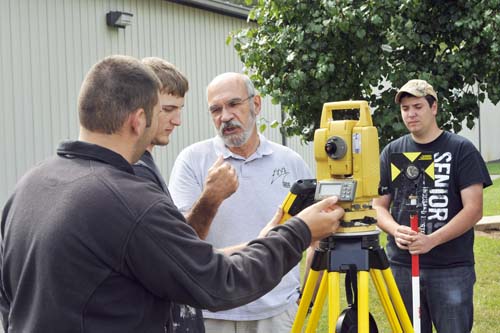 Southwestern Community College instructor Peter Messier works with students, from left: Bynum "Chase" Collins of Bryson City, Clay Young of Bryson City and Jesse Aldridge of Robbinsville on a Topcon GPT-3005 Pulse Total Station.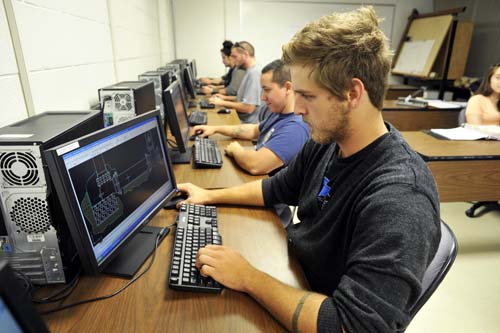 Jonah Winchester of Bryson City drafts a schematic of a typical fire hydrant using CAD software in Southwestern Community College's Civil Engineering Technology program.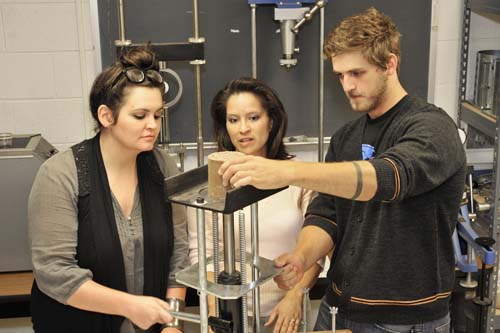 SCC Civil Engineering Technology program coordinator Jeanette White (center) shows students Nicole Miller (left) of Cashiers and Jonah Winchester (Bryson City) the process for extracting a soil sample from a standard proctor soil mold after using a standardized compaction procedure to determine the optimum moisture content and maximum dry unit weight of the soil sample.
 Jeanette White's telephone never stops ringing.
Coordinator of Southwestern Community College's Civil Engineering Technology program, White keeps getting calls from employers looking for graduates who are ready to work.
There's just one issue: all of White's graduates already have jobs or are continuing their education at a four-year school.
So she's looking for a new crop of students to enroll this fall and start preparing to fill the job vacancies that aren't going away.
According to U.S. Labor Department figures, Civil engineering technicians' median annual wage was $47,560 in May 2012.
"Our program still has a 100-percent employment rate," White said. "We are very fortunate that a lot of employers are looking for us to produce more graduates. It's a wonderful field with a wide range of employment possibilities. We just need more students."
White's graduates are currently employed with the North Carolina Department of Transportation as well as private civil engineering, surveying and construction firms throughout the area.
Another of her graduates, Josh Fuller, finished his geology degree at Western Carolina University last year and is currently employed in Colorado as a processing geophysicist in the oil and gas industry.
Using complex computer programs, he helps locate oil and gas deposits.
"Southwestern's program has a lot of hands-on work to go with the book material," said Fuller, who graduated from Smoky Mountain High in 2001 and from SCC in 2010. "That's actually what led me to go into geology. I get to use my brain and work outdoors. Jeanette White really emphasized the books, the hands-on training and networking because the more people you know, the better chance you have to find a job."
In SCC's program, students become proficient in surveying technology using the latest surveying instrumentations – including the use of a robotic total station.
"We provide our graduates a very sound foundation for going directly into the workforce or continuing their education," White said. "We are very fortunate to have some the best surveying equipment on the market. Our students are able learn on the most modern technology. Although we are a small college, we are honestly far better equipped than some universities."
White's program covers core topics for civil engineering design related to responsible land development, including typical geotechnical soil lab testing, site infrastructure design, fundamental hydrology such as open and pressurized pipe flow, and simple structural design.
Surveying topics will comprise of Global Positioning Systems (GPS), Global Navigation Satellite Systems (GNSS) and Geographic Information Systems (GIS).
And after two initial courses in Computer Aided Design (CAD) software, students will continually draw from their foundational knowledge of CAD and continue to use that software in a significant portion of their remaining program course work.
For more information about SCC's Civil Engineering Technology program, contact White at 828.339.4427 or 
j_white[at]southwesterncc[dot]edu
.