Cosmetology students add flair to WCU's 'Les Miserables' production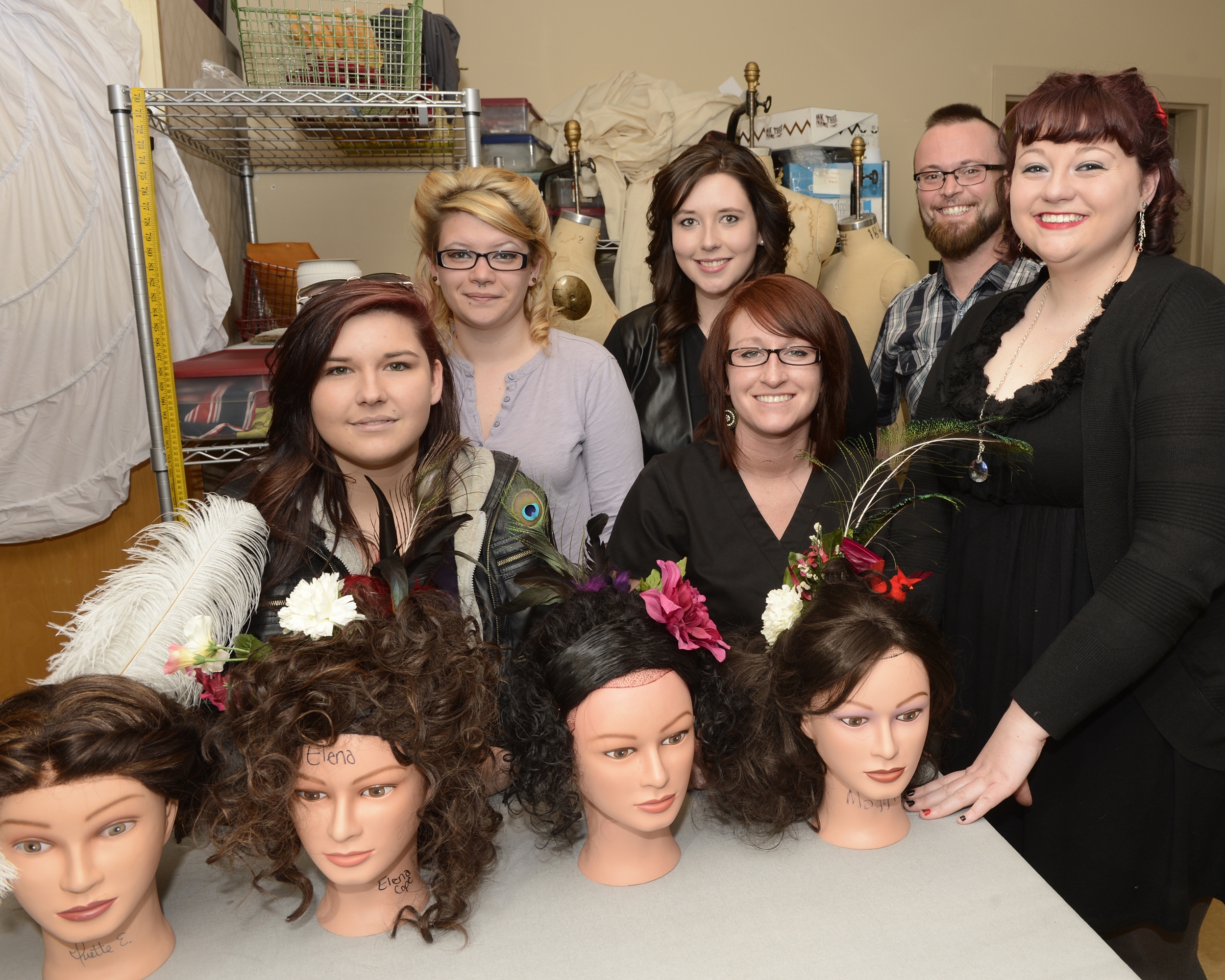 Before a dress rehearsal earlier this month, SCC students show off some of the hairpieces they styled for Western Carolina's recent production of "Les Miserables." Pictured here on the front row from left are: Danielle Lewis of Franklin, Amanda Burris (Cullowhee) and Tiffany Terhart (Whittier). Back row: Sarah Bradford (Canton), Jessica Cobb (Cashiers) and Tony Sirk of WCU's costume shop.
It seemed rather fitting that Tiffany Terhart's favorite hairpiece wasn't worn by one of the primary actors during Western Carolina's recent production of "Les Miserables."
While the work of Terhart and her Southwestern Community College classmates weren't the main draw, they were vital to the production directed by Tony-nominated Broadway actor Terrence Mann. "Les Miserables" was on stage in Cullowhee earlier this month.
"It always takes a village to make things happen, and sometimes you've got to go to the next village to make things happen," said Mann, who holds WCU's Carolyn Plemmons Phillips and Ben R. Phillips Distinguished Professorship in Musical Theatre. In directing the show, Mann drew from his experience playing the role of Inspector Javert in the original Broadway cast of "Les Miserables" in 1987.
"It's always nice to know that people in the arts are always willing to lend a hand," Mann added. " It's just like asking extended family to come in and help out. SCC's students made the hairpieces in an incredibly timely fashion, and they work(ed) well in the show."
Terhart's masterpiece actually wound up on a background character in a wedding scene. The bottom of the wig was teased out with massive curves, and a bird sat on top with ornamentation.
That particular piece took at least four hours to prepare.
"It was really exciting, very challenging and also a lot of fun," said Terhart, a Whittier resident and second-semester cosmetology student who designed two ornamental hairpieces herself and assisted with two others. "We got to do a lot of things we normally wouldn't get to."
SCC's students did their own research into hairstyles of the early 1800s, when the musical was set. The styles were executed on artificial hair, which actors wore in dress rehearsals and performances.
Part of Southwestern students' role was to repair any hairpieces that fell during the show.
"Our students really rose to the challenge," said Randy McCall, who oversees SCC's cosmetology program. "I'm really excited and proud of what they've done."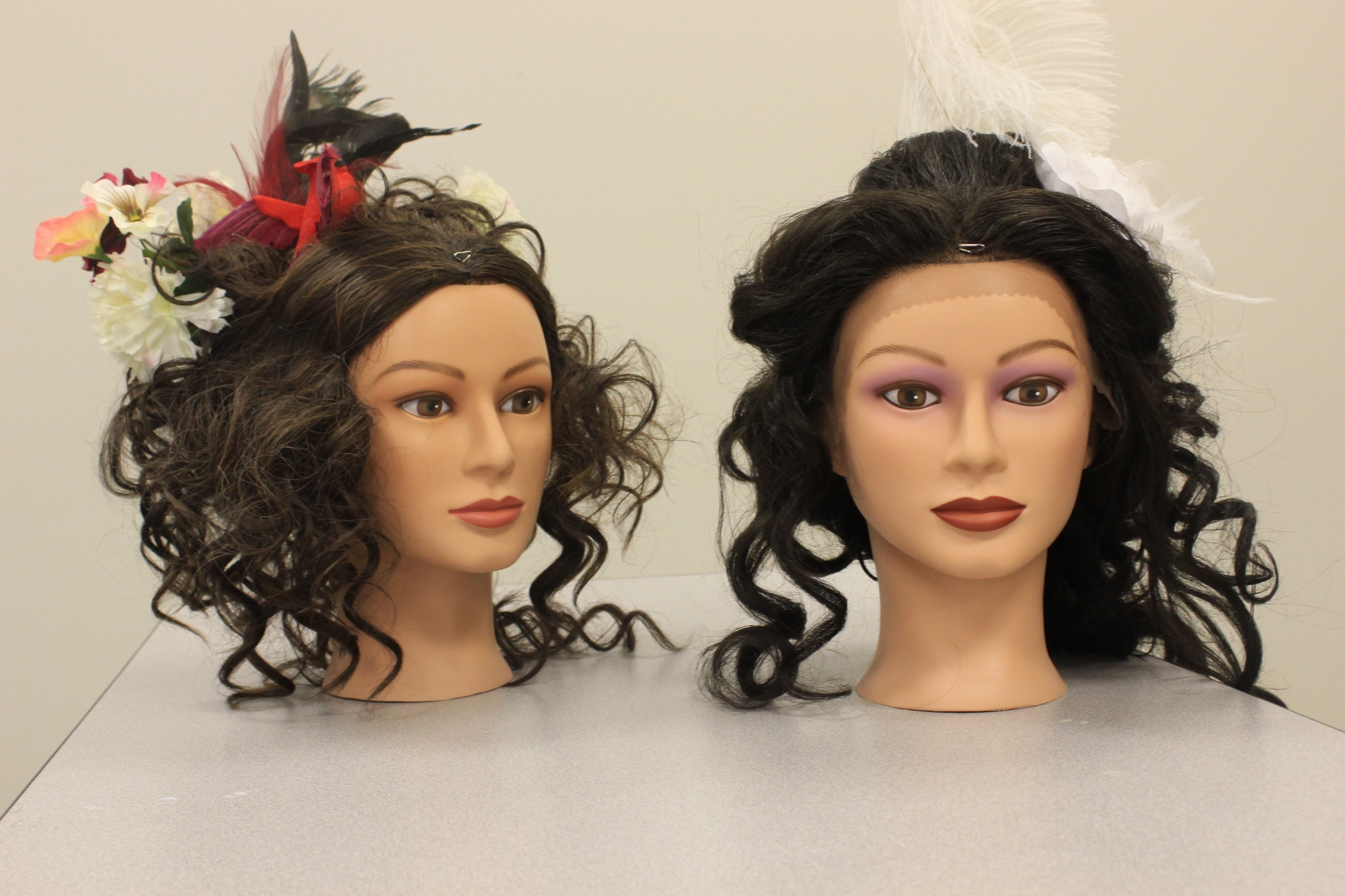 Students in SCC's cosmetology program designed these hairpieces for Western Carolina's production of "Les Miserables" earlier this month.
"It was great because you don't often have an opportunity to do really theatrical, time-period hair," McCall added. "It was an exciting learning experience. Working backstage gave them the opportunity to see a whole other side of the industry with the excitement and the deadline pressure. It teaches them to work well under pressure."
Thirteen SCC students prepared a total of 15 wigs for the production.
"It was a good learning experience to work backstage," said Emily Bryson, an SCC student and Sylva resident. "I found it personally gratifying to know that so many people would see and appreciate the work from our department."
It marked the second straight year SCC's cosmetology students had assisted Western Carolina's theater arts department. McCall's program helped with last year's production of "Drowsy Chaperone."
"It is great to work with people such as Susan Brown-Strauss (professor of theater and stage) and Tony Sirk (costume shop supervisor) in our collaboration with WCU," McCall added. "Both are very accommodating, professional and, like me, want to see their students be successful. They both represent WCU very well and I look forward to working with them in the future."
For more information about SCC's cosmetology program, call 828.339.4000.