Duke Energy gives $1,200 to New Century Scholars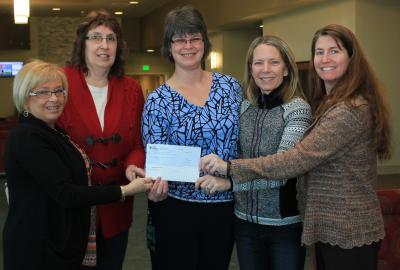 Lisa Leatherman (center), a district manager for Duke Energy, recently presented a $1,200 check to the New Century Scholars program (NCS) at Southwestern Community College. She is surrounded by, from left:  Pam Collins, Macon County NCS coordinator, Gladys Bishop, Jackson County NCS coordinator, Julie Richards, Swain County NCS coordinator; and Pamela Judson, NCS coordinator at SCC.
Duke Energy recently gave $1,200 to Southwestern Community College's New Century Scholars program.
Each year, seventh graders from throughout SCC's service area (Jackson, Macon and Swain Counties) are identified as New Century Scholars. They receive last-dollar tuition assistance at SCC so long as they fulfill program obligations throughout their middle- and high-school careers.
The program is funded entirely by annual donations like Duke's.
Donations may be made payable to New Century Scholars and sent to the following address:  SCC Foundation 447 College Drive; Sylva, N.C. 28779.
For more information about the New Century Scholars program, contact Pamela Judson at
pjudson[at]southwesterncc[dot]edu
or 828.339.4477.