Print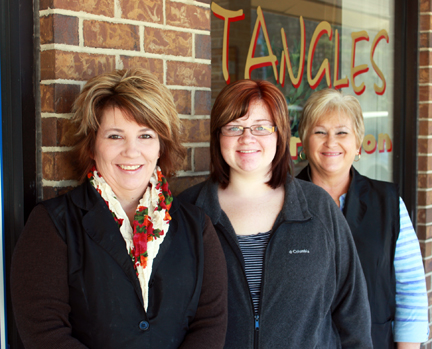 Tangles co-owner Denise Broom (left) stands beside employees and SCC graduates Kendale Zachary (center) and Debbie Bradley. 
Click here to purchase tickets for "Wine & Dine Under the Stars" Gala.
For Denise Broom, Southwestern Community College is about much more than just getting an education.
It offers a future.
"We live in such a rural area," said Broom, who is co-owner of Tangles Hair Salon in Cashiers. "SCC and its scholarships really mean a future for a lot of people in this area."
Raising money for scholarships and creating a future for more people like Broom are the reasons why SCC is hosting a "Wine and Dine Under the Stars" gala at the Cashiers Village Green Commons on July 19.
The event includes fine cuisine prepared by The Orchard restaurant. Pinnacle Ridge with John Warren and Bill Coward – along with classics singer Steve Johannessen – will provide musical entertainment.
"We'll have fabulous door prizes and raffle items as well as a silent auction," said Mary Otto Selzer, director of the SCC Foundation. "You'll have great conversations with friends and neighbors in the Highlands-Cashiers area, and the meal and music will be spectacular. The best part, though, will be knowing you're helping the good folks in our area who need a little assistance in pursuing their educational dreams."
Like Broom, dozens of other SCC graduates live and provide vital services to the people of Cashiers and the surrounding area.
Emergency responders like firemen, EMS and policemen get much of their training through Southwestern as do many nurses, accountants, mechanics and heating and air professionals.
"SCC graduates touch our lives every day," said Cashiers businessman Jim Zoller, who serves as chairman of the SCC Foundation. "Without them, Cashiers would not be the same friendly village it is. We're holding this fundraising event to provide more scholarships to help our students afford to attend SCC and continue to provide the services we depend on to maintain our quality of life."
If you would like additional information, please contact Kathy Posey at 828.339.4227 or 
k_posey[at]southwesterncc[dot]edu
.
Tickets are on sale online at 
www.southwesterncc.edu/foundation/gala
 or can be purchased at Zoller Hardware, Scotlyn's Yard Nursery, Tangles, Dovetail Antiques and the Cashiers Area Chamber of Commerce. Tickets can be purchased individually. Tables may be sponsored by individuals or businesses.