Jones accepts appointment to board of trustees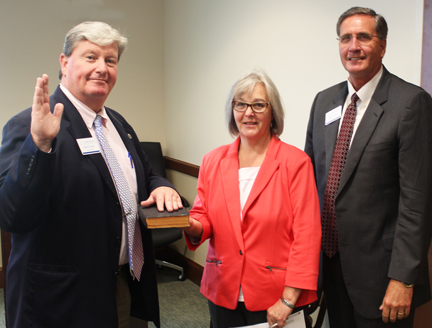 Mark Jones (left) of Cashiers is sworn in as a member of Southwestern Community College's board of trustees on Tuesday, July 8, by Ann Melton, Jackson County clerk of court. At right is Dr. Don Tomas, SCC president.
Counting his elected seat on the Jackson County Board of Commissioners and his voluntary work on oversight boards with a variety of organizations, Mark Jones was – in his own words – close to being "boarded up."
Then came along an opportunity he considered too important to pass up.
Jones was offered a spot on Southwestern Community College's board of trustees, so he found a way to make it happen. He was appointed by the Jackson County Board of Education, and he was sworn in on July 8 for a four-year term.
"This was something I could not say no to; it's too much of an honor," Jones said. "What SCC provides for Jackson County and our region is the educational key to our future. It is a blessing to have both Southwestern Community College and Western Carolina University right here."
A fourth-generation resident of Jackson County, Jones serves on the Jackson County Board of Health, the TWSA board and the Council of Aging's board.
He's a past president of both the Cashiers and Jackson County Chambers of Commerce, and he's served on travel authorities for Cashiers and Jackson County.
"It is truly a privilege to have Mark on our board of trustees," said Dr. Don Tomas, president of SCC. "He is deeply ingrained in the fabric of the communities we serve, and he brings a wealth of experience and knowledge. We are extremely grateful for his willingness to serve."
A longtime general and morning manager at High Hampton, Jones' ties to SCC run long and deep.
"I've known (founding SCC trustee) Paul Holt my whole life, and (longtime SCC trustee) Conrad Burrell is a close family friend," Jones said. "It's going to be difficult to live up to the standards these men have set through their service to SCC, but I'm up to that challenge. My mother (Ann Hervey Jones) worked at Southwestern in the early 1970s. And my very first tax-paying job was at Southwestern when I was 14 years old. I used a sling blade to maintain the grounds during the daytime, and I mopped floors in the afternoon."
Jones also taught some classes in the hospitality and tourism program for SCC in the late 1990s, and served on the culinary arts advisory board for several years.