Learn "How to Start a Business" this fall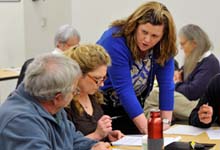 Tonya Snider (standing, in blue) will serve as instructor for SCC's upcoming class on "How to Start a Business." Seated at the table are, from left to right, John Faulk of Sylva, Annie Burrell of Dillsboro and Anthony Brown of Cherokee.
Over the approaching weeks and months, Southwestern Community College will offer several free opportunities for aspiring entrepreneurs to attend a class entitled "How to Start a Business."
The three-hour seminar, taught by Tonya Snider, will equip participants with a knowledge of the resources available to them as they start their own businesses.
"Starting a business can be a challenge, but it helps if you equip yourself with as much knowledge as possible." said Tiffany Henry, director of SCC's Small Business Center. "By taking our free seminars like this one, you'll increase your chance of success."
The class will first be offered from 5:30-8:30 p.m. on Monday, Aug. 18, at SCC's Macon Campus.
There will be two opportunities to take the class in Jackson County (Aug. 21 and Oct. 14, each from 9 a.m. -noon).
A final seminar will be from 5:30-8:30 p.m. on Dec. 8 at Southwestern's Swain Center.
For more information, to reserve your seat or to request one-on-one confidential counseling, call Henry at828.339.4211. You can also register at 
www.ncsbc.net
.