Print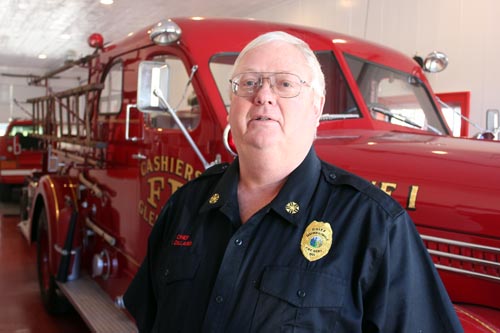 As Cashiers Glenville fire chief, Randy Dillard oversees a fire department that protects $6.6 billion in property spread over 135 square miles. Dillard estimates Southwestern Community College provides roughly 90 percent of the training his department receives.
Without Southwestern Community College, Cashiers Glenville fire chief Randy Dillard would have to look elsewhere for an estimated 90 percent of his department's training.
"They actually come here to do a lot of the training. We recently had some LP gas classes that were unreal," said Dillard, whose department protects $6.6 billion in property spread over 135 square miles. "It's training you can't get anywhere else."
Providing scholarships to ensure more people than ever before are able to get education and training from SCC is the primary reason behind the gala called "Wine & Dine Under the Stars," which will be held Saturday, July 19, at the Village Green Commons.
All money raised will go toward the SCC Foundation's Student Success Campaign, an effort to raise more than $1 million, for scholarships, through the community's generosity and with the help of a Title III challenge grant that matches every dollar (up to $300,000) raised before Sept. 1, 2014.
"I wouldn't be where I am in life without SCC," said Melody Milner, a certified nursing assistant at the Eckerd Living Center on the Highlands-Cashiers Hospital campus. "As a single mother, SCC made it possible for me to get an education without breaking the bank."
The gala will feature fine cuisine provided by The Orchard Restaurant, cocktails, a silent auction as well as live musical entertainment and dancing under a tent at the Village Green Commons.
Jim Zoller, chairman of the SCC Foundation, said: "You don't realize just how much SCC touches Cashiers-Highlands lives every day. First responders, hair dressers, mechanics, teachers and many others are all trained at SCC.  Without them, Cashiers would not be the same friendly village it is. This fundraising event will help provide more scholarships to help our students attend SCC."
To make a reservation, call Kathy Posey at 828.339.4227. Tickets will go on sale in June at Zoller Hardware, Scotlyn Nursery, Tangles, Dovetail Antiques, and the Cashiers Area Chamber of Commerce.
Visit our official Wine and Dine Under the Stars Gala page at
www.southwesterncc.edu/foundation/gala
.