SLETP Accreditation
SCC Takes Lead Role in Seasonal Law Enforcement Training Program Accreditation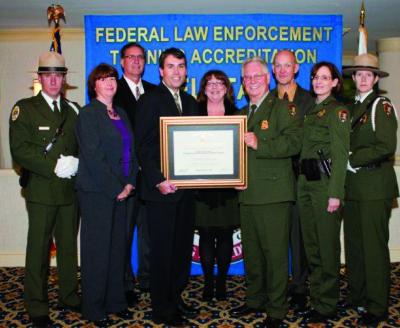 CUTLINE: Southwestern Community College was instrumental in the accreditation of the Seasonal Law Enforcement Training Program for the National Park Service. From left are Jim Barnes, NPS color guard; Pam Bell, SCC online training specialist; SCC President Don Tomas; Brian Peters, DOI National Law Enforcement Training coordinator; Liz Dodson, NPS LETC accreditation manager; NPS Superintendent Don Usher; Curtis Dowdle, SCC director of Public Safety Training; Tammy Keller, NPS/FLETC branch chief and Ann Peterson, NPS color guard.
Southwestern Community College's Jerry Sutton Public Safety Training Center took a lead role in working with the National Park Service office to successfully achieve accreditation of the Seasonal Law Enforcement Training Program.
In July SCC-PSTC hosted a site visit from the Federal Law Enforcement Training Accreditation assessment team. Findings from the assessment team were presented to the FLETA board during its recent meeting in Annapolis, MD.  SCC President Don Tomas, along with SCC Director of Public Safety Training Curtis Dowdle, and Pam Bell, SCC online training specialist, attended the formal meeting.
"FLETA officials told us that in their review one of the things they look for is support from the college- that includes the Board of Trustees, faculty, staff, elected officials and the community at large. We are proud that FLETA and NPS recognized that SCC, as well as Jackson, Macon, Swain Counties and the Qualla Boundary provide that support," said Tomas.
"The outcome of the Federal Law Enforcement Training Accreditation process is the degree of public confidence in the competence and professionalism of federal agents and officers.  In order for us to present the Seasonal Law Enforcement Training Program to the FLETA assessors it was necessary to showcase that professionalism at one of the Seasonal Academies.  We had no doubts that Southwestern Community College with Curtis Dowdle and his team would step up for that challenge.  They did, and it was beyond our expectations," said Liz Dodson, accreditation manager for NPS-LETC.
SCC was the second college in the country to offer the NPS-SLET academy and currently only 12 other colleges and university offer the training.  "SCC has a long history of providing excellence through training and our commitment to training is one reason our NPS-SLET academy is successful," said Dowdle, SCC's director of public safety training.
Since 1978 SCC has been offering the Seasonal Law Enforcement Training.  The first academies were offered at SCC's Jackson Campus and in 1989 moved to the industrial park in Franklin now known as Jerry Sutton Public Safety Training Center. 
 "During the assessment, our team at PSTC gave a complete overview of operations of public safety training with specific detail to the NPS-SLET academy," said Dowdle.  The team reviewed the SLETP policies, procedures, operations and interviewed key personnel during the assessment. Their tour of PSTC's facility included buildings/classrooms/computer lab, driver training range, fire training grounds, firearms training range, Jackson Campus, Groves Center, and off site training venues. It also included a display and description of equipment and supplies utilized during training.  Following the tour the assessment team conducted a complete review of the accreditation files, as well as an orientation to MOODLE, presented by Pam Bell, SCC's online training specialist.
During the FLETA Board meeting Don Usher, Superintendent of the NPS-LETC and Branch Chief Keller presented the Seasonal Law Enforcement Training program to the FLETA Board for accreditation approval.  After formal review and vote by from the FLETA Board, the National Park Service-Seasonal Law Enforcement Training Program was granted accreditation approval for a period of three years.  Ten other colleges and universities are involved in the venture but it was SCC-PSTC's site visit that was touted in the accreditation assessment report presented at the board meeting.
The N.C. Department of Justice currently accredits SCC's basic law enforcement training, Tomas said, "but this new federal accreditation is leaps and bounds above anything we've done before."
"It's the first time we've ever attempted this," Dowdle said, "but we've got a lot of positives going for us. We have a close proximity to the most visited park in the nation and we've been a leader is putting together accreditation material for NPS-SLET accreditation.
"Because we also train most of the law enforcement officers in the region, FLETA liked the pari-military environment we offer. We're equipped to offer additional training in weapons, Tasers, medical responder and even wild land firefighting. It's those extras that will give our graduates the employability edge."
Top-quality instructors are another plus for SCC-PSTC, added Dowdle, giving an example of retired Blue Ridge Parkway Chief John Garrison. "Mr. Garrison graduated from our NPS-SLET program and has such a working knowledge of the NPS that we're fortunate to have him return as an instructor. SCC-PSTC is lucky to have working professionals in all areas of public safety, who share their expertise and experience with students attending training."
Brian Peters from the Department Interior National Law Enforcement Training Office said, "By achieving accreditation from the Federal Law Enforcement Training Accreditation Board, the National Park Service and its partners, such as the Southwestern Community College, have shown commitment to consistent, quality training that meets the needs of new seasonal rangers working in our National Parks and other areas. Southwestern Community College and the staff of the Jerry Sutton Public Safety Training Center played a key role, inviting the FLETA assessors onto their site, reviewing training methods, record keeping, safety protocols, and other materials to ensure that the training meets the rigorous standards of accreditation."
The SLETP at Southwestern Community College raises the professionalism of our training and sets the standard for future law enforcement rangers for the NPS. The NPS is proud to be part of such an important partnership, added Branch Chief Keller.
The accreditation program is expected to save the federal government money.  "Students who go through our program are ready for the job," Dowdle said. "The savings for a new hire for someone who has completed the NPS/SLET training is estimated at $35,000-$40,000 per hire."
Tomas said he expects the new accreditation to open the door for more federal training opportunities for SCC.
For more information about the National Park Service – Seasonal Law Enforcement Training Academy visit SCC's web site /pstc/law-enforcement/national-park-service-nps or call Mitch Boudrot, SCC instructor/coordinator of Law Enforcement Training, at 828-306-7043.