Print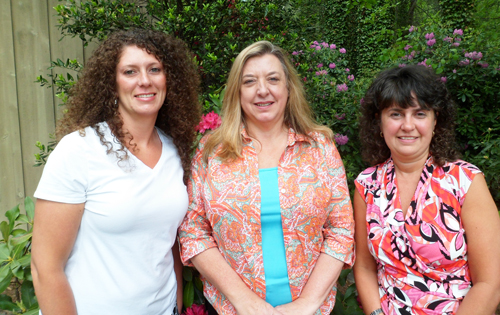 Nancy Brown (center), a paralegal at Coward, Hicks and Siler, P.A., is pictured here with co-workers and fellow SCC graduates Ashley A. Queen and Teresa Trantham.
Click here to purchase tickets for "Wine & Dine Under the Stars" Gala.
Without Southwestern Community College, Nancy Brown's not sure how her professional career might have turned out.
But because she was able to earn her two-year degree from Southwestern in 1981, she's now in her 29th year as a paralegal with Coward, Hicks and Siler, Public Attorneys.
"SCC gives people who grow up in this area an opportunity," Brown said. "If SCC hadn't been there, I'm not sure I could have done this. Southwestern provides people an opportunity and a future."
In order to make a college education accessible to more area residents like Brown, the SCC Foundation is hosting "Wine & Dine Under the Stars Gala" at 6 p.m. on July 19 at the Village Green Commons in Cashiers. All proceeds will go toward helping establish the Student Success Endowment.  The Student Success Campaign is Southwestern's most ambitious scholarship fundraising effort ever.
Through the community's generosity and a federal challenge grant that matches every dollar (up to $300,000) raised bySept. 1, the Student Success Campaign aims to raise more than $1 million to help bridge the gap between scholarship need and availability.
 "You don't realize just how much SCC touches Cashiers-Highlands lives every day," said Cashiers businessman Jim Zoller, chairman of the SCC Foundation. "Emergency response from the Fire Department, Rescue Squad, EMS and police – all these folks are trained at SCC. That's also the case for nurses, your hairdresser, cosmetologist, realtor, heating and air professional, auto mechanic and so many more.
"SCC graduates touch our lives every day," Zoller added. "Without them Cashiers would not be the same friendly village it is.  This fundraising event is to provide more scholarships to help our students afford to attend SCC and continue to provide the services we depend on to maintain our quality of life."
Mary Otto Selzer, director of the SCC Foundation, added: "Ninety percent of our students stay and work in our area. They are active and productive members of our community. Our students have big dreams. Some just need a bit of financial assistance to achieve their dreams. That's why it's so important to support this event that will provide additional money for scholarships."
If you would like additional information please contact Kathy Posey at 828.339.4227. Tickets will go on sale in June at Zoller Hardware, Scotlyn's Yard Nursery, Tangles, Dovetail Antiques, and the Cashiers Area Chamber of Commerce. Tickets can be purchased individually. Tables may be sponsored by individuals or businesses.