LAC - Learning Assistance Center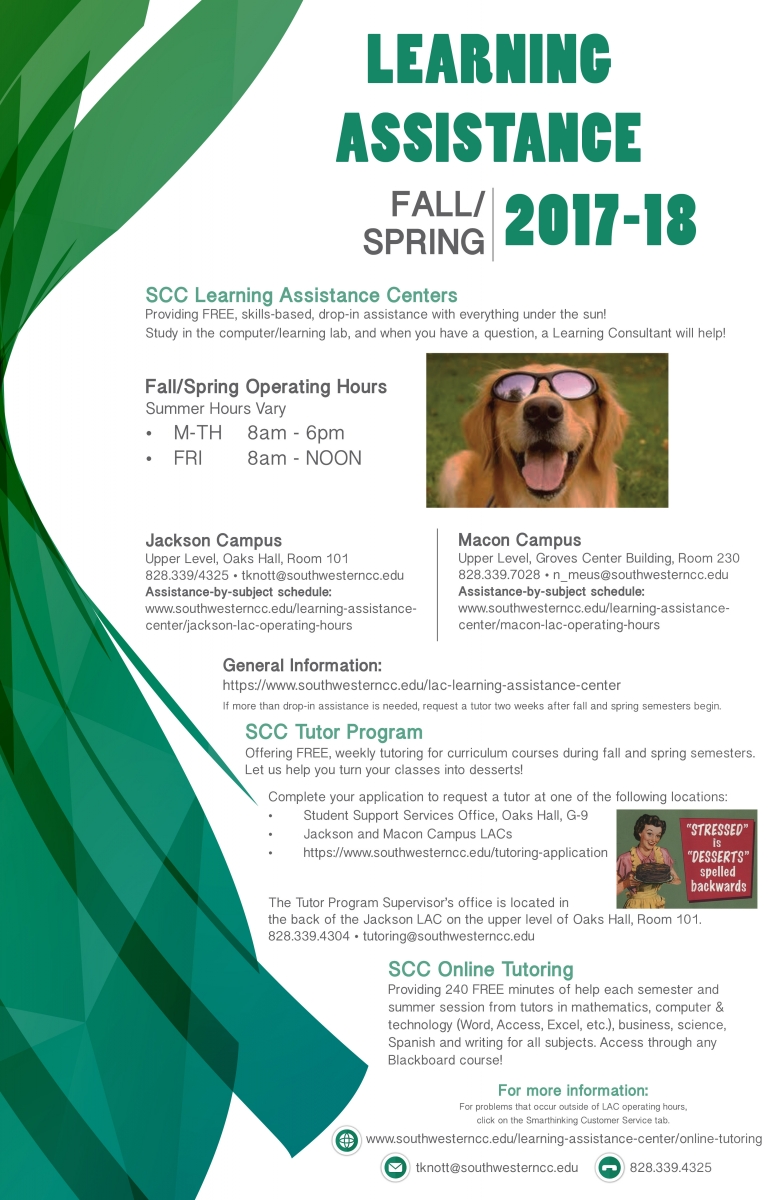 Both the Macon and the Jackson LACs will close at 6 p.m., Tuesday, November 21, for the Thanksgiving break. We will reopen at 8 a.m. on Monday, Nov. 27. We all wish you a wonderful holiday!
The mission of the Learning Assistance Centers is to foster the development of critical-thinking skills and positive attitudes that enable students to become successful, lifelong learners. Skills-based tutoring is used to accomplish this goal.

Free, drop-in assistance is provided by Learning Consultants who offer a variety of specialties. A Writing Consultant is on duty at all times during operating hours, and a Mathematics and/or Sciences Consultant is on duty during most of those hours. (See links to specific schedules below.) Learning Consultants also help to strengthen basic skills, such as test preparation, computer/Internet use, reading, and research.

The LAC is closed during fall and spring breaks as well as between semesters and on holidays. For special closing, see the "Notice" above.
Creating Learning Opportunities
At the LAC we offer assistance in the following areas:
Writing, Editing and Documenting Papers
Accessing MySCC
Basic & Advanced Computer Problems
Studying, Taking Tests, Homework Assignments
Basic and Advanced Math
Sciences
Locations
Jackson Campus LAC, Located in Oaks Hall, Room 101 - Phone: 828.339.4325 or 800.447.4091 ext. 4325
Macon Campus LAC, Located in Cecil Groves Center, Room 230 - Phone 828.306.7028 or 800.447.4091. ext. 7028 
Need Our Help?