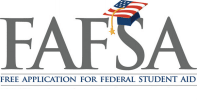 Before completing the Free Application For Federal Student Aid (FAFSA), the Financial Aid Office suggests you go to Tips for filing the FAFSA and the FASFA filing instructions for additional background and help.
1. File the FAFSA
SCC School Code is 008466.
Our priority deadline is May 1 of each year. However, FAFSAs received after this date will still be processed. It can take up to 2-3 weeks for SCC to receive your FAFSA results, so apply as early as you can after January 1 (non-tax filers) or (tax filers) February 1 of each year.
2. Apply to an eligible program at SCC 
The Financial Aid Office cannot view your Student Aid Report (SAR) until an Admissions application to the college is on file.
SCC Admission's Office will send you an acceptance letter with your SCC student ID number. 
3. Review your Student Aid Report (SAR)
Read email from the Department of Education, and follow link to view SAR. Read comments at the end of the report. 
Check information on SAR for accuracy. 
If you are eligible but did not use the IRS Data Retrieval, please go back and correct your FAFSA using the IRS Data Retrieval.
4. Send Requested Documents to the SCC Financial Aid Office
Read SCC email from Financial Aid Office. Go to MySCC/Webadvisor to see requested documents.
Download all requested financial aid forms and complete and submit to the SCC Financial Aid Office.
In order to receive federal grants, state grants, loans, work-study, and most scholarships, you have to file the FAFSA.  You only need to submit the FAFSA once per academic year.