Gala - Support Student Scholarships
History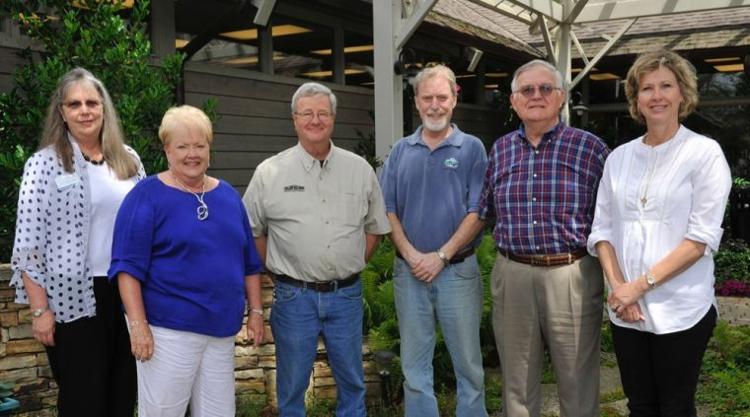 The planning committee for SCC's first Gala, "Wine and Dine Under the Stars," from left: Mary Selzer (then-Director of the Foundation), Lynn Dillard, Jim Zoller, Steve Johannesen, Vance Davidson and Allison Tomas. Not pictured is Bud Smith. (2014)
The SCC Foundation held its first-ever Gala, "Wine and Dine Under the Stars," in July 2014 at the Cashiers Village Green Commons. While the Foundation had a long history of raising money for student scholarships, new changes in administration along with the growth and prosperity of our college drove SCC leaders to dream bigger than ever before. The Gala was a huge success, raising over $25,000, which at the time was the most money SCC had raised for student scholarships from a single event. With this success, the Gala solidified itself as a crucial event for supporting student scholarships, and the Foundation knew they had to keep it going.
In 2015, Harrah's Cherokee Casinos agreed to host the Gala, under the new branding of "Bluegrass, Blue Jeans & Bling." Featuring the bluegrass sounds of Grammy Award nominee Darren Nicholson, patrons danced the night away as they enjoyed entrees and hors d'oeuvres prepared by Harrah's chefs, while also participating in the Gala's new highlight feature: the silent auction. Attendees were able to bid on exclusive items donated from regional businesses, artists and heritage crafts curators, with every single cent of proceeds from the night going to student scholarships. The night was a huge success, bringing in a profit of over $50,000, essentially doubling the previous years profits. 
During this period, the SCC Foundation was working on their Student Success Campaign, an initiative which aimed to create SCC's first million-dollar endowment for student financials support. Through various donors, including a $300,000 grant from the U.S. Department of Education, and several Gala proceeds, the Foundation accomplished this landmark achievement in 2017.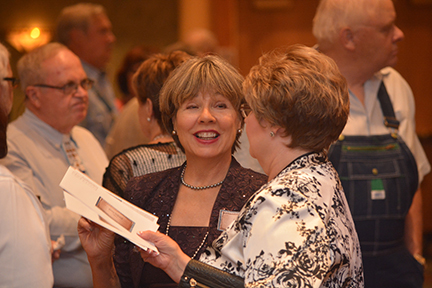 Wendy LeMay, current co-chair of the Gala Committee, is pictured chatting with guests during the 2015 Bluegrass, Blue Jeans & Bling Gala at Harrah's Cherokee Casinos. 
As of 2019, our annual Gala, now branded as "Boots, Blue Jeans & Bling," has raised more than $350,000 since it's debut. In 2013, the Foundation was only able to help one out of every five students (42 out of 225) who applied for financial assistance. For the 2019-20 academic year, SCC was able to assist one out of every three (128 out of 333). 
While our Gala is bigger than ever, so to is our student financial need. With the addition of a new Health Sciences Building, expected in 2021, SCC will be adding three more programs. With the anticipated increase in students, scholarship support will be more critical than ever. Click
here
to learn how you can join us for our 2020 Gala and become a part of changing student lives.