Connect NC bond provides SCC with $7.1 million for capital projects
---
Approved by statewide voters in 2016, the Connect NC bond includes $7.1 million in funding for Southwestern Community College to use on repair, renovation and construction projects.
The bond is a proposal for $2 billion that addresses needs through investments in education, parks, safety, recreation and water and sewer infrastructure.
Of that $2 billion total, $153.8 million would go to higher-ed institutions in the state's 11 westernmost counties.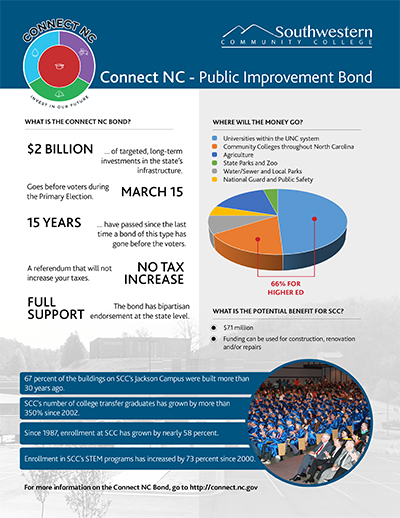 Click on the info sheet above for more information about the Connect NC bond's potential benefit to SCC.
Among the immediate projects supported by the bond at SCC will be a new health sciences building at the Jackson Campus.
One reason SCC needs a new health sciences building is that the Balsam Center, built in 1987 to accommodate four health sciences programs, now hosts 12 of SCC's 14 health sciences programs.
The college's burn building is deteriorating after more than 30 years of use, and the state's fire marshal is encouraging Southwestern to have a new structure in place as soon as possible.
Connect NC was the first bond issue put to North Carolina voters since 2000. The bond required no new taxes or tax increases.