Student Assistance Program
SCC's Student Assistance Program




provided by

McLaughlin Young (MYgroup

)


Call: 800.633.3353

or, for non-emergencies, visit this link.
 

∙  Make your first call any time. (Available 24/7, 365 days a year)  -  During the first call, MYgroup will listen and assess how to best help you.   

∙  Short-term Therapy - Based on your first call with MYgroup, you will then be set up with a counselor for solution-focused, short-term therapy. The counselor may arrange up to 3 different sessions per "problem."  (MYgroup has a large number of experienced therapists worldwide employed with a wide-range of specialties. A number of the therapists are located in WNC.)

∙  Concerns addressed are similar to SCC's College Counselor: Stress, Depression, Alcohol and drug use/abuse, Healthy living, Relationship issues, Marital difficulties, Family problems, Parenting, Grief and loss, Balancing work-school-and family, Adjustment, Crisis events, etc.  

∙  Work-life Concerns - MYgroup also provides articles, videos and consultants to address work-life concerns such as, Legal issues, Financial Issues, Elder Care, Parenting, Family Conflict, Aging, Adoption and ID theft recovery. 
 

Contact MYgroup: Calls are available 24/7 at the following number: 800.633.3353.    
To request an appointment visit, www.mygroup.com/portal/student/request-sap-appointment/ (For non-emergencies)

Work-Life Skills: www.powerflexweb.com/1096/login.html -  Contact Peter Buck for the SCC User Name and Password. By phone at 828.339.4243 or by email at pbuck[at]southwesterncc[dot]edu
 
---

Additional Information 
 
What you will find below:
1. Introduction to MYgroup
2. MYgroup Counseling - What to expect
3. MYgroup Online - The Website and App
---
1. Introduction to MYgroup:
● MYgroup's services are offered to all SCC students. This includes curriculum, dual enrollment (Career and College Promise & Early College), College and Career Readiness and Workforce Continuing Education programs.
(Students who are minors please see end of section #2 "When you call MYgroup for counseling" for how minors can access services.)  
● MYgroup's services are also offered to the permanent household family members of SCC students. (This does not include dorm or room-mates sharing an apartment, but does include parents, children, grandparents, significant other, etc.) 
● Upon request, a MYgroup counselor can be provided who speaks Spanish and/or multiple other languages.
●  There is no cost to you for your phone calls, virtual, or face-to-face visits with MYgroup counselors.
 2. MYgroup Counseling (What to expect) 

First call (Intake call): During this Intake call, MYgroup will assess the following: 
1) If you are in an emergency situation requiring immediate action/referral to agencies that are local to you OR
2) If your situation can be addressed by attending counseling sessions. As the Intake clinician gets a sense of what is going on for you, they will be determining which of their counselors is both: a) experienced in working with the problems you've named; and b) more or less local to you. While phone and video sessions are normal, sometimes it's good to have the option to meet face-to-face. Most people find the Intake call itself to be helpful.  
Second Call (Assessment): During this 1st session your counselor will be getting to know you, get a bit of your history, and a thorough assessment of your problem(s). If needed, additional sessions may be set up. 
Calls after the Assessment: 
A)  Based on the assessment, if short-term therapy is recommended you will start sessions (calls, video meetings, or face-to-face) that are focused on solutions to your initial problem. If multiple problems exist, the counselor might recommend multiple sessions.
B)  Based on the assessment, for any issue determined to be long-term - 
You would also be referred outside of MYgroup to appropriate agencies, counselors and resources local to you.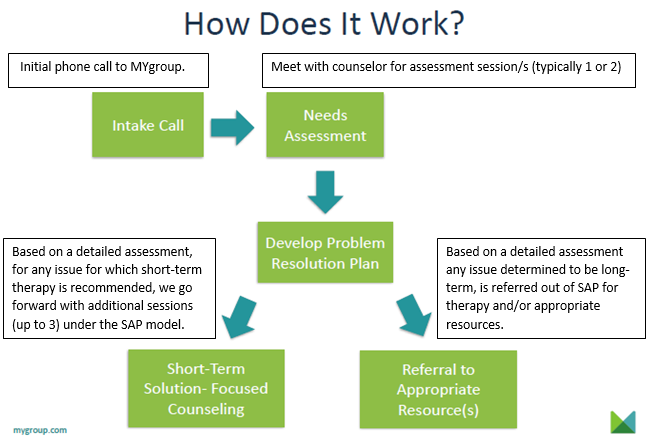 ●  Confidentiality is central to MYgroup services. Your counselor will not share your information unless permission is given from you or your counselor believes you or someone else's safety is threatened. 
●  After the first call, appointments with your counselor are available during both daytime and evening hours.
●  MYgroup services are not designed to evaluate fitness for duty or authorize leave of absences but will provide referrals as needed. 
●  Minors can also access services such as:    
1) Counseling: Students who are 17 years or younger can access counseling services if a parent or legal guardian calls MYgroup on their behalf and is willing to take part in the initial in-depth assessment and to participate in counseling to the degree indicated by the assessment.
2) Work-Life resources: Minors can access Work-Life resources without the help of a parent/guardian. (Excluded: 30 minutes of free legal advice)
3) Minors who are in a crisis may call MYgroup and the clinician answering the call will act as a hot line counselor and do what is needed to link the student to immediate resources. MYgroup is well equipped to link callers to local emergency help like 911, Mobile Crisis units, etc. 
3. MYgroup Online - The Website and App
 • MYgroup Website: Can be accessed by visiting www.mygroup.com
To access the Student Assistance Program webpage, visit this page.
On the Student Assistance Program page you can:                       
       A) "Request a SAP Appointment" for non-emergencies through the tab in the upper right of screen.
       B)  Access Work-Life Services through the link provided on the page. (An SCC username and password are required to access the Work-Life Services. These are available through the SCC Alert app under Support Services → Counseling OR you can contact Peter Buck at 828.339.4243)
 
●  The MYgroup App: Download the app from Google Play or the Apple App Store. 
You can access the same information provided on the website through the app. 
Access the Student Assistance Program or Work-Life Services by visiting the "My Portal Login"
---
For further information contact Peter Buck at 828.339.4243 or pbuck[at]southwesterncc[dot]edu.

North Carolina, using CARES Act funding, has provided MYgroup's Student Assistance Program to each of the 58 NC Community Colleges.  SCC is glad to be partnering with MYgroup to make their abundant and consistently good services available to our students.  In Community Colleges where MYgroup has already been used, what College Counselors do for students and what MYgroup does, not only do not compete with each other, but actually fill in gaps and reinforce each other.  All the more so, we are pleased to make MYgroup available to our students.