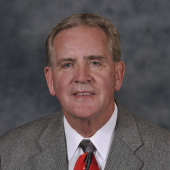 Member, Board of Trustees
B.A., Gardner-Webb University
M.A.Ed., University of North Carolina - Charlotte
M.A., Western Carolina University
The Macon County Commissioners appointed Gary M. Shields to the SCC Board of Trustees in August 2011.

A native of Macon County, Shields served two tours of duty in Vietnam serving with the 173rd Airborne Brigade.

A retired educator, he earned his Bachelor's degree from Gardner-Webb College and a Masters in School Administration from the University of North Carolina-Charlotte. He also has a Masters in Guidance Counseling from Western Carolina University.

He was elected to the Macon County Board of Commissioners in 2014.

His career as an educator spans 37 years. Shields was employed in the Macon County School System for 29 years as a teacher, guidance counselor, elementary principal and high school principal. Before retiring in June 2010, he served for 21 years as principal of Franklin High School.

His wife's name is Anna.

Shields currently serves on numerous boards and committees including Rotary, KIDS Place, Franklin Area Chamber of Commerce, Angel Medical Center Foundation, Tourism Development Commission, and the Macon County Board of Education.

His term on the SCC Board of Trustees will expire on June 30, 2024.