AlertMe Notifications Setup
The SCC notification system has added another layer of alert notifications for smart phones. The app is called AlertMe. It will enable you, as a student or employee, to receive important alerts, keep yourself safe in an emergency, set your preferences, etc.
You already receive important notifications from Southwestern Community College by email, text message, and voice calls, but now there's an additional and better way to stay informed about weather closures, safety notifications, emergency alerts, important events, and more!
The free AlertMe App for iOS and Android allows us to communicate important notifications and alerts to you faster. When you download the app to your mobile phone, you can set your notification preferences so you only receive the alerts that are important to you. In the event of an emergency,  the app will also allow us to reach you based on your location as long as you enable location services.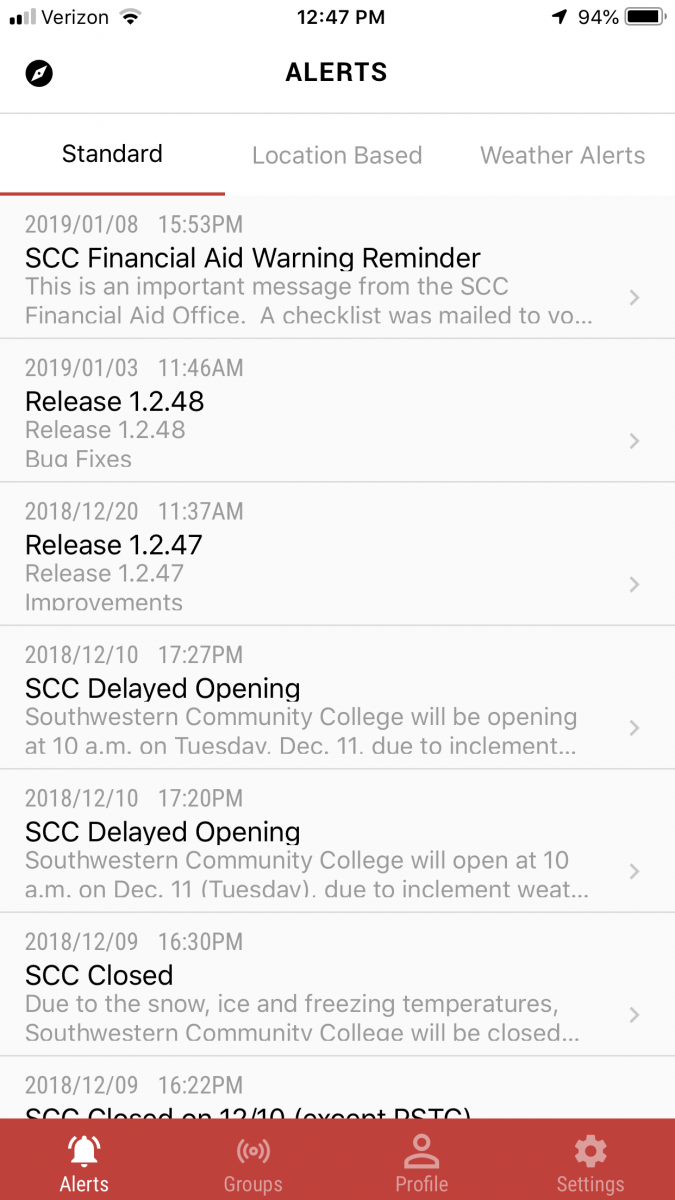 Download AlertMe today and log in using the email address where you currently receive our emails.
(NOTE: You must have logged into MySCC first for new students and employees before the AlertMe app will allow you to login)
Installation Steps:
Use the following links to install:
iOS - https://itunes.apple.com/us/app/alertme-regroup/id1266375333?mt=8
Android - https://play.google.com/store/apps/details?id=com.alert_me&hl=en_US

 
Login to the app using your SCC email address on the first screen

 
Next enter your MySCC username and password on the next screen.

 
You can verify your preferences in the Settings tab along the bottom of the app.  Please be sure to enable push notifications and location services for the app when the app is not running. This will ensure more effective location-based alerts when those are needed.

 
If you go to the Profile tab, you can adjust any of your notification preferences. You are encouraged not to remove any notifications, but change any you feel necessary.

 
If you have any questions, please contact the IT Helpdesk at 828-339-4409 or
support[at]southwesterncc[dot]edu
.