6th annual gala set for Sept. 7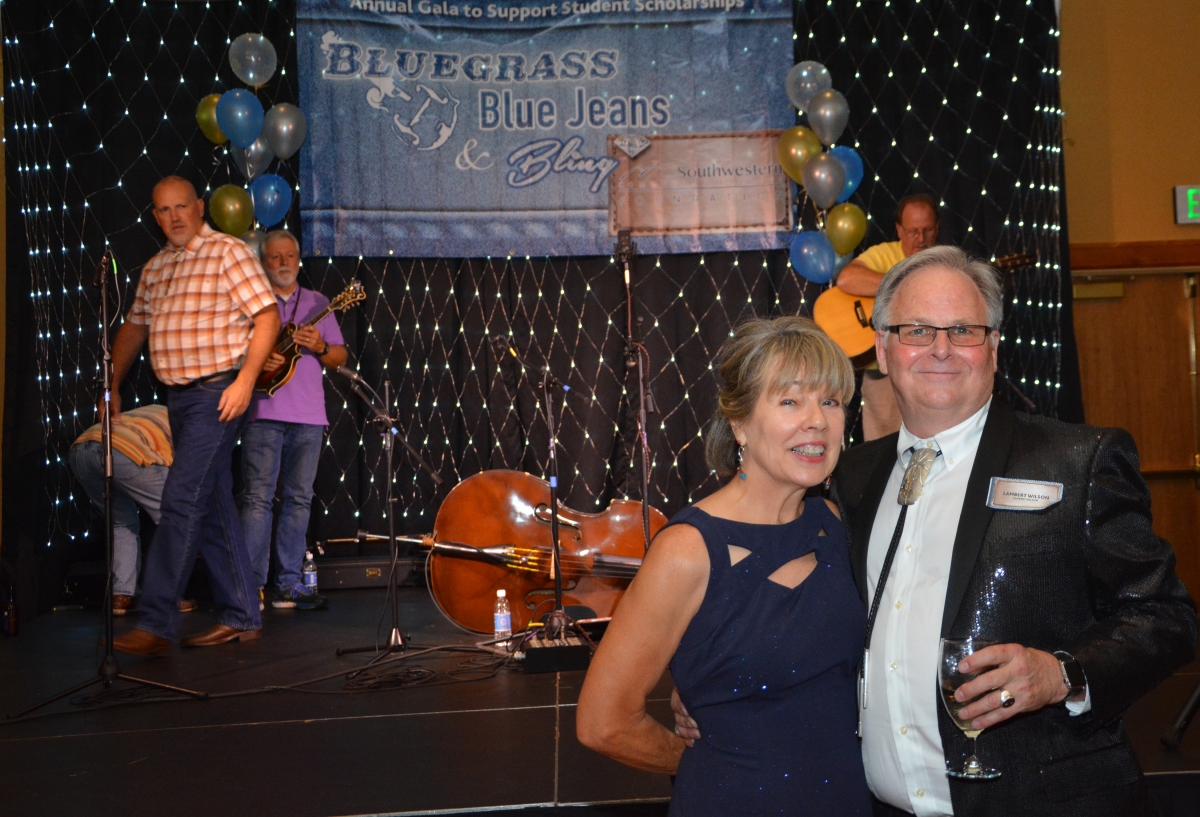 Wendy LeMay (left) and Lambert Wilson are once again serving as co-chairs for the SCC Foundation's gala-planning committee. This year's Boots, Blue Jeans and Bling is scheduled for Sept. 7 at Harrah's Cherokee Casino.
Since Southwestern Community College held its first fundraising gala in 2014, some aspects have changed: the venue, menu, musical entertainment and activities.
As the SCC Foundation makes plans for its sixth annual gala, complete with a slight name change, several of the most important elements remain the same.
"Boots, Blue Jeans & Bling" will still feature a casual vibe, plenty of fun and – most importantly – it will raise money to help students succeed at SCC.
This year's event, which is scheduled for Sept. 7 at Harrah's Cherokee Casino Resort, also aims to keep alive another positive trend by raising more scholarship funding than the year before. Over the past five years, the gala has raised more than $275,000 – including a record $72,000 at the 2018 event.
"When we held our first gala, we could only dream it would grow into what it's become today," said Dr. Don Tomas, SCC President. "The communities we serve in Jackson, Macon, Swain Counties and the Qualla Boundary continuously impress us with their generosity and commitment to our college. The best part of the Gala is that at the end of the evening, the real winners are our students."
To Dr. Tomas' point, the SCC Foundation this year was able to award 128 scholarships worth a total of $167,000. That's a huge improvement from seven years ago, when SCC was only able to help 32 students with a total of $33,000.
However, much work remains to be done. A total of 333 deserving students applied for scholarship assistance this year, but there simply wasn't enough funding to go around.
"Without the scholarship money this event has raised over the years, many of our students simply wouldn't be where they are today," said Vance Davidson, a member of the SCC Board of Trustees who also serves on the SCC Foundation's gala-planning committee. "We're hoping that this year's Gala will take our fundraising efforts to a whole new level."
Transtitioning from the bluegrass genre of recent galas, this year's affair will spotlight the versatile band Crocodile Smile that plays everything from old-school throwback and Motown to country, rock and current Top 40 tunes.
Steve Johannessen, who's performed at every gala to date, will sing classics from the likes of Frank Sinatra and Dean Martin.
Co-chairs for this year's gala will once again be Lambert Wilson, who serves on SCC's Board of Trustees, and Wendy LeMay, who is also Chair of the SCC Foundation Board of Directors.
"We have tremendous leadership and extremely active and enthusiastic members on our gala planning committee, and they are a key reason this event continues to gain momentum to benefit our students," said Brett Woods, Director of the SCC Foundation.
"Every single year, people tell us they really appreciate the relaxed, casual atmosphere of our gala," Woods added. "That's why we're keeping the same basic look and feel as all past galas with cornhole, a silent auction, best-dressed contest and  wine pull. We'll also have music that's easy to dance to, and everyone will have a lot of fun."
To select a sponsorship level, purchase tickets, sign up for the silent auction or get more info, visit www.southwesterncc.edu/gala or contact Kathryn Posey, SCC's Institutional Development Associate, at 828.339.4227 or k_posey[at]southwesterncc[dot]edu.
Click here to see a gallery of photos from last year's gala (This link will take you off SCC's website to Facebook).