Career Closet Helps Job Seekers Dress for Success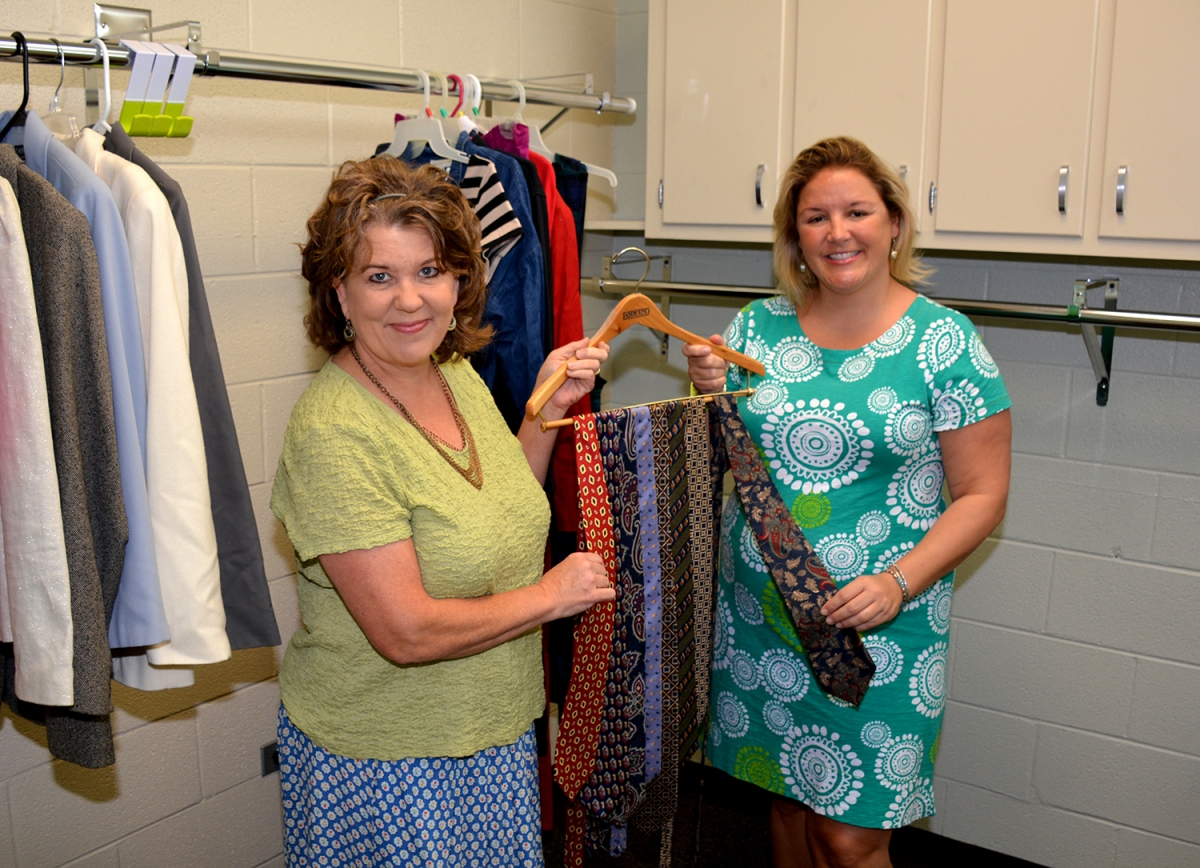 Deborah Cochran (left) of Webster made the first donation to SCC's Career Closet.
Sometimes a first impression makes all the difference in getting the job you want.
That's why Southwestern Community College provides a Career Closet with the goal of ensuring students, graduates and others from the community look their best each time they interview for new employment.
SCC's Career Closet is seeking donations of gently used business professional and business casual attire for men and women to help job seekers get the professional clothing they need. All donations are tax deductible.
The Career Closet was developed as a part of SCC's Job & Career Preparation lab, where students and community members can go to receive assistance on resumes, cover letters and interviews and to learn more about the professional skills needed for job searches.
Job & Career Preparation participants can be eligible to select an outfit from the closet after they have received all the assistance and training they need to go on job interviews. The closet will have both business professional and business casual options for a wide range of jobs.
SCC accepts donations of button-down and polo shirts, suit coats, ties, pants, shoes, blouses, skirts, jackets and other business accessories that are in good condition and on hangers if possible.
Webster resident Deborah Cochran, an adjunct faculty member at SCC, made the first donation.
"Having taught for 10 years at SCC, I have come to admire greatly my Anatomy/Physiology students as some of the hardest working people I've ever known," Cochran said. "Many are juggling long job hours, academic demands, children, as well as other obstacles at times, including health issues, ailing vehicles and financial worries. And yet, most are absolutely determined to succeed, to provide a better life for their families, to pull themselves up, and to move into a rewarding career-- despite all of these challenges each day.
"Many of us, on the other hand, have an abundance of blessings, including closets overstuffed with nice clothes that may be rarely worn anymore," Cochran added. "The SCC Career Closet is a new and much-needed service for so many of these struggling students as they try to move on to interviews and the job market. I would encourage others in the community to donate any extra, quality, professional garments, which would surely be received and used with sincere gratitude."  
The Career Closet accepts donations between 9 a.m. and 2 p.m. on Tuesdays through Thursdays in Oaks Hall on SCC's Jackson Campus. Donations are tax-deductible.
The Career Closet also partners with SCC's Cosmetology department, which provides services at a discount for students who are utilizing the Career Closet.
For more information or to donate to the Career Closet, contact Carole Langford at 828.339.3002.