UPDATED 6/26/20, 1 p.m. - College update regarding face coverings
LATEST NEWS 
As our leadership has updates about the developing situation, we will post those here. Students and employees will also receive updates through emails, phone calls and/or texts.

If you don't have reliable internet access at home, we want to let you know there are locations on our campuses and in our service area counties that you can access the internet.
Please keep in mind that we don't endorse any non-College associated WiFi networks. View the list HERE.

For support services related to COVID-19 concerns, contact the Hope4NC Helpline at 1.855.587.3463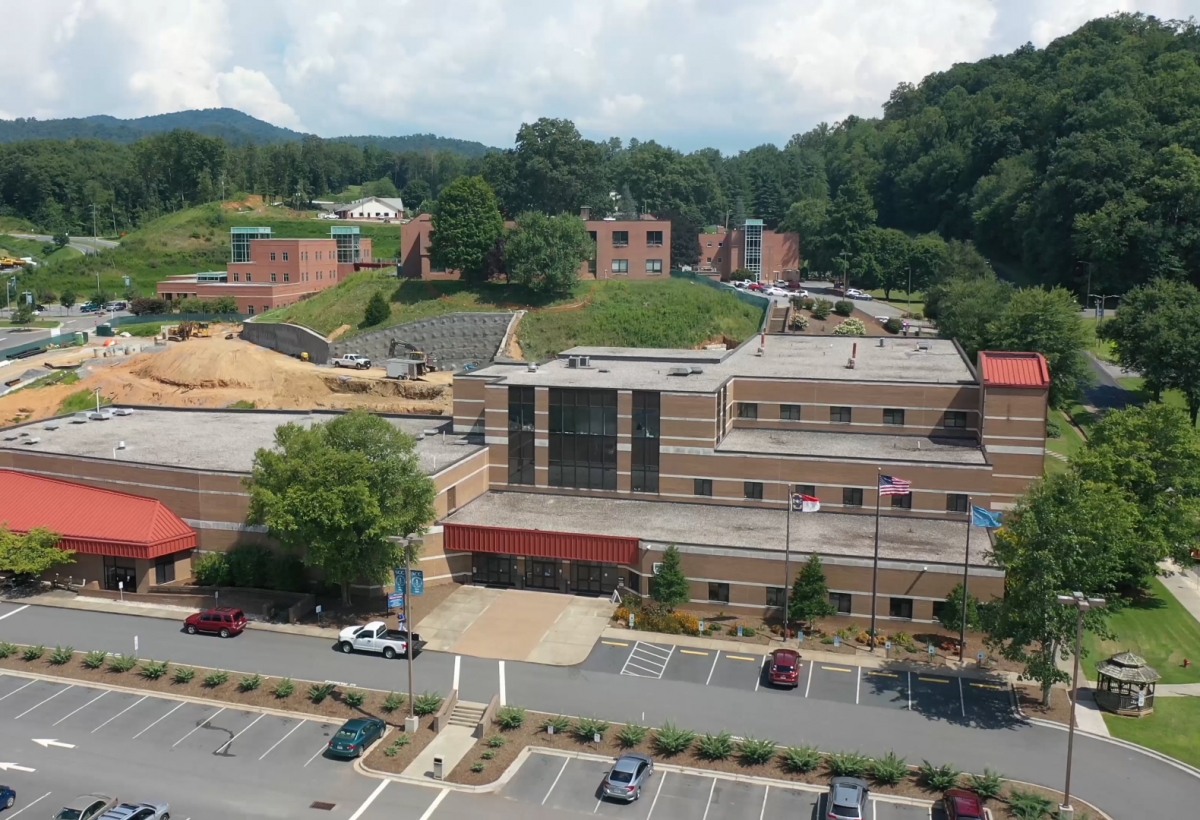 JUNE 26, 2020
 
You probably heard this week that Gov. Roy Cooper has made face coverings mandatory throughout the state, and we will fully comply at SCC. (Click here to view a copy of the Governor's executive order).
Effective June 29 and throughout at least the fall 2020 semester, we require all students, faculty, staff, and visitors to: 
·  Wear face covering in all SCC buildings, including classrooms and laboratories, and in all college programs held in non-college buildings, 
·  Wear face covering in outdoor spaces on campus property where appropriate physical distancing cannot be guaranteed,
·  Maintain 6 feet of social distance whenever possible, and 
·  Frequently wash and sanitize hands. 
These measures are the best proven ways to protect yourself and others from contracting COVID-19, especially with asymptomatic cases.  COVID-19 spreads via respiratory droplets, and face coverings are one of the most effective tools for minimizing the risk.
Individuals are not required to wear a face covering while eating (AND maintaining social distancing), or when they are not in close contact with someone else, such as walking alone in an uncrowded outdoor location.
SCC will provide face coverings to all students, faculty and staff who need them.  Individuals can also choose to wear their own face coverings.  Cloth coverings or face coverings should be washed daily, and the fabric design or pattern should be appropriate for the classroom and the workplace.  If the face covering becomes damaged or visibly soiled, we will provide a new face covering.
Anyone who does not comply with the requirement to wear a face covering will be offered a face covering or asked to leave campus, and must have a face covering before returning to campus.  Some college services may be available remotely for individuals who decline to wear a face covering.  Students who fail to comply may be in violation of the Standards of Student Conduct. 
You may be turned away from a classroom, office, and/or event if you fail to comply with this requirement.
As a college, we must take responsibility at all times for the health and safety of all those on campus.  While some safety measures may seem inconvenient or uncomfortable, they are far more preferable than becoming ill with COVID-19 or spreading it to others.
If you have any questions, we encourage you to contact the Dean of Students, Cheryl Contino-Conner, at cheryl[at]southwesterncc[dot]edu.
 
----------


JUNE 24, 2020

Info for students regarding Fall semester


Southwestern Community College will start its fall semester as scheduled on Aug. 17, but we are implementing a number of schedule adjustments and format changes to help keep students safe during the ongoing pandemic. These changes include:
Fall break has been canceled in order to minimize the opportunity for travel from the area and return to campus. This change will also allow us to end the semester earlier. 


All curriculum classes will be web-supported, hybrid or web-centered. This means that while SCC is still offering a range of face-to-face classes, they will all have some level of online activity. Your instructors will introduce you to the online platform (Moodle) within the first week of class. 


No face-to-face classes will meet on SCC campuses on Fridays in order to reduce foot-traffic on campuses.


Southwestern will hold no in-person curriculum classes after Thanksgiving Break. 


A "Flex and Finals Week" following Thanksgiving will allow students to remotely finish some pending course requirements or clinical assignments by Friday, December 4. Your instructor will give information about how this will impact specific classes.


We will conclude the semester two weeks earlier than originally planned to avoid public gatherings on campus as we head into the winter season.

Here is what you can do to prepare now for the fall semester:
CHECK YOUR SCC EMAIL daily for communication regarding adjustments to course modality and online expectations. Help us spread the word by telling your classmates about these changes.
SCC expects students to have laptop or computer equipment, including a webcam and microphone, adequate for accessing internet content: 
Identify areas to access internet service at home, work, or public places. You may also access the internet in SCC buildings and parking lots.
Check  for additional computer requirements in programs of study with specific computing demands.  
Consider purchasing a computer from the SCC bookstore using your financial aid award.
Inquire about the laptop loan program at the SCC Library.
Practice using MySCC, college Gmail, and Moodle during the summer so that you are prepared to use these online technologies in the fall. Here are some resources for you to review:
Moodle Orientation (MySCC Login Required)
Prepare for the possibility of a transition to full-distance format during the semester in the event of a campus closure.
You are required to wear face coverings at SCC campuses and events. While you are encouraged to wear your own face covering, SCC will have masks on hand for student usage.


APRIL 2, 7:30 a.m.

COVID-19 For students: Frequently Asked Questions

Part 1: Support
Question:
I am feeling stressed about the COVID-19 crisis and its impact on my education. Is there someone at SCC I can talk with?
Answer: 
This is an unprecedented time, and it is normal to feel anxious about the COVID-19 crisis and its impact on your education. It is important to remember that SCC faculty and staff are here to support you, and good communication is essential to moving forward with your educational goals.

Here are some folks you can talk with:
Your Instructors. Communicate regularly with your instructors. They want to help you move forward in your classes.

A Success Coach. Contact SCC Success Coach Tori Ellison at t_addingtonellison[at]southwesterncc[dot]edu for tips and guidance on staying on track with your program of study during these challenging times.

Your Advisor. Your academic advisor can help you understand options for modifying your academic plans and the implications of any changes on completing your program of study.

A Professional Counselor. Overwhelmed with stress? Reach out confidentially to SCC's Licensed Professional Counselor, Peter Buck, at pbuck[at]southwesterncc[dot]edu. He cares about you!
Question:
How can I complete online classes if I don't have the computer or internet access that I need?
Answer:
SCC wants to minimize any technology barriers that you face in completing your online classes. You should first alert your instructor to the specific challenges you are having. You can also send an email to Ineedtechnology[at]southwesterncc[dot]edu and describe your specific needs. If you need a computer, web-cam, or internet access, SCC might be able to provide you with a no cost solution.

Question:
How do I get support for accessing and using the technology to complete my classes?
Answer:
Visit our COVID-19 IT Information page for support in using your technology.
Visit our E-Learning Student Support page for support with your online classes.
Visit our External Internet Access page to locate outside wifi locations near you.

Question:
How do I access tutoring since the Learning Assistance Centers have transitioned to virtual services during the COVID-19 crisis?
Answer:
You should view this video tutorial on how to use SCC's online tutoring platform.

If you experience any problems or need help connecting to a tutor, please call Tutor Program Coordinator Julie Bennett at 828.339.4304, or email tutoring[at]southwesterncc[dot]edu

Question:
How do I access learning resources since the Library has transitioned to virtual services during the COVID-19 crisis?
Answer:
Log into to the MySCC portal and click on the Library Tab for access to all the library's resources and services.


Many Library resources are available 24/7 online once you login to the MySCC portal. Not sure where to start, try our OneSearch box or visit a Library Research Guide.

Consult the Holt Library COVID-19 Coronavirus 2020 Library Research Guide for information on COVID-19, using the library resources from home, latest updates, tips for parents, and educational and fun resources for young adults.

You can reach a librarian 24/7 via "Ask a Librarian" chat on MySCC's Library tab or by email - library[at]southwesterncc[dot]edu. Please do not hesitate to contact us.

Part 2: Course Continuation and Completion
Question:
Will my classes be completed by the end of spring semester (May 15)?
Answer: 
That depends on the requirements of each of your classes. SCC estimates that at least 75% of classes will conclude by May 15. Any class that was originally online or has since  been fully converted to online or alternate distance delivery methods should be completed by the end of the semester. However, some classes that have clinical, lab, salon, or work-based learning requirements may not be able to meet the required face-to-face time to conclude by May 15.

Question:
What happens if my classes don't finish by the end of spring semester?
Answer: 
Students will be given Incomplete 'I' grades for any classes where face-to-face meeting requirements could not be met due to the COVID-19 crisis. Your instructor will alert you to this situation and describe the timeline and requirements to complete the class.

Question:
How long will I have to complete a class that was delayed due to the COVID-19 crisis?
Answer: 
You may have up to 90 days from the date that SCC announces that it is safe to resume face-to-face classes to resolve incompletes from the COVID-19 crisis. Your instructors will provide you with an exact timeline and dues dates for your classes as dates may vary depending upon the total hours needed to make up missed time and the availability of labs, clinical sites, and instructional resources.

Question:
How will I register for summer and/or fall classes?
Answer:
Virtual Advising Day is April 14, marking the kickoff of advising and registration for spring and fall semesters. Using technology, advising and registration will continue until the start of summer and fall semesters.
Here's how it works: 

Your advisor will be reaching out to you (using your SCC email and phone number we have in our system) over the next few weeks to assist you with Summer and Fall registration. If you do not hear from your advisor, please reach out to that person by  email. University Transfer Advising Center (UTAC) advisors will be contacting students, as well. If you are a UTAC student and you haven't heard from an advisor, please email utac[at]southwesterncc[dot]edu for assistance. 

Question:
Will I still graduate at the end of spring semester?
Answer:
If you were planning to graduate this spring and you complete all degree, diploma, or certificate requirements by May 15, then your credential will be conferred (you will graduate) at the end of spring semester. You may participate in the postponed commencement ceremony that is now scheduled for Saturday August 8.  Any students completing graduation requirements during the summer may also participate in the August 8 ceremony.

Part 3: Course Withdrawals
Question:
What happens if I just stop participating in my classes?
Answer: 
We don't want you to do that!  But, if that is your decision then the following rules will apply:
If you stop participating on or before April 30: You would receive an administrative withdrawal "AW" for the course. Pursuant to SCC Policy 6.02.01, "A student in an online or hybrid course will be administratively withdrawn following two consecutive weeks in a 16-week term (or one week in shorter academic terms) of missed assignments, missed attendance (for hybrid), and lack of communication with the instructor regarding course participation. Consistent with policies establishing attendance in online courses, logging into a course site but failing to perform the aforementioned actions does not constitute attendance."

If you stop participating after April 30: A student meeting the above definition of absences after April 30 will receive a grade of "F" for the course.

You should always communicate with your instructors and advisors if you are unable to continue in your courses.

Question:
When is the last date that I can withdraw from spring semester courses?
Answer: 
Due to interruptions from the COVID-19 crisis, the last date to withdraw from spring semester classes has been extended through Tuesday April 14. To withdraw from a course(s) or the College, a student should contact his/her advisor and initiate the ADD/DROP/WITHDRAWAL Form or initiate the form online. These forms are processed by the Registrar's Office. If a student withdraws by the official withdrawal date for the semester (published in the College's calendar), the grade received will be a "W."

Question:
I do not feel comfortable continuing my classes during the COVID-19 crisis, so can I get an incomplete and finish the requirements later?
Answer: 
COVID-19 guidance from the North Carolina Community College System allows students in health sciences clinical courses to "opt-out" of clinical requirements and receive an incomplete grade. All other students must complete regular course or withdrawal requirements.

Question:
I do not feel comfortable continuing my classes during the COVID-19 crisis, so can I withdraw from the class and receive a refund?
Answer: 
Withdrawing from a course, regardless of the circumstances, does not result in a tuition refund of any amount. COVID-19 guidance from the North Carolina Community College System allows students in health sciences clinical courses to "opt-out" of clinical requirements by withdrawing from the course and retaking the course at a later date with no tuition charge. All other students must complete regular course or withdrawal requirements.

Question:
How will withdrawing from a course impact my grade or financial aid?
Answer: 
The "W" or "AW"  will not influence the grade point average for the semester. However, withdrawing from courses could affect a student's eligibility for financial aid. Students who receive financial aid should always consult the financial aid office before withdrawing from a course. 


MARCH 24, 3:11 p.m.

Starting on Wednesday, March 25, SCC will primarily and temporarily transition to a virtual college due to the COVID-19 Pandemic. 

Our college remains open and fully operational electronically while continuing to deliver high-quality instruction and support to our students.

However, our buildings will be closed until further notice for public traffic and face-to-face interactions. In the meantime, if you need to reach anyone at Southwestern, we encourage you to visit this page and use email contacts for reaching faculty and staff members. 

We are rescheduling or canceling all spring semester events and making other adjustments to our academic calendar as necessary (see list at the bottom of this note). 

If absolutely necessary, employees can go to their respective offices but are asked to avoid common areas and adhere to social distancing recommendations as outlined by federal, state and public health officials. 

Our Information Technology team will soon send out detailed instructions to employees and students on how to reach the IT Helpdesk.

The N.C. Community College System, in consultation with the N.C. Department of Health and Human Services, has asked us to continue holding in-person classes at our Public Safety Training Center in Franklin as well as in-person labs for students enrolled in essential fields for the fight against COVID-19: Nursing, Nurse Aide and Respiratory Therapy. Students in these programs have the opportunity to opt out. 

Following are the schedule adjustments to our academic calendar: 
Our spring 2020 graduation ceremony is tentatively postponed until Aug. 8. However, students who complete their degree, diploma or certificate requirements this spring will have their credential(s) confirmed and mailed within 6-8 weeks.
Students who receive an incomplete in the spring but complete their credential requirements over the summer will be conferred at that time. 
We will not hold an Academic Awards ceremony, but honorees will still receive certificates/awards in the mail. 
We are hoping to reschedule pinning ceremonies for all health sciences programs that wish to hold these celebratory events. 
Our honor societies will not hold induction ceremonies, but selected students will still be honored and will receive more information in the weeks ahead.
MARCH 24, 9:21 a.m.

Hello everyone, if you participated in New Student Orientation ten years ago or three months ago, you probably remember this video we showed you about Mt. Everest.

During Orientation, we encouraged you to build your support team and consider support resources because somewhere along your educational journey, you'd face one or more challenges that might feel like your own personal Everest.

For all of us today, COVID-19 may very well feel like that impossible mountain.

I'm writing today on behalf of all SCC's support staff and faculty to remind you that you are not alone! Yes, we are all facing a roadblock – but we're going to work together to realize a positive outcome. Here's how:
1) FREE online tutoring is waiting for you https://www.southwesterncc.edu/learning-assistance/online-tutoring
2) Communicate with your faculty who are ready to support you as you complete assignments using the online format https://www.southwesterncc.edu/faculty-and-staff-directory
3) E-Learning specialists are standing by to serve you. https://www.southwesterncc.edu/e-learning

When in doubt, call or email our support team; we are ready to support you!

MARCH 19, 5:05 p.m.
SCC continues to follow guidance from the North Carolina Community College System and public health agencies in response to the COVID-19 pandemic. As we announced last week, all of our face-to-face classes are transitioning to online or alternative distance methods starting on Monday March 23. Classes that cannot transition online (such as some lab experiences) may have make-up times scheduled at a later date. Your instructors will advise you about the status of clinical and work-based learning experiences as well as any make-up dates for lab classes.
Please be aware of the following guidelines and resources to support your SCC experience during this challenging time:
Check your SCC email account regularly for communication from the College and your instructors.

Log in to MySCC and check the e-Campus (Moodle) for course information.

Access computers at Jackson Campus Library and LAC, the Macon Campus and the Swain Center.

Students should practice social distancing of at least 6 feet when on campus. Groups will be limited to 10 or fewer in computer labs.

Public outdoor WiFi is available at the Jackson Campus and Swain Center. (SCC students and employees can check their email to see maps with exact locations for outdoor WiFi)

Visit the Virtual Holt Library, by logging into MySCC and clicking on the Library tab.

The learning assistance center will provide tutoring virtually. To get started click on the "Tutoring" link at the bottom of any Moodle course. If you experience any problems or need help, please call part-time Tutor Program Coordinator Julie Bennett at 828.339.4304, or email tutoring[at]southwesterncc[dot]edu.

Student Services staff are positioned to provide seamless service to you. Please recognize a few services might take a day longer than usual to process (printing of transcripts is a good example.)  Emailing the appropriate Student Services office is the most efficient, and preferred, option at this time. Click HERE to find the office you need.

Having trouble navigating in Moodle?  E-Learning support is available by emailing elearning[at]southwesterncc[dot]edu, or calling 828.339.4400.
NOTE: Physical access to computer labs, the Library, and the Learning Assistance Centers may be suspended as conditions change.

MARCH 12, 4:50 p.m. (revised at 11 p.m. on March 16)

Dear Campus Community:

Southwestern Community College is closely monitoring the spread of the coronavirus COVID-19. There are no confirmed cases in our service area of Western North Carolina at this time. However, Gov. Roy Cooper has declared a state of emergency in North Carolina.

Our priority is the health and well-being of our campus community. That's why we are joining other institutions of higher education in North Carolina and across the nation in transitioning spring semester seat-based classes to online and alternate formats until further notice. While SCC remains open, we will practice social distancing to minimize the potential exposure of our faculty, staff, and students during the coronavirus pandemic. 

We are sharing basic details below:
Current Online Classes, Off-Campus Clinicals and Work-Based Learning Assignments will continue as scheduled on Monday, March 16.·   
      
Spring Break is extended through March 22 for Seat-Based Classes.  

Remote Instruction will begin March 23 for all Seat-Based Classes. These courses will be transitioned to online or alternative formats. Students should monitor their SCC email accounts during the week of March 16 regarding how their specific classes will proceed.       

Make-up Dates for most Labs will be scheduled later in the semester.  Your instructor will inform you of the make-up dates and times once they are scheduled.
Public Safety Training Center classes will continue. Students and instructors in these programs will be informed directly about any changes in the status of their classes.

All College Campuses and Locations will remain open and operational during regular business hours. Students may use computer labs in Founders Hall and Holt Library and access wifi at SCC campuses. As campuses remain open, students and employees should practice social distancing and other preventative measures recommended by CDC and NCDHHS.

Faculty Members will receive a more detailed email within 24 hours to help guide you through the process of transitioning to online/alternative delivery.
All Student Life and Career Services events have been canceled through April 3. Decisions regarding commencement, awards and pinning ceremonies, and other events will be made after April 3. As decisions are made, they will be announced through our official college notification system and on this webpage.

Events with 10 or more people are canceled immediately until further notice.

Cafe '64 will be closed until further notice.

Only essential travel to clinicals or for instructional purposes will be allowed for SCC employees.

We recommend that you follow recently revised CDC guidelines if you have recently traveled to Level 2 or Level 3 countries. 


March 12 - 10 a.m.
We understand there are questions concerning the status of SCC classes following yesterday's announcement that UNC institutions are transitioning face-to-face courses to alternative methods. SCC is closely monitoring the Coronavirus Pandemic and following CDC and public health guidelines to develop continuity plans for classes and college operations. Following a conference call with NC Community College leadership, we will have an official announcement of those plans and next steps for students and employees by 5 p.m. today.
March 9 - 4 p.m.
While all is relatively quiet this week due to spring break, our senior administration would like to take a moment to reassure everyone that we're actively making plans in the event of a potential interruption of regular college operations and instruction due to the COVID-19 Coronavirus.
We remain ready to immediately implement any recommendations made by local, state and/or federal health officials. This week, our facilities and housekeeping crews are taking advantage of the break in instruction to thoroughly sanitize and disinfect the campus facilities.
On a personal level, we encourage everyone in our SCC family to remain calm and follow the advice of public health experts at the state and federal levels, including:
·         Wash your hands frequently for 20 seconds, using soap and water.
·         Avoid touching your eyes, nose and mouth.
·         Cover your cough or sneeze with tissue or your sleeve.
·         Avoid close contact with people who are sick.
·         Stay home when you are sick.
 
March 3 - 12:10 p.m.
Our college leadership wants to take a moment to reassure everyone in the SCC family that we are closely monitoring the Coronavirus (COVID-19) situation.
We stand ready to immediately implement any recommendations made by federal and/or state health officials. Until then, our facilities and housekeeping crews are expanding efforts to ensure all college locations are as clean and sanitary as possible. These measures include frequently disinfecting "touch points" and surfaces in common areas.
We recommend you visit the N.C. Department of Health and Human Services' webpage about COVID 19. The page is continuously updated and includes tips for protecting yourself. Also, here's a link to the CDC's page about Coronavirus.