Health Sciences Building groundbreaking is May 6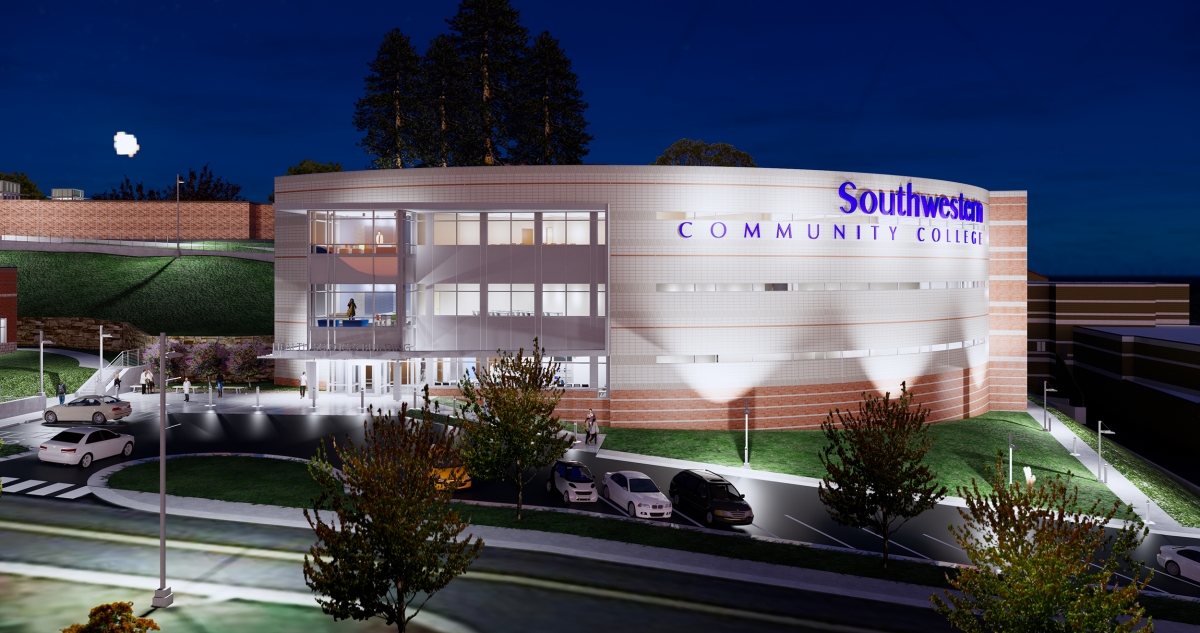 This is an artist's rendering of SCC's new health sciences building. A groundbreaking ceremony is scheduled for Monday, May 6.
Southwestern Community College will hold a groundbreaking ceremony for its new health sciences building at noon on Monday, May 6, at the college's Jackson Campus.
Dr. Don Tomas, SCC President, and Brian McMahan, Chairman of the Jackson County Board of Commissioners, will offer brief remarks before  the ceremonial moving of earth between the existing Balsam Center and Burrell Building.
The public is invited, and closed-toed shoes are required since the event is taking place at an active construction site.
 "This is a significant and long-awaited moment in our college's history, and we are excited to share this kick-off event with everyone in our community who has supported us over the years," Dr. Tomas said. "Once completed, this new building will have an immediate and lasting impact on our students, the communities we serve and our entire region of Western North Carolina."
Designed by LS3P, the $20 million building project will be overseen by Michigan-based Christman Company, which has a regional office in Knoxville, Tenn. The building is scheduled to open in 2021.
Funding sources for this project include Jackson County (more than $13 million), the Connect NC Bond ($5.4 million) and a grant from the Economic Development Administration (more than $2 million).
SCC has outgrown its Balsam Center, which was built in 1988 to house four healthcare training programs. The college now has 14 Health Sciences programs, and this building will allow Southwestern to add three more: Surgical Technology, Opticianry and Speech-Language Pathology Assistant.
According to research conducted by William Brothers, SCC's Vice President for Financial and Administrative Services, the new programs being added will yield average salaries ($44,965) that are 22.6 percent higher than current median income for the service area ($36,667).
For more information about SCC's building project, visit www.SouthwesternCC.edu/NewHealthSciencesBuilding.