NASA partner Southwestern Community College leads nationwide 'Transit of Mercury' event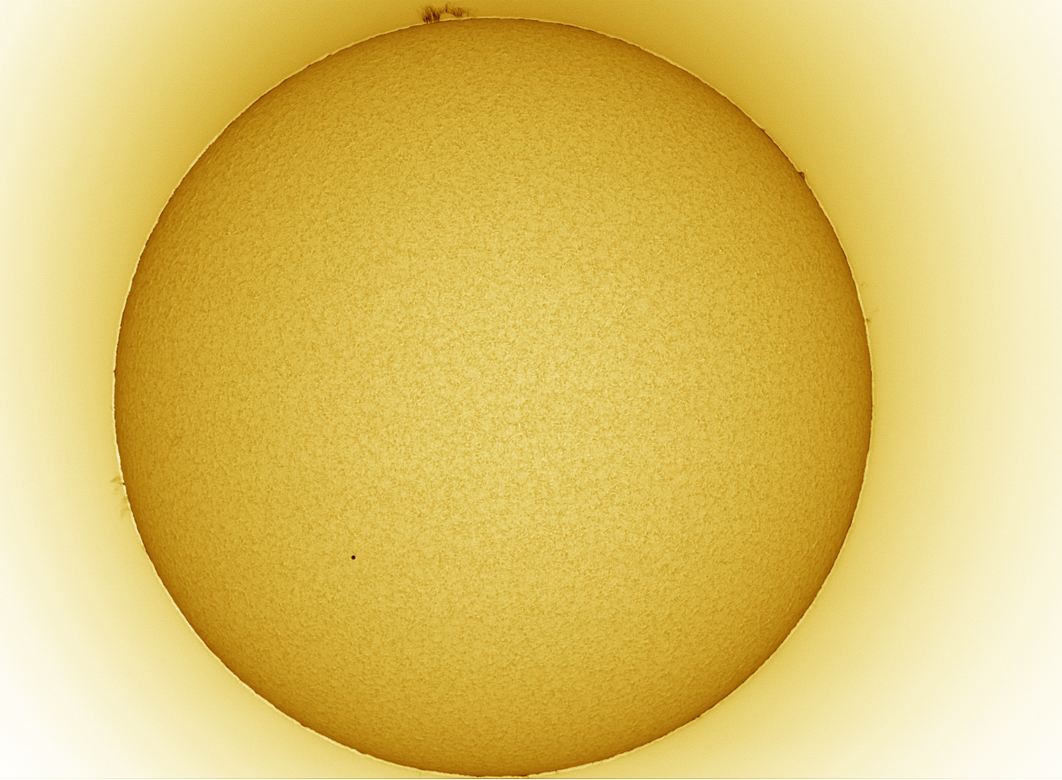 This H-alpha image of Mercury crossing the Sun was taken from SCC's Jackson Campus on Nov. 11 in Sylva.
Zack Stockbridge has always been fascinated by the heavens.

On Nov. 11, the Southwestern Community College Astronomy Instructor shared that passion with others across the country through an educational effort to measure the earth's distance from the sun during a rare celestial event.

From 7:30 a.m. until shortly after 1 p.m., the planet Mercury crossed directly in front of the Sun – a pathway known as the "Transit of Mercury" (ToM). Stockbridge organized a network of stargazers at widely varying points across North America to simultaneously photograph the event.

This scientific event is one of many SCC has pioneered and participated
in since becoming the only community college in the nation to enter a cooperative science agreement with NASA in 2015.

Photos taken at SCC along with those taken elsewhere were used to calculate one astronomical unit – the average distance between the Earth and the Sun. The nationwide citizen science project has been named "CitizenToM."

In the morning, Cass offered a presentation on "An Introduction to Solar Basics," which concluded in time for participants to view the "Maximum Transient Observation" moment at 10:20 a.m.

Throughout the event, solar telescopes were set up on SCC's Jackson Campus in Sylva. The public was able to view Mercury's transit in front of the sun while Stockbridge and SCC Physics & Astronomy Instructor Matt Cass - along with SCC students - participated in the project by taking photos at pre-arranged moments.

A comparison of images taken by Mike Conley (Salem, Oregon) and SCC in Sylva revealed a slight shift in Mercury's position. How slight? The cameras produced overall images that are 1538 pixels by 1538 pixels. Each pixel is 3.45 micrometers. Mercury only shifted 17 micrometers.

"This project had been rolling around in my mind since right after the total solar eclipse of 2017," Stockbridge said. "It's a fun educational project rather than data collection for scientific research."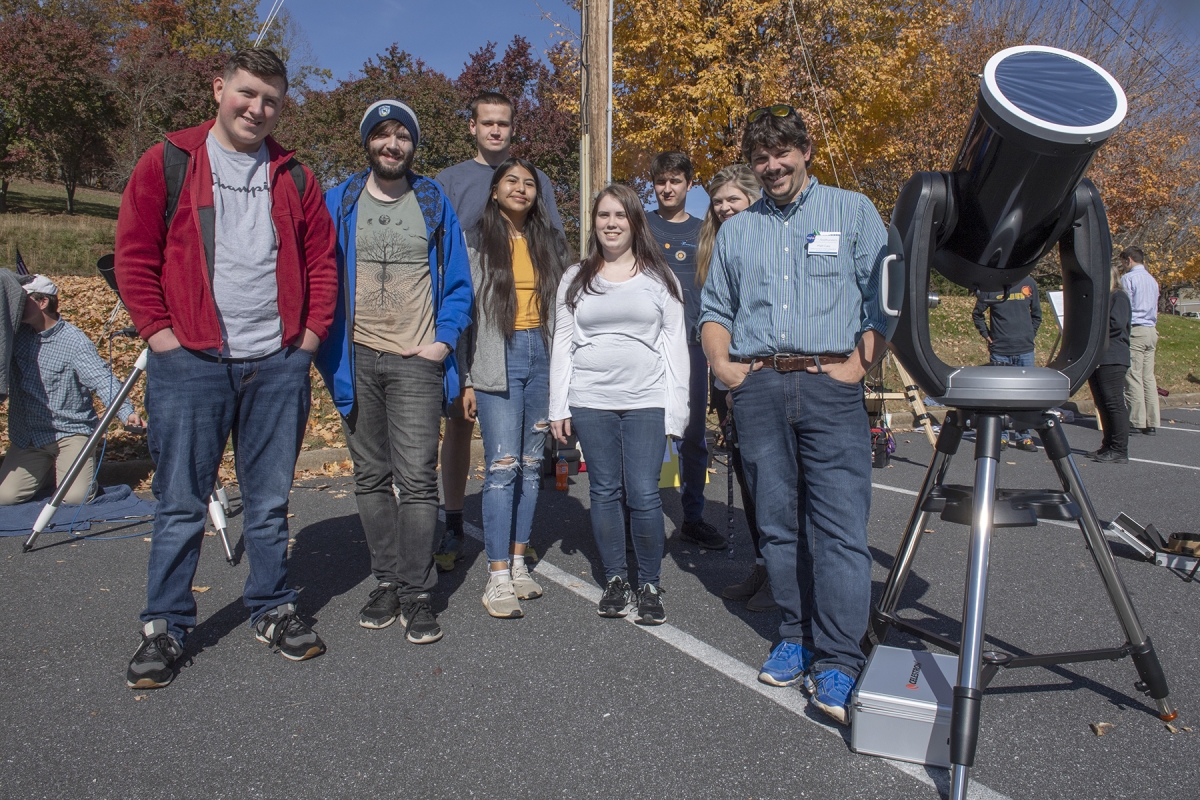 Students in SCC's Descriptive Astronomy course pose with a solar telescope on the Jackson Campus.
Pictured are, front row, from left, Conner Barnes of Denver, Tyler Nantel (Cullowhee), Leslie Silva (Sylva), Kathleen Allen (Cullowhee) and SCC Physics Instructor Matthew Cass.
Back row, from left, Noah Henderson (Otto), Max Sainz (Franklin) and Destiny Bryson (Franklin).


The last such transit was in May 2016, and the next won't happen until November of 2032.

"Our association with NASA has opened many doors for our students to engage in science," said Cass, who oversees the Smoky Mountain STEM Collaborative that was created as part of the partnership with NASA. "This was a perfect opportunity for students to get hands-on experience in astronomy."

For more information about the solar telescope viewing on Nov. 11, or to learn more about SCC's partnership with NASA, contact Cass at 828.339.4384 or mcass[at]southwesterncc[dot]edu.