Macon Campus of SCC holds STEM event for local high school sophomores
FRANKLIN
– On April 5, Southwestern Community College's Macon Campus welcomed 64 students from Franklin, Nantahala and Blue Ridge high schools for the second annual STEM challenge.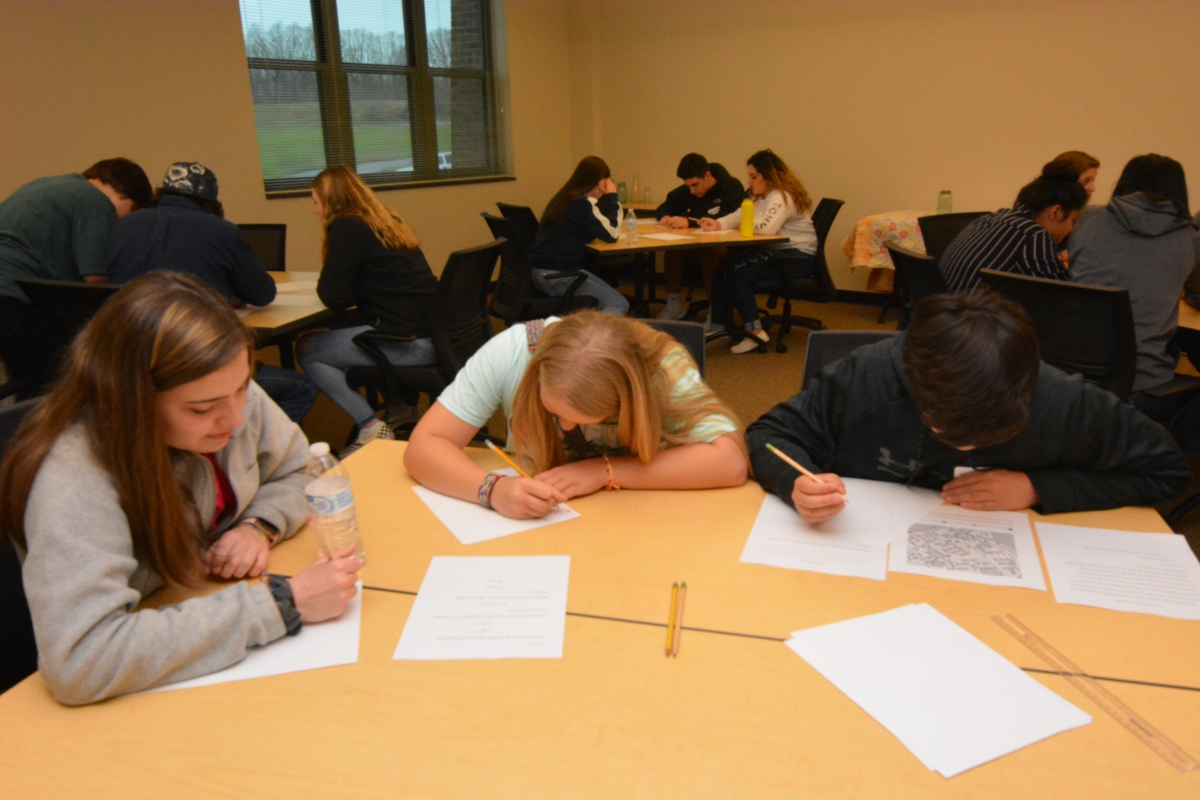 From L-R: Sydney Chapman, Chloe Baty and Preston Cochran work out math problems in one of the "Time Travel" themed escape rooms.
This year, the STEM challenge revolved around mathematics-based escape rooms. Mathematics Instructor Elaine Merritt and Biology Instructor Suzanne Berryhill served as lead coordinators for the event. Merritt's Calculus 2 students designed the escape rooms. One of those students, Lily Amoon, created, designed, and facilitated one of the escape rooms on her own as part of an Honors Project.
"The STEM Challenge provided a wonderful opportunity for our local high school students to visit our Macon Campus, learn about our programs and Career and College Promise, work collaboratively in groups, solve math problems and engage in critical thinking while meeting new friends," said Dr. Cheryl Davids, dean of Macon Campus.
Students were assigned to an initial escape room then rotated to a new escape room every 45 minutes. The escape room themes were: Time travel from the past to present; Time travel from the future to the present; Junkyard, in which students had to create "fuel pods" to take to Mars to power the Mars Rover; and Mars, in which students had to break-out and build a Mars Rover.
During the lunch break, Amanda Everhart and April Copeland of SCC presented information and answered questions on Career and College Promise North Carolina; a dual-enrollment program that allows high school students to attend SCC and earn college credit. The day ended with door prizes donated by the SCC Heritage Arts Department, Therapeutic Massage Program, and SCC Bookstore.
"As successful as the event has been the past two years, the Macon Campus plans to continue holding STEM challenges annually," added Dr. Davids. "We look forward to offering the third STEM Challenge event in 2020."
For more information on the event, contact Elaine Merritt at 828-306-7022.