WNC Bridge Foundation awards $400,000 to SCC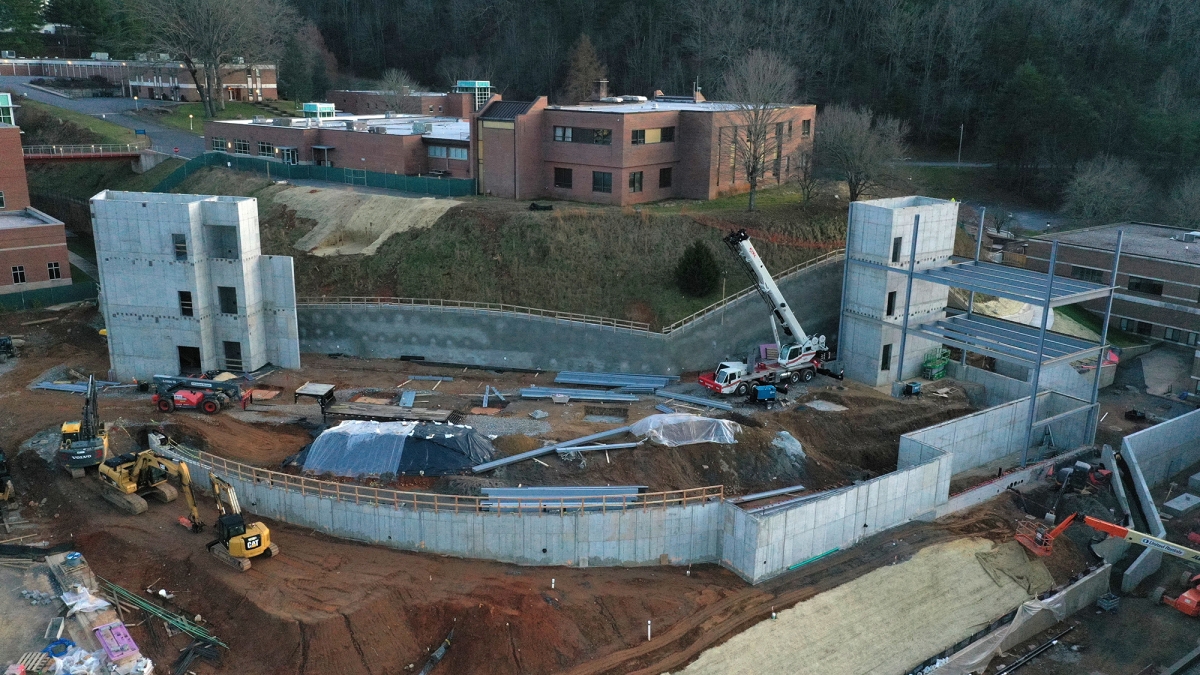 This aerial photo, taken on Jan. 1, shows the construction site of SCC's new Health Sciences Building in Sylva.
When construction on Southwestern Community College's new Health Sciences Building is completed in 2021, funding will be available to begin furnishing it.
A huge reason for that is a $400,000 grant award from the WNC Bridge Foundation, which has secured naming rights in the first floor lobby while ensuring students will learn and train on state-of-the-art technology in the $20 million facility.
SCC received notification of the award in November.
"Our top priority is helping our students succeed, and this grant from WNC Bridge Foundation will provide a portion of the financial resources necessary for equipping our new building," said Dr. Don Tomas, SCC President. "We are extremely grateful that WNC Bridge Foundation recognizes the potential this new building has for training future generations of healthcare professionals in our region."
The 55,000-square foot building will house many of SCC's 14 existing health sciences programs and also allow the college to add three more, pending approval from the local board of trustees as well as from the state board. Once those new programs come online, and once the existing programs are expanded, Southwestern will have the capacity to accommodate up to 144 additional students in the first year – and up to 288 additional students in the second year.
According to research compiled by William Brothers, SCC's Vice President for Financial and Administrative Services, the starting salaries for graduates of SCC's existing health sciences programs range between $32,100 to $64,909.
SCC was one of 44 area nonprofits to receive WNC Bridge Foundation's 2019 Impact Grants, with awards totaling $33,341,836.
"WNC Bridge Foundation's mission is to be a catalyst for change throughout the 18 counties of Western North Carolina," said Scott Buchanan, President and CEO of WNC Bridge Foundation. "With SCC's strong background in health sciences, we feel confident our Impact Grant will assist SCC in building a pipeline of outstanding healthcare professionals. We believe our partnership with SCC will benefit not only the students and their families, but also make a real difference for residents of WNC."
For more information about Southwestern and the programs it offers, visit www.southwesterncc.edu, call 828.339.4000 or drop by your nearest SCC location.