Summer camps made possible through STEM partnerships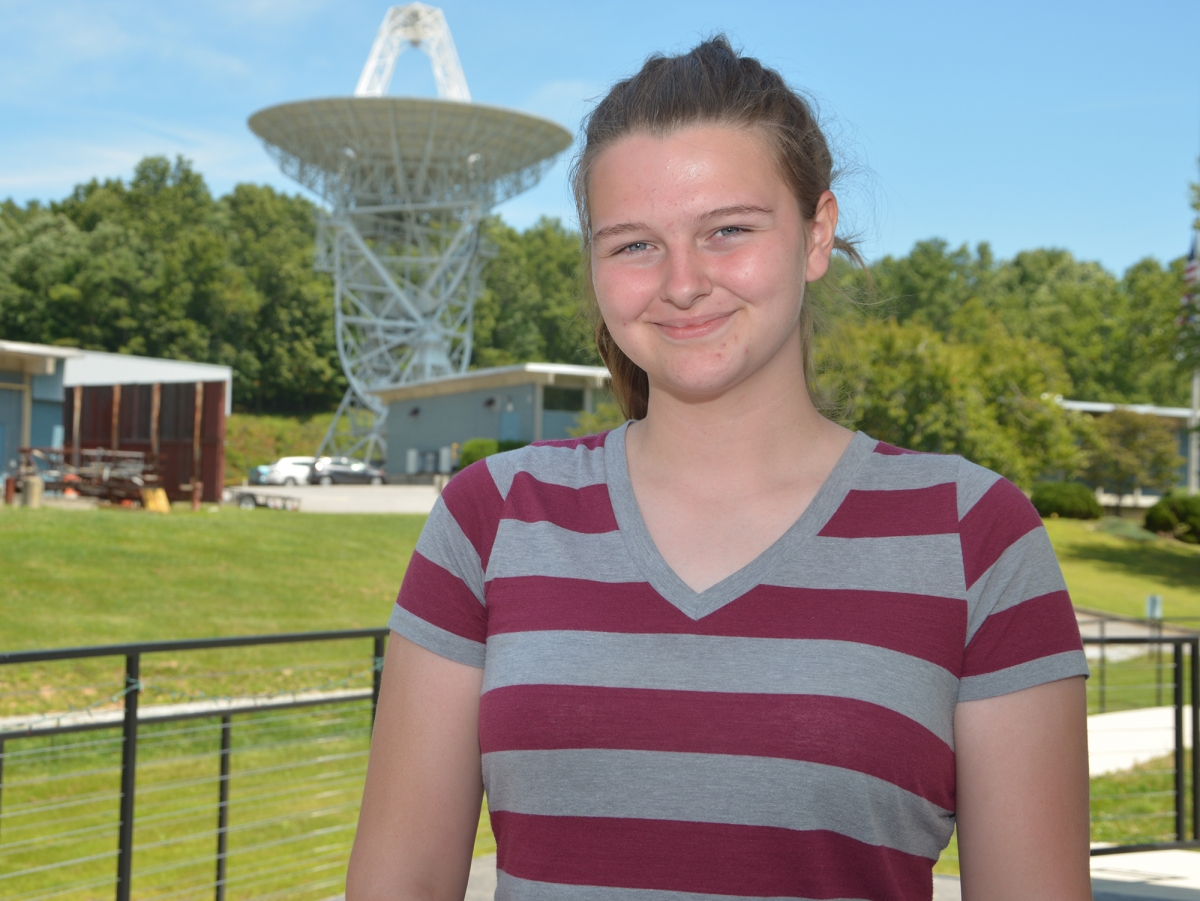 ABOVE: Emma Rowe is a rising eighth grader at Scotts Creek Elementary in Sylva. BELOW: Isabela Emaus of Brevard examines a meteorite during the Astro Explorers camp on Aug. 8 at the Learning Center at Pisgah Astronomical Research Institute in Rosman. Also pictured is Maeryn Pier of Minneapolis, Minn.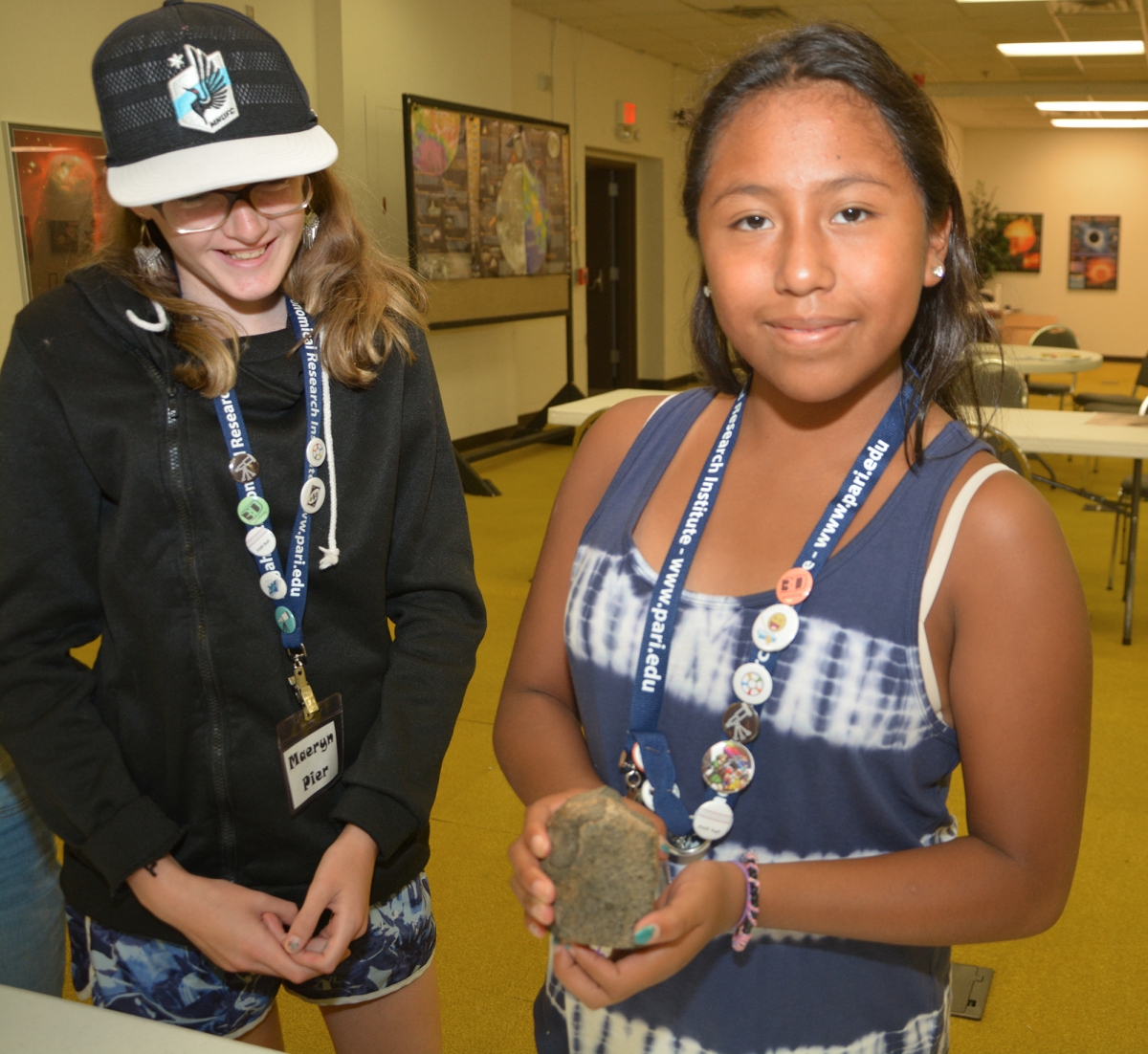 There's no straight or quick route for getting to the Learning Center at Pisgah Astronomical Research Institute (LCAP), located deep in the wooded mountains of Transylvania County.
But once you finally arrive at the historic campus dotted with enormous radio telescopes, the beauty of being so far away from civilization is revealed – particularly after the sun goes down.
A group of middle-school campers from throughout Western North Carolina observed this truth in early August when they walked over to LCAP's sky deck and took in a view of the heavens, unobscured by light pollution of any kind.
"Oh it's amazing," said Emma Rowe, a rising eighth grader at Scotts Creek Elementary. "The sky deck is my favorite part of LCAP's campus. Once your eyes adjust, you can see so clearly. On the hike up, you can see Jupiter in the sky, just the color of it. It's just so much more clear there. And they have huge telescopes, so you can see Saturn and Jupiter very clearly."
Rowe was part of the last group of youngsters to spend a week this summer at LCAP's Astro Explorers camp, which is made available to many students by Southwestern Community College and its partners through the Smoky Mountains STEM Collaborative.
SCC is the only community college in the nation to have a cooperative science agreement with NASA. Other partners in the Smoky Mountains STEM Collaborative include Appalachian State University, the Great Smoky Mountains National Park, NASA Marshall Space Flight Center and the public schools in Jackson, Macon and Swain Counties as well as Cherokee Central Schools.
"Our main goal with the collaborative is to enrich STEM education throughout our communities, with a special emphasis on K-12 education," said Matt Cass, a Physics and Astronomy Instructor at SCC. "This camp is a perfect fit because students get to experience science and astronomy up close and personal. What a treat it is to spend some time at a facility that was an essential part of the Apollo missions!"
Among other activities, campers got to learn about and hold meteorites, take hikes around LCAP's campus and become familiar with graphing, longitude and latitude.
For Karena Cline, a rising seventh grader at Swain Middle School, the best part was working with 3-D printers.
"We got to make our own designs," Cline said. "And we worked with a partner to create a crater or a volcano that's on the moon, and we got to 3-D print them."

Rowe also enjoyed the 3-D printer.

"I learned this time that I can produce cool things like braille and stuff," said Rowe, who had originally learned about 3-D printing on a previous trip  to LCAP's campus. "I can also map different worlds."
The camp also drew students from beyond the region, including John Cameron Thomas of Bluffton, S.C. He's a rising eighth grader at Hilton Head Christian Academy.
"I like the way we learn things here," Thomas said. "It's not like school; it's not tests and stuff. I like 3-D modeling, and I like the facility in general."
Like Rowe, Isabela Emaus of Brevard most enjoyed the sky deck.
"I liked going up and seeing the stars and planets," said Emaus, a rising seventh grader at Brevard Middle School. "It's so pretty. I like seeing Jupiter's stripes and Saturn's rings."
Twenty-four middle-schoolers attended the early August camp, according to Nonnie Cullipher. She's the Learning Manager for the Learning Center at LCAP.
"The purpose of the camp is to learn how to design and build 3-D models of lunar and Martian landscapes," Cullipher said. "They also learn a lot about geography, and they're learning different ways of seeing. We had a very cool session using glasses to simulate visual impairments, and that's when we introduce braille, which campers created using the 3-D printers."
To learn more about the Smoky Mountains STEM Collaborative and SCC's partnership with NASA, visit www.southwesterncc.edu or contact Cass at 828.339.4384 or m_cass[at]southwesterncc[dot]edu.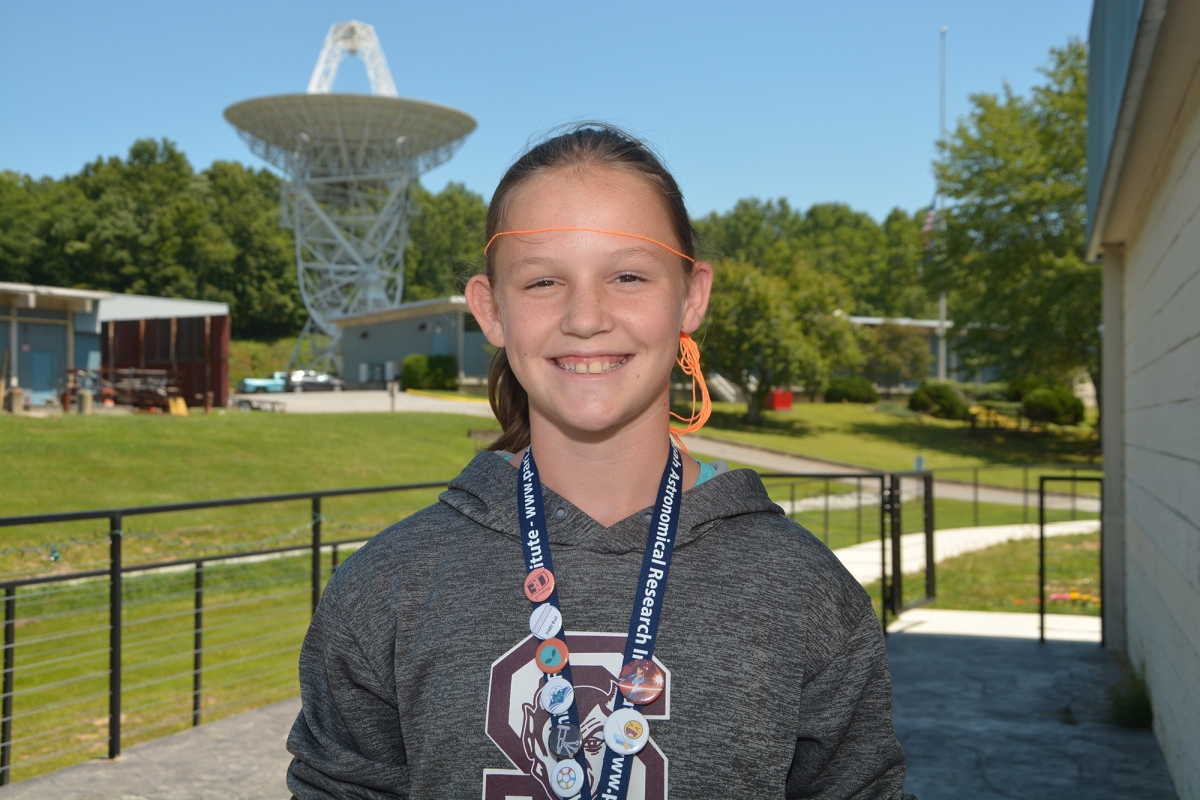 Karena Cline, a rising seventh grader at Swain Middle School, participated in the Astro Explorers Camp in early August at LCAP in Rosman.