SCC Foundation celebrates another record-breaking gala
Friday, September 27, 2019
Since moving its annual gala to Harrah's Cherokee Casino Resort in 2015, the Southwestern Community College Foundation is celebrating its fifth record-breaking year for money raised toward student scholarships.
Factoring in table sponsorships, silent auction sales, wine pull proceeds and individual ticket sales, the SCC Foundation has now raised more than $350,000 since the event's inception.
"We are extremely grateful to our good friends at Harrah's for opening their doors and helping SCC usher in a new era of success in raising scholarship funding for our students," said Dr. Don Tomas, SCC President. "It's been exciting to see our annual gala grow each year, and we realize none of this would be possible without the generous spirit of so many good people in our service area. I want to personally thank every single one of our sponsors and donors."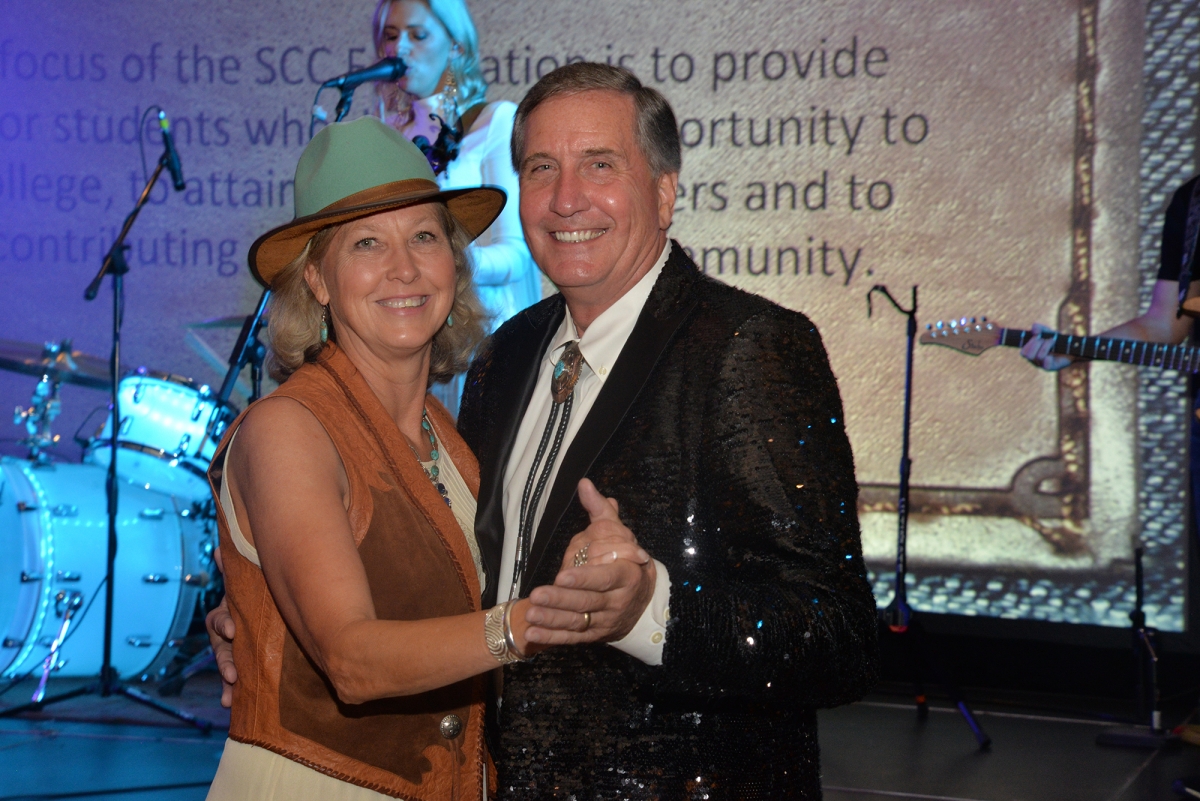 Dr. Don Tomas dances with his wife, Allison, during the SCC Foundation's sixth annual fundraising gala on Sept. 7 at Harrah's Cherokee Casino Resort.
"Dozens of individuals work tirelessly behind the scenes every year to make our gala a truly memorable experience," Dr. Tomas added. "Our co-chairs, Wendy LeMay and Lambert Wilson, pour their hearts into the planning process – as does everyone on our planning committee."
For the sixth-annual event, SCC's gala planning committee chose to alter the theme, update the overall look and book a new band. The result: Boots, Blue Jeans and Bling enjoyed a record number of attendees and a 50 percent increase in table sponsors from 2018 – leading to a total of $86,160 in funds raised.
In addition to that total, an anonymous donor pledged another $10,000 to the SCC Foundation during the gala.
And Dr. Jo Ray, Vice President of Community Relations and Employee Wellness for Harrah's Cherokee Casino Resort, announced that Harrah's is endowing a scholarship at SCC.
"We at Harrah's Cherokee are honored to continue our partnership with SCC," Dr. Ray said. "Supporting education through an endowed scholarship that will support one of our employee's children upholds our Code of Commitment to make our communities better places to live and work."
This year, attendees heard from scholarship recipients Dolores Taylor and Megan Beck. Taylor is a recent graduate of SCC's Human Services Technology program while Beck is currently enrolled in SCC's Radiography program. Each spoke briefly about how significant an impact their scholarships have made on their lives.
Thanks in part to the recent successful galas, the Foundation is experiencing unprecedented growth – and is able to help more students each year. However, there is still much work to do.
With the addition of a new Health Sciences Building, expected in 2021, SCC will be adding three more programs. With the anticipated increase in students, scholarship support will be more crucial than ever.
"We are thrilled with the outpouring of support for our students," said Wilson. "We still have more need than funds, so please continue to participate each year."
Total amount of scholarships awarded in 2013-14 was $51,355. This year's scholarship value was $167,000 – and that's in addition to the more than $36,000 that was awarded to New Century Scholars. In 2018-19, the Foundation was also able to provide $3,000 to students in need through the Student Emergency Fund.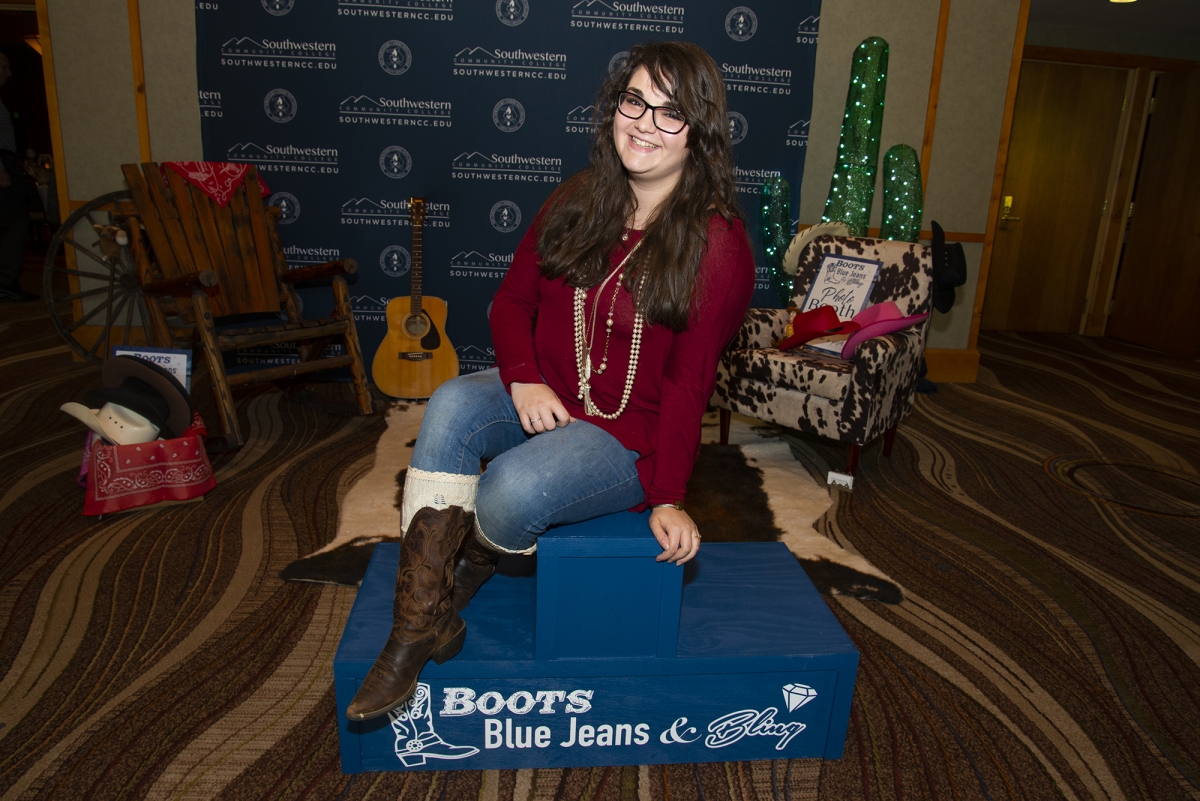 Megan Beck of Tuckasegee, who is enrolled in Southwestern's Radiography program, was one of two student speakers at the SCC Foundation's annual fundraising gala on Sept. 7 at Harrah's Cherokee Casino Resort.
Six years ago, the SCC Foundation was only able to help one out of every five students (42 out of 225) who applied for financial assistance. For the current academic year, SCC was able to assist one out of every three (128 out of 333).
But that still means two of every three qualified applicants aren't receiving assistance.
"The most important message from this year's gala is that our momentum is continuing to grow," said Brett Woods, Director of the SCC Foundation. "Our goal is to continue building on this momentum until we're able to provide financial assistance to every student who can use a hand up, so they can change their lives through the academic programs at Southwestern."
For more information about the SCC Foundation as well as the academic programs offered through Southwestern, visit
www.southwesterncc.edu
, call 828.339.4000 or drop by your nearest SCC location.