Macon sweeps top Ducks on Tuck prizes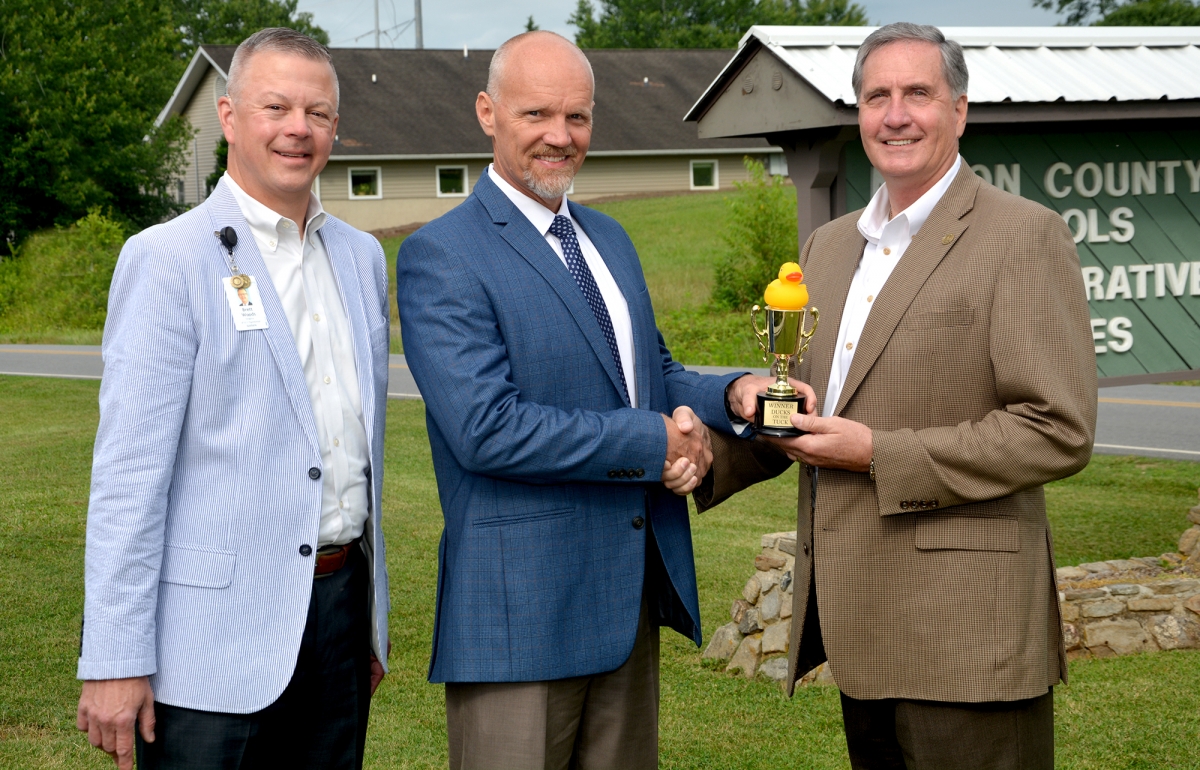 Dr. Chris Baldwin (center), Superintendent of Macon County Schools, receives the Ducks on the Tuck trophy from Dr. Don Tomas (right), President of SCC, on June 12 in Franklin. At left is Brett Woods, Director of the SCC Foundation. Macon County won the prize for the second straight year in the annual fundraiser for New Century Scholars.
For the second consecutive year, Macon County swept the top prizes in the annual Ducks on the Tuck virtual race and fundraiser for New Century Scholars.
Macon County raised more money than Swain or Jackson Counties, meaning the Ducks on the Tuck trophy remains in the Macon County Schools' administrative offices. SCC President Dr. Don Tomas presented the trophy to Dr. Chris Baldwin, Macon County Schools Superintendent, on June 12.
And Franklin resident Toney May was the winner of a flat screen television provided by Custom Sound and Security of Franklin. His daughter, New Century Scholar Ava May, picked up the prize on Thursday, May 30, at SCC's Jackson Campus.
 "The New Century Scholars program has relieved a huge financial burden off our family to pay for Ava's college," said Tammy May, the recipient's wife.
Ava May graduated from Macon Middle School in the spring and is attending Franklin High School in the fall.
Established in 1995 and overseen by the SCC Foundation, the New Century Scholars program provides last-dollar tuition assistance to SCC as well as college preparation support to local students.
NCS has served more than 2,400 students over the years. The program is funded through fundraisers like Ducks on the Tuck and private donations.
Ducks on the Tuck is an annual, virtual race where Jackson, Macon and Swain counties compete to sell the most raffle tickets to raise money for NCS. More than 30 prizes were up for grabs this year.
"Ducks on the Tuck has changed a lot over the years, but the one thing that hasn't changed is the overwhelming support we receive from all three participating counties," Dr. Tomas said. "We are so appreciative of the way our surrounding communities come together to support New Century Scholars every year through this fundraiser."
For more information on New Century Scholars, contact Freya Kinner at f_kinner[at]southwesterncc[dot]edu or 828.339.4477.
To learn more about Southwestern, call 828.339.4000, visit www.southwesterncc.edu or drop by your nearest SCC location.