Portfolio Day features Ad & Graphic Design students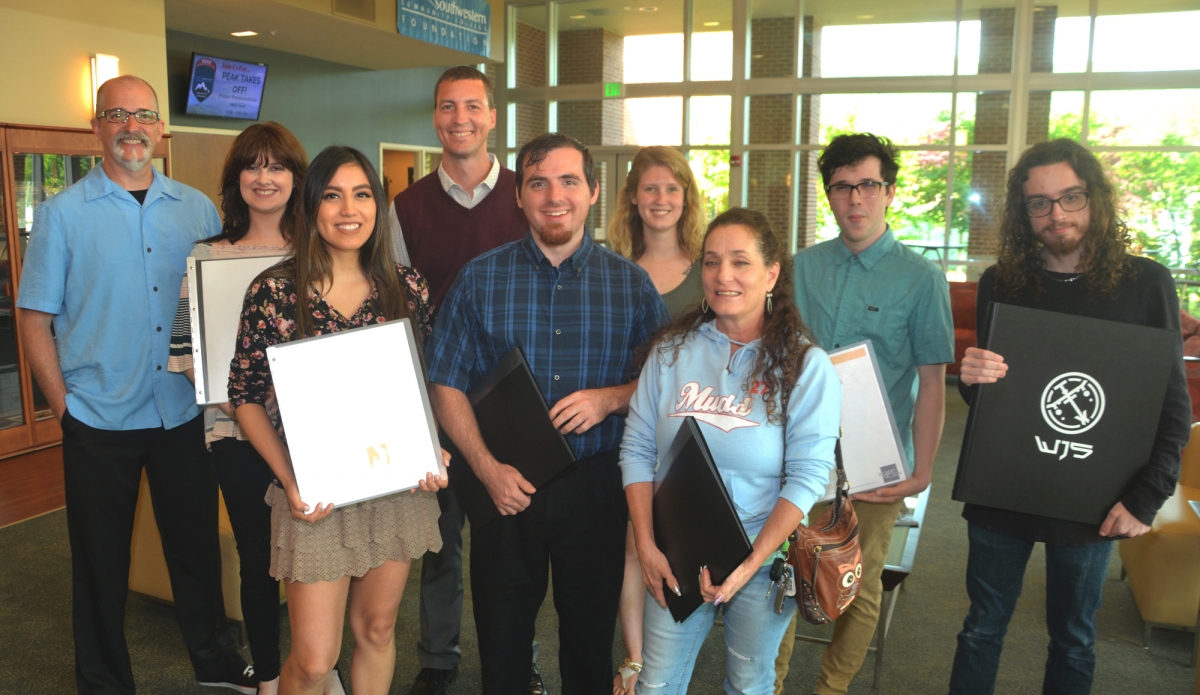 Students in SCC's Advertising & Graphic Design program who exhibited their work during Portfolio Day stand with their instructors on May 9 in Sylva. Pictured here are, from left: Program coordinator Bob Keeling, Carlee Moffitt of Franklin, Radiance Ramirez of Whittier, Instructor Scott Clontz, Theo Hoyle of Whittier, Emily Alligood of Sylva, Dana Dimantova of Glenville, Bobby Nelson of Franklin and Will Studenc of Waynesville.
Seven students in Southwestern Community College's Advertising & Graphic Design program formally presented their work during Portfolio Day on May 9 in the Burrell Building on the college's Jackson Campus.
Each student showed the audience of approximately 75 people examples of photography, book cover designs, magazine layouts, branding projects and more.
"These students worked extremely hard all semester on their portfolios, and I am proud of all of them," said Bob Keeling, the program's coordinator at SCC. "It isn't easy to stand in front of a large group that included members of our college's administration and potential employers, but our students did a great job. I am looking forward to following these students as they start their careers in the field."
SCC's Advertising & Graphic Design program prepares students to work for marketing agencies, graphic design studios, printing companies and more.
To view a gallery of more photos from this event, click here (link takes you to a gallery on Facebook).
For more information about the program, contact Keeling at 828.339.4317 or bkeeling[at]southwesterncc[dot]edu.