Print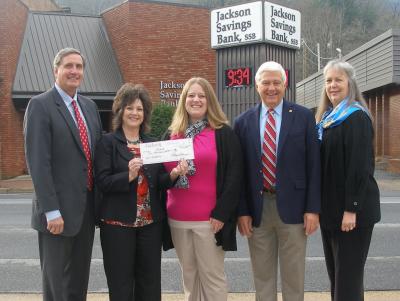 A $10,000 contribution made by Jackson Savings Bank to the Southwestern Community College Student Success Campaign brings smiles all around to, left to right: Dr. Don Thomas, SCC president; Phyllis Morgan, JSB bank manager; Beth Maennle, SCC nursing student and Jackson County resident; Charles Wolfe, Campaign Chair; and Mary Otto Selzer, SCC Foundation director.
Southwestern Community College Foundation was established in 1973. It exists solely to support the mission of SCC and is governed by a Board of Directors.

The foundation receives unrestricted gifts through the Southwestern Community College Annual Fund, a yearly campaign to support the work of the foundation and the mission of College.

In addition, the foundation solicits contributions from individuals, foundations and companies to establish endowed Named Scholarships, as well as provide Annual Scholarships.

Financial gifts to the Foundation allow SCC to maintain a level of excellence beyond that provided by state and local financial support. These gifts help fund many of the "essentials" of education, and allow SCC to keep pace with the ever expanding needs of our community.

Scholarship Types:
Endowed scholarships are established by individuals wishing to provide long term, multi-generational support to students at SCC. For $15,000 or more, a scholarship is established and awarded based on the donors' criteria, out of the earnings of their gift.

The entire $15,000 does not have be provided initially. We have three endowments in progress at the moment where family and friends are working to fully endow scholarships in memory of loved ones. 
Some donors prefer to provide a gift every year to assist a student or students. Dogwood Crafters has been providing scholarship monies to the Foundation for close a decade to assist students with an interest in the arts and crafts areas of traditional mountain heritage.

The Foundation has an Annual Fund drive to raise money to assure a vibrant and financially strong Foundation. In most years, a portion of these funds is offered to students in the form of scholarships.