What is Simulation Learning?
Students can develop and enhance their clinical decision-making skills in a controlled, life-like environment that poses no risk to patients. Students and practitioners can acquire, practice and gain confidence in vital patient care skills before transferring these skills into clinical practice.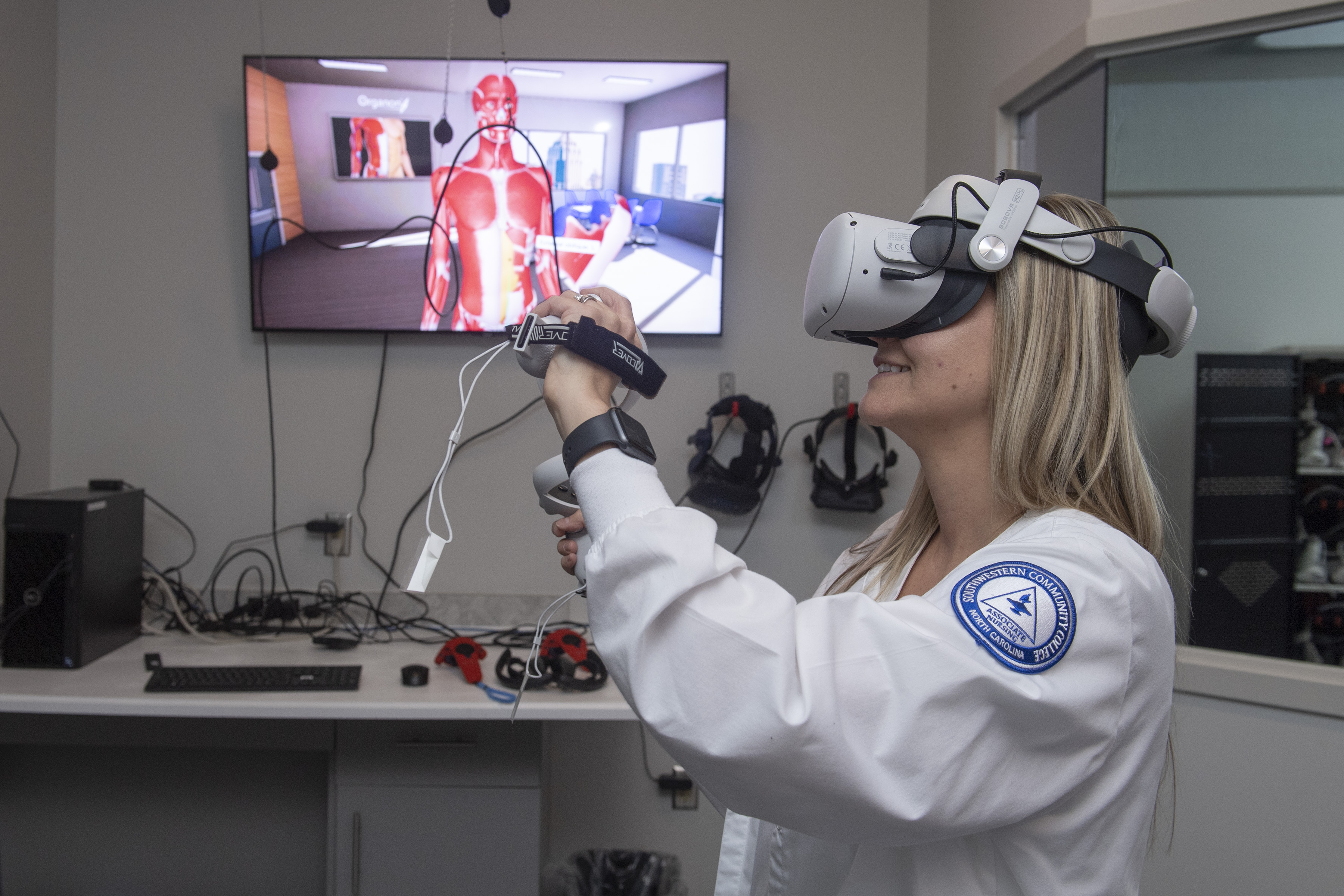 Mission and Vision Statements
The Mission of the Southwestern Community College's Health Sciences Simulation Center
To have a positive impact on healthcare in the Western North Carolina region by:
Safety: Providing simulation activities that foster a safe learning environment for all scenario participants.
Innovation: By having a state-of-the-art Simulation Center equipped with advanced technology that inspires and attracts learners and community partners.
Supportive: Providing a supportive, immersive learning environment for faculty, students, and community healthcare educators.
Structured and systematic simulation activities: The development of intentional, collaborative, interdisciplinary simulation scenarios that enhance and enriches knowledge, skills, and clinical judgment.
The Vision of the Southwestern Community College's Health Sciences Simulation Center
We envision becoming the premier institution for health science education in Western North Carolina. By embracing advanced technology and effective teaching practices, we aspire to cultivate highly skilled healthcare professionals. Our graduates will provide quality, compassionate care, and exhibit a deep respect for the diverse communities they serve.
What We Offer
SCC has state-of-the-art simulation equipment that can be utilized by all 16 Health Sciences programs for multi-program collaboration scenarios. This will include a future expansion into virtual reality.
Included at SCC's facilities are:
10 large multi-functional skills labs:
Dental Assisting Lab (in the works)
Emergency Medical skills lab (HSC 122) with a simulated ambulance
Medical Assisting skills lab (HSC 302)
Medical Sonography (HSC 108)
Nurse Aid skills lab (Balsam 250/255)
Nursing skills lab (HSC 210) with a simulated nurse's station and Pyxis
Occupational Therapy skills lab (HSC 112) with a simulated apartment
Radiography lab (HSC 228)
Respiratory Therapy skills lab (HSC 216)
Surgery Technologies skills lab (HSC 312) with a simulated operating room
A Simulation Lab that includes three standardized inpatient hospital rooms and two control room
The Simulation Center is equipped with:
14 high-fidelity Sims (Gaumard Hals, Victoria, and Tory; Ingmar RespriPro; CAE Vimedix)
Several anthropomorphic simulators for radiography and dentistry
6 mid-fidelity Sims (CAE Juno and Ares; Gaumard Chloe and Trama Hal)
14+ low-fidelity Sim (Various)
Many types of task trainers
Various ventilators (actual and simulation models)
Various defibrillator/Heart monitors (actual LifePak and simulation models)
Various ultrasound devices
Pyxis - drug dispensing cabinet
And many others
Interested in Learning More?