College History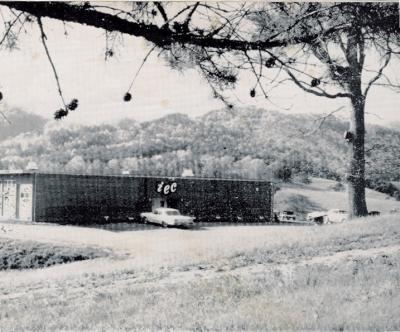 A view of the college in its early years.
Looking Back
Founded in 1964, Southwestern Community takes pride in a history characterized by community involvement and collaboration resulting in excellent educational opportunities for the people of Jackson, Macon and Swain counties, the Qualla Boundary and beyond. Significantly, these educational opportunities have brought economic, personal and cultural benefits to the region and its people.

On December 1, 1964, the Jackson County Industrial Education Center officially opened with 60 students enrolled in full-time classes and 133 students signed up for short-term courses. Since that time, the College has evolved from an industrial education center to a technical institute to a technical college and finally to a fully-accredited community college. During that evolution, Southwestern has awarded more than 15,500 degrees, diplomas and certificates and has offered thousands of different classes.

Throughout its history, SCC has responded to and anticipated the educational needs of the community and region, offering an ever-widening range of programs through which students prepare for the job market, transfer to senior institutions, and achieve professional and personal goals.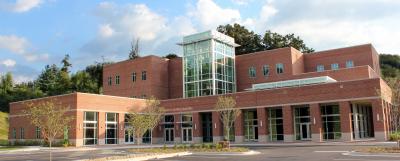 The Burrell Building, the ninth structure on SCC's Jackson Campus, was completed in 2012.
On the Grow
Today, SCC offers a wide range of curriculum programs in Arts and Sciences, Career Technologies, College Transfer and Health Sciences. In addition, the college provides a variety of Workforce Continuing Education courses at various locations throughout its service area. Most of these courses are designed to prepare students for entry into an occupation, upgrade skills of employed individuals, and provide opportunities for self-improvement.

The expansion of such programs over the years has grown hand in hand with a growth in physical facilities, the number of students the College serves and in the college's role in the region.

The Jackson campus has grown from one to nine buildings that house classrooms, administrative offices, an auditorium and a library. Construction has begun on a new Health Sciences Building that is scheduled to be completed by 2021. SCC also has facilities in the service area that include: a Macon Campus and the Public Safety Training Center in Macon County; the SCC Table Gaming School on the Qualla Boundary; as well as a Robotics Lab in Swain County and the Swain Center at Almond which also houses the Outdoor Leadership program and Nantahala School for the Arts.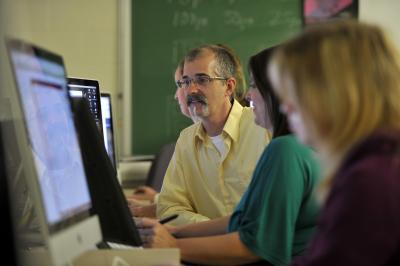 Bob Keeling, Advertising & Graphic Design instructor, works with students.
Community Partnership & Fundraising
To support these educational services, the college receives county, state and federal funding. To augment this funding and provide for extensive services, during the past three decades, SCC has sought and received more than $28 million in grant money. These funds have included federal construction grants, Appalachian Regional Commission grants, US Department of Education grants, New Century Scholars, basic education grants and a variety of other sources.
In 2018, SCC secured more than $2 million from the U.S. Department of Commerce's Economic Development Administration to assist with construction of the new Health Sciences Building. SCC is also the only community college in the nation to enter into a cooperative science agreement with NASA.
Also, the SCC Foundation, Inc., incorporated in 1973, strives to provide support for needs not covered by public funds or grant monies. Over the years, the Foundation has made significant contributions to the College in student scholarships, equipment donations and in capital improvements. In addition, many individuals and businesses have contributed to Foundation for specific needs.
Of course, SCC's primary purpose is to provide educational opportunities to students who enroll in courses and programs at the college. Southwestern's success with students has three times earned national recognition as the college has been ranked among the Top 10 community college's in the nation by Washington Monthly (2007 and 2010) and WalletHub (2015).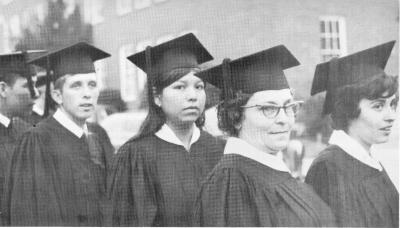 Early Graduates
New Era
Southwestern Community College experienced a change in administration in 2010 when President Cecil Groves retired after leading the college for 13 years. Citing his dedication to the community and his legacy of regional growth, Jackson County Commissioners proclaimed his retirement day as "Dr. Cecil Groves Day." The SCC Board of Trustees awarded him the title of President Emeritus.
Dr. Richard Collings followed Dr. Groves as president in 2010.
In 2011, Dr. Don Tomas succeeded Dr. Collings. Shortly after arriving, Dr. Tomas and SCC launched "Vision 2017" - a long-range strategic planning process. The college has continued to grow and seek out new ways of serving - and partnering with - the communities in Jackson, Macon, Swain Counties and the Qualla Boundary.  
----------------------------------
SCC Timeline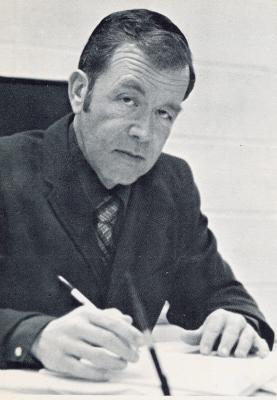 Edward E. Bryson
JCIEC/STI/STC President
1964-1980
1963
– In September, Jackson County furnishes 17-acre site for a technical school ... Construction of first building begins.
1964
– First class graduates in May ... On June 1, Edward E. Bryson appointed resident director of Jackson County Industrial Education Center, a satellite  of Asheville-Buncombe Technical Institute. The JCIEC opened on Dec. 1 with 60 students enrolled in full-time classes and 133 in short-term classes.

1965 – First building, Vocational Building (now Founders Hall) completed.

1966 – On Feb. 25, Commencement exercises held for 23 students of Class of 1966 at National Guard Armory.

1967 – College becomes independent school. on Sept. 5. It was decided the college would also serve Macon and Swain counties and the name was changed to Southwestern Technical Institute.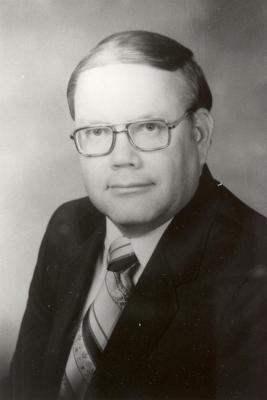 Norman K. Myers
STC/SCC President
1981-1991
1968 – College begins classes on Jan. 2 as an independent unit of the NC Department of Community Colleges. First Student Government Association formed and elections held. First meeting of the Board of Trustees was on Jan. 22. William B. Dillard elected chairman. Other members: Odell Shuler, vice-chairman; W. Paul Holt, Jr.; Charles S. Slagle; Walter Jackson; Oscar Ledford; R. Paul Buchanan; Bruce McMurray; George J. Steward; John Wikle; Paul Ellis; and James B. Childress.

1969 – Southwestern became the regional GED testing center.

1970 – Technical Building (now Oaks Hall) completed on Sept. 1.

1971 – College receives accreditation from Southern Association of Colleges and Schools in December.

1973 – Southwestern's Foundation incorporated.

1974 – Services Building (now Bradford Hall) and Carpentry Building (now Maintenance Building) completed ... On May 30, the first on-campus commencement ceremony was held.

1976 – Southwestern's Cherokee Center established and Job Placement Office established at Jackson campus.

1979 – Southwestern's Cherokee Center built at Boys Club Complex.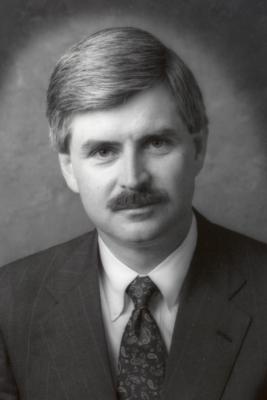 Barry W. Russell
SCC President
1991-1996
1983 – Learning Resources Center (now The Pines) completed.

1984 – Trades Center (now The Summit) completed.

1981 - Norman K. Myers was appointed as the college's president.

1987 – STC Macon County Center opens.

1988 – STC changes name to Southwestern Community College ... SCC Swain County Center opens in Bryson City ... In October, $3.5 million WNC Regional Allied Health and Geriatric Training Center (now Balsam Center) dedicated.

1989 – In April, College opened Child Care Center in Oaks Hall.

1990 – SCC Regional Fire and Rescue Training Center opened, later becoming the Public Safety Training Center.

1991 - SCC names Barry W. Russell as its third president.
1994 – Community Link, a fully interactive television system linking 13 educational sites in Western North Carolina became operational ... Regional Law Enforcement Center established in Macon County.

1997 - Dr. Cecil Groves is named Southwestern's president.

2000 – College receives $10.4 million from state bond referendum funds.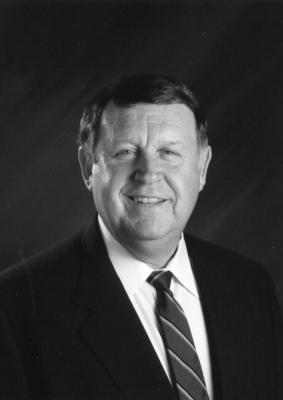 Cecil Groves
SCC President
1997-2010
2005 – U.S. Department of Education awards SCC $5.9 million grant, which will be directed to public schools in the college's three-county service area for GEAR UP (Gaining Awareness and Readiness for Undergraduate Programs) ... SCC Alum Michell Hicks, Principal Chief of the Cherokee, named National Community College Alumnus of the Year ...Ground broken for New SCC Macon County Center.

2006 – Construction began on SCC Macon Campus ...  SCC achieved superior college recognition by the North Carolina Community College System; Southwestern partnered with the Eastern Band and Western Carolina University to offer an Associate in Fine Arts degree ... Macon Early College was established; it is housed at SCC's Macon Campus ... Southwestern's partners in BalsamWest FiberNET- Drake Enterprises and the Eastern Band of Cherokee- received the National Council for Resource Development's prestigious Benefactor Award for their fiber optic network gift to the college.

2007 – Rated number four community college in the nation, according to Washington Monthly ... Achieved superior college recognition for the second year in a row ... New 27,600 square-foot Macon Campus on Siler Road in Franklin opened; Groves Center there is named for Dr. Cecil Groves, former SCC president (1997-2010) ... Two degree programs added: medical assisting and civil engineering technology ... Fine Arts coordinator hired; classes began for the new visual arts program of the Oconaluftee Institute for Cultural Arts ... Student enrollment growth up six percent, setting new records.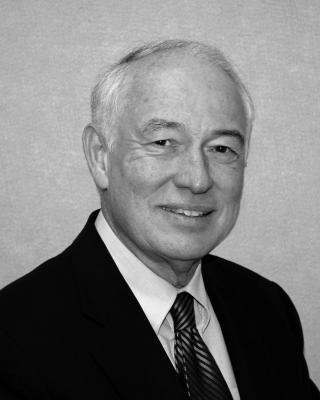 Richard Collings
SCC President
2010-2011
2008 – One of only seven of the state's 58 community colleges to achieve Exceptional Designation from the N.C. Community College System ... Dr. Cecil Groves, SCC president, presented the Order of the Long Leaf Pine, the highest civilian honor granted in North Carolina ... Enrollment percentage increase jumped into the double digits ... Library named for Paul Holt, one of the college's founding fathers

2009 – Enrollment climbed with a 14 percent increase over the previous year; Macon Campus enrollment increased by 18 percent ... New building on the Macon Campus was named in honor of the late Oscar Ledford, one of the college's founding members ... The Public Safety Training Complex in Macon was named after seven-time SCC board chairman Jerry Sutton.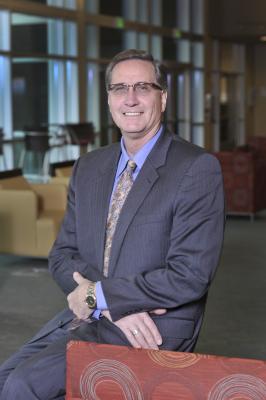 Dr. Don Tomas
SCC President
2011-Present
2010 - SCC was once again ranked high in the Washington Monthly's community college's list, and Southwestern was one of 10 in the NCCCS to earn an exception rating ... Jackson County Early College students and staff moved into their new building on the Jackson Campus ... Richard Collings appointed president.

2011 - Dr. Don Tomas was selected as the College's sixth president .... Southwestern's Emergency Medical Science (EMS) program became one of only two nationally accredited programs in the NCCCS.

2012 - The "Vision 2017" strategic planning initiative was finalized, resulting in eight goals and 35 strategies designed to position the college for success over the next five years ... The Burrell Building was completed on SCC's Jackson Campus ... Deanne Oppermann, chemistry instructor, was honored as Outstanding Faculty Member by the NCCCS.

2013 - Southwestern secured more than $1.5 million in grant funding from Golden Leaf Foundation and Duke Energy; the money is being used for advanced manufacturing and robotics training as well as to enhance SCC's computer engineering technology and electronics/electrical technology programs ... Southwestern also reinstated its occupational therapy assistant program, which was shuttered 12 years earlier.

2014
• A design by Elizabeth Hammer was selected in April to serve as SCC's official 50th anniversary logo throughout the 2014-15 academic year. Hammer graduated from SCC's advertising and graphic design program in May.
• Competing mostly against veteran teams at the statewide Wake Tech Culinary Arts Showcase, SCC's first-time competitors C.J. Reum and Scott Dolbee made the final round and ended up placing fourth out of 11 teams.
• The automotive systems technology program received a Master Automobile Service Technology accreditation – the highest level of achievement recognized by the National Automotive Technician Education Foundation (NATEF).
• For the second straight year, SCC was among a handful of institutions statewide to exceed the North Carolina Community College System average in seven or more of the eight measures used to gauge annual performance.
• A series of three political debates were held at the Jackson Campus. Students in Dr. Bucky Dann's Social Problems class asked questions of candidates for the Jackson County Board of Commissioners, N.C. House and N.C. Senate.
• The Student Success Campaign, the most ambitious fundraising effort in SCC's history – reached its Phase 1 goal and allowed the college to fully leverage a Title III grant from the U.S. Department of Education, which matched 100 percent of all donations made by Sept. 2014.
• Tiffany Henry, director of SCC's Small Business Center, was named Rookie of the Year by North Carolina's Small Business Center Network after serving more than 800 clients.
• U.S. Congressman Mark Meadows and other elected officials joined representatives from virtually every industry, community and school system in the college's service area for a ribbon cutting in November at SCC's new Advanced Manufacturing Training facility in Swain County. Baxter, a state-of-the-art Robot Training System, snipped the ribbon at the facility that received support through the Golden LEAF Foundation.
• Second-year students in Southwestern Community College's respiratory therapy program won the state's Gladiator competition and posted North Carolina's highest finish (fourth) ever at the national contest in December in Las Vegas.

2015
• The largest graduating class in SCC's history was honored in a pair of May commencement ceremonies. A total of 440 students earned associate degrees, certificates and/or diplomas.
• The "Bluegrass, Blue Jeans and Bling" gala raised more than $51,000 to support student scholarships in July. All funds raised went into the SCC Foundation's Student Success Campaign, which aims to raise more than $1 million.
• WalletHub named SCC one of the Top 10 community colleges in the nation. The No. 7 ranking marked the third time in nine years SCC has been placed among the Top 10 nationally (Washington Monthly in 2007 and 2010).
• A $1.4 million grant from NASA in October pushed SCC's grant award total for 2015-16 to more than $3.5 million. SCC took the lead role in securing the NASA grant on behalf of its partners in the Smoky Mountain STEM Collaborative: the Jackson, Macon, Swain County and Cherokee Central school systems; Appalachian State University; Great Smoky Mountains National Park; NASA Marshall Space Center; and Pisgah Astronomical Research Institute.
• A statewide study revealed that the college's overall impact on its service area of Jackson, Macon, Swain Counties and the Qualla Boundary is $126.9 million in added regional income.
• A record number of employers (75) participated in the college's 21st annual Job Fair.
• Thanks to the generosity of faculty and staff, SCC was able to give away a one-year, tuition-and-fees scholarship in addition to other prizes at its 50th anniversary open house celebration, which drew roughly 500 people to the Jackson Campus on April 10.

2016
• Jackson County voters passed the one-fourth of a penny referendum, which will benefit SCC and the Jackson County Public Schools. The first major project funded through this initiative will be Southwestern's new health sciences building.
• A group of U.S. Marines traveled to SCC from Camp Lejeune for wildland fire chainsaw safety training in October.
• Southwestern received more than $525,000 from the Appalachian Regional Commission for its "Pathways to Employment, Education and Training for Automotive and Related Industries" program in Jackson, Macon and Swain Counties.
• For the second straight election cycle, Students in Dr. Bucky Dann's "Social Problems" class asked questions of candidates for state and county office during a series of three political debates held on our Jackson Campus.
• During the 2016-17 academic year, Southwestern completed the SACSCOC reaccreditation process.
• Students in SCC's respiratory therapy program successfully defended their state title in a hands-on Gladiator competition in February. Earlier in the academic year, the team of Jay Cleary, Matt Hixon, Chase Souza and Kasey Wilson won the statewide "Sputum Bowl" quiz contest then placed fourth in the national competition – matching the success of the 2014-15 SCC team. Under program coordinator Samantha Campbell and clinical coordinator Brent Holland, the respiratory therapy program improved to 4-0 at statewide competitions.
• Voters easily passed the Connect NC bond initiative, providing $7.1 million for SCC to use on construction, renovation and repair projects.

2017
• Thanks to funding from Golden LEAF Foundation, The Cannon Foundation and a gift from TekTone Sound & Signal, a new Health Sciences Simulation Lab opened in March. Health Sciences students can complete a significant portion of their clinical experience in this lab.
• Students in the Mechatronics Engineering Technology program built a SWAT robot that they donated to the Macon County Sheriff's office. This device could very well save lives someday in the future.
• Southwestern hosted its largest-ever job fair in March. Approximately 300 job-seekers were on campus to meet with more than 95 employers. The event was coordinated by Mike Despeaux, director of career services, who worked with newly hired career counselor Jodi Waldroup to hold a pair of smaller "Job Fair Fridays" in April.
• As the only community college in the nation to have a cooperative science agreement with NASA, SCC led the way in preparing local communities for the total solar eclipse on Aug. 21.
• Four SCC students launched a high-altitude balloon that captured images of the total solar eclipse as part of a nationwide effort by NASA. Southwestern was the only community college to participate in NASA's balloon project.
• During the college's "Bluegrass, Blue Jeans & Bling" gala on Sept. 16, the SCC Foundation surpassed its goal of setting up the college's first $1 million endowment to be used primarily for student scholarships.
• Recent graduate Lori Monigold earned a perfect score on her National Board Physical Therapy Examination.
• "Shocktoberfest" – an indoor haunted house experience created by our Advertising & Graphic Design Students – was opened to the public for the first time on Halloween.
• A group of English as a Second Language students in Southwestern Community College's Educational Opportunities program had their writings published in a book entitled "Through Their Eyes: The Quill Took Flight." The book features poetry, fiction and non-fiction stories. Each includes an English version as well as the original work in the students' respective languages.
• Dr. Connie Haire, a retiree and longtime SCC administrator, along with her husband Phil Haire endowed a scholarship through the SCC Foundation in December.

2018
In January, founding SCC Trustee Paul Holt was awarded the Order of the Long Leaf Pine – the highest civilian honor given by the Governor of North Carolina. Mr. Holt has served as a Trustee at Southwestern longer than any other Trustee at any community college in the state.
• The Veterans Council of WNC presented the college with military seals for supporting local veterans through a variety of events and activities.
• A scholarship was set up in February to honor the memory of retiree Sibyl Reed, who passed away on Feb. 7. She taught English at Sylva-Webster High School from 1960-69 then worked at Southwestern for 18 years as an administrator and educator.
• Members of the college's 100th National Park Service-Seasonal Law Enforcement Training class were honored in a ceremony on April 27. One of only seven colleges in the country to offer NPS-SLET, Southwestern is in its 40th year of providing this program.
• Regional media outlets, including WLOS-TV out of Asheville, praised the actions of SCC's Upward Bound staff members who helped keep 12 area high school students safe when their bus caught fire on the way home from a service project in Asheville in late April
. • Four-hundred-ninety-eight graduates – the most in college history – were honored in three commencement ceremonies on May 12.
• In May, SCC graduated its largest nursing class to date (37 graduates).
• A memorial service was held for founding SCC Trustee W. Paul Holt on Tuesday, July 3, in Myers Auditorium on the college's Jackson Campus. Along with several business and educational leaders in Jackson County, Mr. Holt helped establish what was originally known as the Jackson County Industrial Education Center in 1964, and he served on this college's Board of Trustees for all but 15 months of its existence until the time of his passing – making him the longest-serving Trustee of any community college in the state.
• In September, the Economic Development Administration awarded more than $2 million in grant funding to assist in the construction of SCC's New Health Sciences Building.
• The SCC Foundation's annual fundraising gala netted more than $72,000 that will be used to support student scholarships. Over the past four years combined, the gala has raised a total of more than $250,000.
• SCC's Medical Sonography students won an ultrasound system valued at approximately $50,000 through a social media contest. SCC's students got more Facebook "likes," "loves" and "wows" than finalists from California and Alabama.
• Tiffany Henry, who oversees SCC's Small Business Center, received the "State Small Business Center Director Award." She has won a statewide honor in each of her five years of employment at Southwestern.

2019
• Michigan-based Christman Company, which has a regional office in Knoxville, Tenn., was selected as the contractor for SCC's new Health Sciences Building. Groundbreaking was held on May 6.
• The first college in North Carolina approved to offer casino-preparation classes, SCC opened a table-gaming school in Sylva. Southwestern has conducted a similar school in Cherokee for several years.
• Southwestern held a Cultural Fusion Festival in March, showcasing a wide variety of dance, music, food and crafts that represent the diverse cultures in this region.
• Paul Wolf, founding coordinator of SCC's Outdoor Leadership and Wilderness Therapy programs, received the Rebecca L. Carver ABC's Award at the 2019 Southeast Regional Conference of the Association for Experiential Education.
• SCC's Automotive Systems Technology program received a Master Automobile Service Technology accreditation – the highest level of achievement recognized by the National Automotive Technician Education Foundation.