Welcome to the Holt Library!
Library Hours:
Regular Hours of Operation
Monday - Thursday: 8 AM - 5 PM

Friday 8 AM - Noon (Virtual Online Only in Summer)
Contact Information:
Online resources are available 24/7 with MySCC login -->"Library"
library@southwesterncc.edu
828.339.4288 or 800.447.4091, ext. 4288
Library Chat is available 24/7 M-F
---
For SCC Students, Faculty & Staff:
If you are an SCC Student, Faculty or Staff member, please visit the official library website. SCC users have access to Learning Resources, Research Guides and Article Databases.
Log into to the MySCC portal and click on the Library link for access to all the library's resources and services.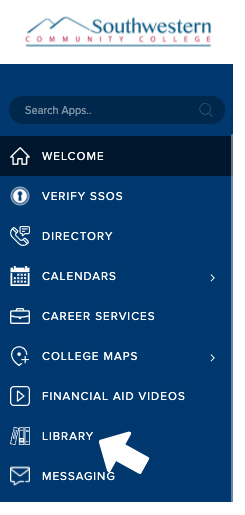 SCC students and staff, please use the Library's website via MySCC > Library to access resources 24/7 and search for books to check out. For users who need WiFi or computer access after 5 p.m., the Jackson County Public Library is open until 8 p.m. on Tuesdays and Thursdays. Have a question? Ask a Librarian by using our evening Reference Librarian Chat service available overnight from 5pm to 8am to support student and faculty library needs.
Library Cards
SCC students, faculty and staff may check out library materials by using their SCC photo ID as a Library Card. Bring the ID card to register and also for all library transactions. Borrowed items must be returned and fines paid before students can register or receive grades or transcripts.
Library Technology Lending
Holt Library lends graphing calculators, laptops, Wi-Fi hotspots, earbuds with microphones and webcams to
SCC students only.
Stop by the Library front desk to check out these items for the semester. Students on the Macon and Swain campuses, please email us at
library@southwesterncc.edu
to arrange delivery of library technology to your campus for pickup.
Students will need to bring their SCC student ID when checking out technology and will be required to sign a technology agreement. If you are under 18 years old, a parent of guardians' signature is required.
For Community Members:
Library Cards
Adult residents (18 years or older) of Jackson, Macon and Swain counties are welcome to use the SCC Library facility and materials. Residents 18 and older can bring in their NC Driver's License, NC photo ID, or WCU photo ID showing a local address and register for a free Library Card at the service desk. Feel free to stop by and visit! The Library is at the south end of Jackson Campus in Sylva, near the top of the hill. View campus map
Access to Library Catalog
Use the Library Catalog link to access our catalog online to find books and DVDs at Holt Library.
LearningExpress Library/PrepSTEP
PrepSTEP includes online tutorials, test practice, e-books and articles to help students achieve academic success and workplace readiness. It has skill building in English, math and science, career licensing test prep such as the TEAS and the NCLEX-RN among others, as well as workplace skill building, basic computer skills tutorials, college success skills development and much more. Users must create a free personal account in order to save their work in progress, store score reports, and revisit any practice tests, tutorials, or eBooks. Registration only requires a valid email address and a password.
New Books 2023-2024
Browse through hundreds of new titles! We have books for every course of study as well as your favorite bestsellers, biographies, and fiction.
Library Mission Statement
"The mission of Holt Library is to provide an information commons for learning resources designed to support and implement the total instructional program of Southwestern Community College. Its chief aim is to contribute to the realization of the institution's objectives by acquiring, organizing, and circulating the books, periodicals, audiovisuals, and online resources and materials needed to support the instructional program; to provide a variety of learning and study options; to provide instruction in the use of resources; and to promote the cultural development of library users."