State Authorization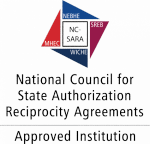 What Is State Authorization?
Institutions must obtain approval from states for local and distance postsecondary educational activities relevant to the delivery of educational programs. Activities include online learning, non-classroom experiences, faculty members who live outside of North Carolina, proctoring, professional licensure and marketing. Compliance with individual state requirements is now part of the Higher Education Opportunity Act of 2008, Amended 2010. H 600.9 (c).
In What States Is Southwestern Community College Authorized To Offer Online Courses?
Southwestern Community College has been approved by NC to participate in the
National Council for State Authorization Reciprocity Agreements
. NC-SARA is a voluntary, regional approach to state oversight of postsecondary distance education.
The states in which the college is authorized to serve students are listed above. If you reside in a state not on this list, you are not eligible to register for online classes at SCC at this time. If you have questions, please contact our admissions office at
admissions[at]southwesterncc[dot]edu
.

NC-SARA States 

| | | | |
| --- | --- | --- | --- |
| Alabama | Alaska | Arizona | Arkansas |
| Colorado | Connecticut | Delaware | District of Columbia |
| Florida | Georgia | Hawaii | Idaho |
| Illinois | Indiana | Iowa | Kansas |
| Kentucky | Louisiana | Maine | Maryland |
| Michigan | Minnesota | Mississippi | Missouri |
| Montana | Nebraska | Nevada | New Hampshire |
| New Jersey | New Mexico | New York | North Carolina |
| North Dakota | Ohio | Oklahoma | North Dakota |
| Pennsylvania | Rhode Island | South Carolina | South Dakota |
| Tennessee | Texas | Utah | Vermont |
| Virginia | Washington | West Virginia | Wisconsin |
| Wyoming |   |   |   |
Is Southwestern Community College accredited?
Yes, Southwestern Community College is accredited by the Southern Association of Schools and Colleges Commission on Colleges to award associate degrees, diplomas and certificates.
What if I need help resolving a complaint?
If you have a complaint, you should attempt to resolve the complaint through the SCC grievance procedure.
If a complaint cannot be resolved through SCC's grievance procedures, students may file a complaint with SARA-NC (State Authorization Reciprocity Agreement-North Carolina)
These resources may also be helpful in resolving complaints:
The North Carolina Post-Secondary Education Complaints Unit.
North Carolina Post-Secondary Education Complaints
c/o Student Complaints
University of North Carolina General Administration
910 Raleigh Road
Chapel Hill, NC 27515-2688
919.962.4550 or send an email to:
studentcomplaint[at]northcarolina[dot]edu
Website: North Carolina Post-Secondary Education Complaints
Regional Accreditor (SACSCOC) Complaint Process
If a student has evidence that an institution is in significant non-compliance with SACSCOC standards, policies or procedures, the individual should inform SACSCOC using the Complaints Against Institutions: Information Sheet and Form.
Southern Association of Colleges and Schools Commission on Colleges
1866 Southern Lane
Decatur, GA 30033
404.679.4500
 
What about licensure programs offered by Southwestern Community College?
If considering a program at SCC that leads to licensure or certification and you do not live in NC, please use this link to learn about the appropriate licensing or certification organization for your program.
In order to comply with U.S. Department of Education regulations regarding distance education and professional licensure, Southwestern Community College is required to make the following disclosure with respect to professional licensure and/or certification outside the state of North Carolina:
Southwestern Community College cannot confirm whether a particular program meets requirements for professional licensure and/or certification outside of the State of North Carolina. Please contact applicable licensure board(s) in any state you may want to pursue licensure and/or certification prior to beginning the academic program in order to determine whether the program meets licensure and/or certification requirements. It is the student's responsibility to confirm program eligibility for licensure and/or certification in any state outside North Carolina.