Print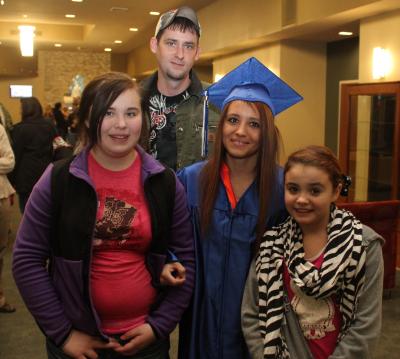 Jackson County resident Tonya Hensley (in cap and gown) poses with husband Josh Banks (top) and daughters Tiffany (13) and Camille (11) Jan. 16 at Southwestern Community College's GED® graduation ceremony.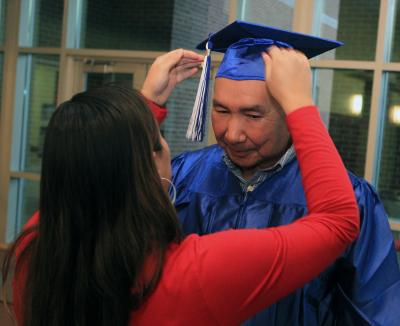 Clareece Rattler adjusts the graduation cap for her grandfather, Robert Squirrell of Whittier.
Wearing her cap and gown for Southwestern Community College's GED® graduation ceremony, Tonya Hensley grinned nervously while recalling the moment she decided to turn her life around.
Her son, Calvin, had come to her one evening asking for help with his homework at their home in Whittier. Tonya had dropped out of Cherokee High years ago as a teenager, so she simply had no way to help Calvin with his studies.
"I can't wait until I turn 16 so I can drop out of school," Calvin said.
"No, you're not dropping out," his mother replied.
That's when the son laid down his trump card: "Why not? You did."
So Tonya Hensley made a deal with all three of her kids (Calvin, now 16; Tiffany 13; Camille 11): If she went back and earned her GED®, they all had to stay in school. It wasn't easy, but the 33-year-old worked her way through preparatory classed then passed all elements of her GED® last fall and officially received her diploma on Jan. 16.
Her family, including husband Josh Banks, were part of an overflow crowd that turned out for the ceremony at SCC's Burrell Building.
Hensley is currently enrolled in spring classes at SCC as she decides between the college's culinary and substance abuse treatment programs.
"I basically did it for my children," Hensley said, fighting back tears. "It's been really hard because my mom has cancer. She's had four knee surgeries and two back surgeries."
Hensley's dedication impressed her instructors.
"I feel like she's overcome a lot," said Katie Ross, who along with Rebecca Patterson teaches GED® preparation courses for Southwestern on the Qualla Boundary. "It wasn't easy, but she came because she wanted to set an example for her kids. This is not the end of her education; it's the beginning. She's one who really wants to do more."
Hensley's was one of many stories of resilience and determination on display at the graduation ceremony. One-hundred-fifty-three students earned their GED® diplomas through SCC in the fall, and 39 of them donned caps and gowns for the commencement event.
One of the oldest participants was 67-year-old Robert Squirrell of Whittier. He'd gone through the 11th grade before dropping out to start working as a rock/brick mason. He now has a daughter, four granddaughters, three grandsons and a great grandson.
Surrounded by family, he grew emotional when asked about the evening's significance.
"I'm speechless," he said. "It means I can tell my grandchildren to get their education."
Devonne Jimison, GED coordinator at SCC, said: "As you can see from these stories it is never too late to achieve your goals in life. Contact us today and begin the process of becoming one of our 2014 graduates."
SCC has become a certified Pearson Vue Test Center and will continue to offer classes to prepare individuals to take the 2014 GED test. 
For more information about the educational opportunities programs at SCC, contact Devonne Jimison at 828.339.4486 or devonnej@southwesterncc.edu.
LIST OF GRADUATES:
Jackson County residents who received their GED® diplomas during the Jan. 16 ceremony at SCC's Jackson campus included, front row, from left: Dana Dimantova of Glenville, Ashley Christensen (Sylva), Jessica St. Pierre (Sylva), Nancy Colindres (Sylva) and Christine Knotts (Sylva). Back row: Chase Shafer (Cherokee), Caitlin Martin (Sylva), Angel Houston (Bryson City), Nohemy Austin (Sylva), Gracie Green (Sylva) and Charity Sampson (Sylva).
Jackson County
Irene Ambrosio Garcia, Cullowhee
Viviane Anderson, Sylva
Deana Ashe, Tuckasegee
Whitney Auer, Sylva
Nohemy Austin, Sylva
Justin Ball, Whittier
Melissa Bowers, Tuckasegee
Laura Brenton, Sylva
Jeanne Brown, Cashiers
Brandon Cabe, Sylva
Huijin Chen, Whittier
Ashley Christensen, Sylva
Gabriella Clowers, Cullowhee
Nancy Colindres, Sylva
Brenda Conner, Sylva
Anthony Crisp, Sylva
Scott Crowner, Sylva
Dana Dimantova, Glenville
Aaron Frady, Cherokee
Mary Gomez, Cherokee
Gracie Green, Sylva
Tonya Hensley, Whittier
Heather Hernandez, Cullowhee
Kenyon Holt, Sylva
Stanley Kingsberry, Whittier
Christine Knotts, Sylva
Paulena Koback, Sylva
Davidson Lambert, Whittier
Camen Lewis, Sylva
Christopher Manning, Whittier
Caitlin Martin, Sylva
Terri McCracken, Dillsboro
Paul McFalls, Cullowhee
Christopher Miller, Cullowhee
Dave Morgan, Sylva
Jessica Patterson, Sylva
Cody Perry, Sylva
Marquis Pharr, Cullowhee
Tabatha Posey, Sylva
Drew Pruitt, Whittier
Seth Pruitt, Whittier
Yesenia Ramirez, Tuckasegee
Sierra Sampson, Sylva
Chase Shafer, Cherokee
Audrey Sparks, Sylva
Robert Squirrell, Whittier
Jessica St. Pierre, Sylva
Denise Tooni, Whittier
Andrew Wheatley, Sylva
Kyle Whitehead, Dillsboro
Craigan Wildcat, Cherokee
Sheryl Williams, Sylva
Brianna Woodring, Sylva
Ann Woodruff, Sylva
Kimberly Woods, Sylva
Macon County residents who received their GED® diplomas during the Jan. 16 ceremony at SCC's Jackson campus included, front row, from left: Paige Bates of Franklin, Maura Altamirano (Franklin), Erika Diaz (Franklin); Laura Hoover (Franklin), Jeanne Brown (Cashiers), Michelle Majerus (Franklin) and Casondra Webb (Scaly Mountain). Back row: Morgan Laderoot (Scaly Mountain), Nadya Rogers (Scaly Mountain), Kyle Scott (Franklin), Branden Berger (Franklin), David Ruiz-Santos (Franklin), Angela Beck (Franklin), Hilary Tait (Bryson City), Justin Haggard (Franklin), Brett Aiken (Franklin) and Luz Olalde (Highlands)
Macon County
Maria Acevado, Franklin
Brett Aiken, Franklin
Maura Altamirano, Franklin
Andrea Anderegg, Franklin
Shana Anderson, Franklin
William Araujo, Highlands
Ashley Bates, Franklin
Angela Beck, Franklin
Branden Berger, Franklin
Katrina Bottoms, Franklin
Corey Bowers, Franklin
Douglas Bradley, Franklin
Timothy Burch, Franklin
Dennis Cabe, Franklin
Eric Chastain, Franklin
John  Christiansen, Franklin
Bianca Comesanas, Franklin
Rachael Conley, Franklin
Joshua Dyer, Franklin
Kadeem Ferris, Franklin
Sarah Fregeau, Franklin
John Getro, Franklin
Caitesby Golightly, Franklin
Matthew Green, Otto
Justin Haggard, Franklin
Laura Hoover, Franklin
Lisa Hyde, Otto
Gavin Koenig, Franklin
Morgan Laderoot, Scaly Mountain
Michelle Majerus, Franklin
Ricky Mashburn, Franklin
John McGaha, Franklin
Rita Morgan, Franklin
Matthew Murphy, Franklin
Katherine Napier, Otto
Joseph Nobles, Franklin
Angela Norman, Franklin
Joseph Nowak, Franklin
Luz Olalde, Highlands
Leticia Power, Highlands
Joshua Price, Franklin
Lourdes Rios, Franklin
Nadya Rogers, Scaly Mountain
David  Ruiz-Santos, Franklin
Kyle Scott, Franklin
Heidi Thorne, Franklin
Kendra Watson, Highlands
Casondra Webb, Scaly Mountain
Carol Yummit, Franklin
Swain County residents who received their GED® diplomas during the Jan. 16 ceremony at SCC's Jackson campus included, from left: Marian Gloyne of Cherokee, Hilary Tait (Bryson City) and Zacchaeus Maney (Cherokee).
Swain County
Toni  Allen, Cherokee
Joseph Arch, Cherokee
Megan Auman, Cherokee
Harnett Baker, Cherokee
Dennis Bowen, Almond
Albert Bradley, Cherokee
Eddie Bradley, Cherokee
Dawnette Coley, Cherokee
Michael Cooper, Bryson City
Mark Crowe, Cherokee
Chris Cucumber, Whittier
Victoria Cucumber, Cherokee
Deborah Douthit, Bryson City
Allyssa Fink, Cherokee
Marian Gloyne, Cherokee
Dalton Gunter, Cherokee
Angel Houston, Bryson City
Cynthia Johnson, Bryson City
Tonie Jones, Cherokee
Robyn Locust, Cherokee
Tosha Maney, Cherokee
Zacchaeus Maney, Cherokee
Courtney Mashburn, Bryson City
Haley Mobley, Bryson City
Danny Owle, Cherokee
Kerry Penland, Cherokee
Mary Roy, Bryson City
Charity Sampson, Cherokee
Nevin Saylor, Bryson City
Hilary  Tait, Bryson City
Tyler Washington, Cherokee
Austin Welch, Cherokee
Tamra West, Cherokee
James Williamson, Bryson City
Jordan Wolfe, Cherokee
Quincy Zheng, Bryson City
Clayton, Ga.
Amanda Barnes, Clayton, Ga.
John Brophy, Clayton, Ga.
Tammy Hoffman, Clayton, Ga.
Dillard, Ga.
John  Callenback, Dillard, Ga.