Andy Shaw Ford commits to future scholarship
By: Kaitlyn Carver-Cochran
SYLVA –
Continuing a longstanding tradition of supporting Southwestern Community College, Andy Shaw Ford of Sylva has committed to endowing a new scholarship for the Automotive Systems Technology program at SCC. 
The scholarship agreement was signed on April 11 by Dr. Don Tomas, SCC President, Larry Hinton, President and General Manager of Andy Shaw Ford and Brett Woods, Director of the SCC Foundation.
"The people of Andy Shaw Ford have been long time supporters of SCC," said Dr. Don Tomas, president of SCC. "We are excited to be able to give more opportunities to future students of our Automotive program because of the generosity of Larry Hinton and his team."
The Andy Shaw Endowed Scholarship Fund will support one Automotive student per school year once it is fully funded at SCC. Candidates for this scholarship will have an upcoming GPA of at least 2.5 and maintain a GPA of 3.0 or better within the Automotive Systems Technology Curriculum.
"We wanted to honor Andy," Hinton said. "He was a lawyer by trade, but he loved the automotive industry. He was always enamored by automobiles, and he always provided opportunities for young people who wanted to work in the automotive business. We wanted to honor his memory by providing opportunities for a new generation of young people who want to work in Automotive Systems Technology so they can stay a step ahead and provide for their families."
The scholarship is set to be fully funded in the next three years.
Andy Shaw Ford employs 41 people and has 2,800 active customers including hospitals and other area businesses.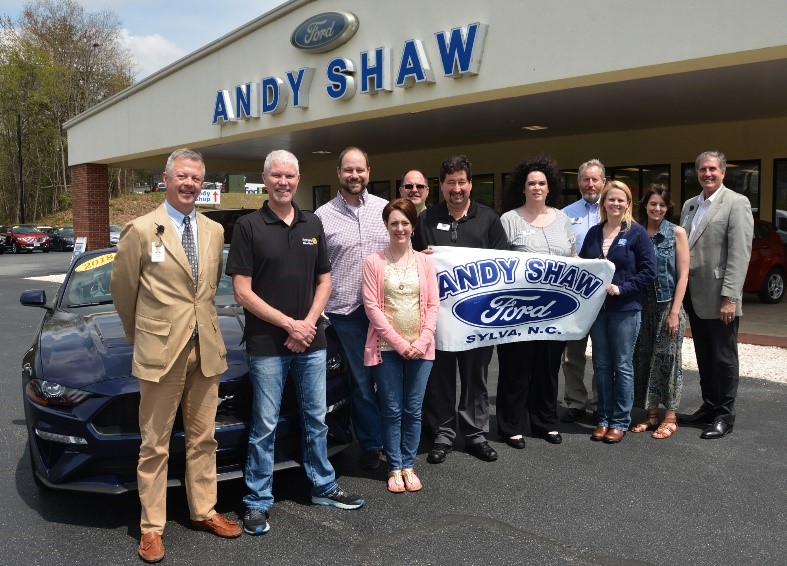 SCC Foundation Director Brett Woods (left) and SCC President Dr. Don Tomas (right) stand beside Andy Shaw Employees from left, Larry Hinton, Dustin Shuler, Meagan Wilmoth, Brad Ledford, Donald Bradley, Hollie Johnson, Scott Rodes, Erica Bullock, Kayla Ross.