Burrell of Rabbit Creek Pottery wins Town of Dillsboro Business Plan Competition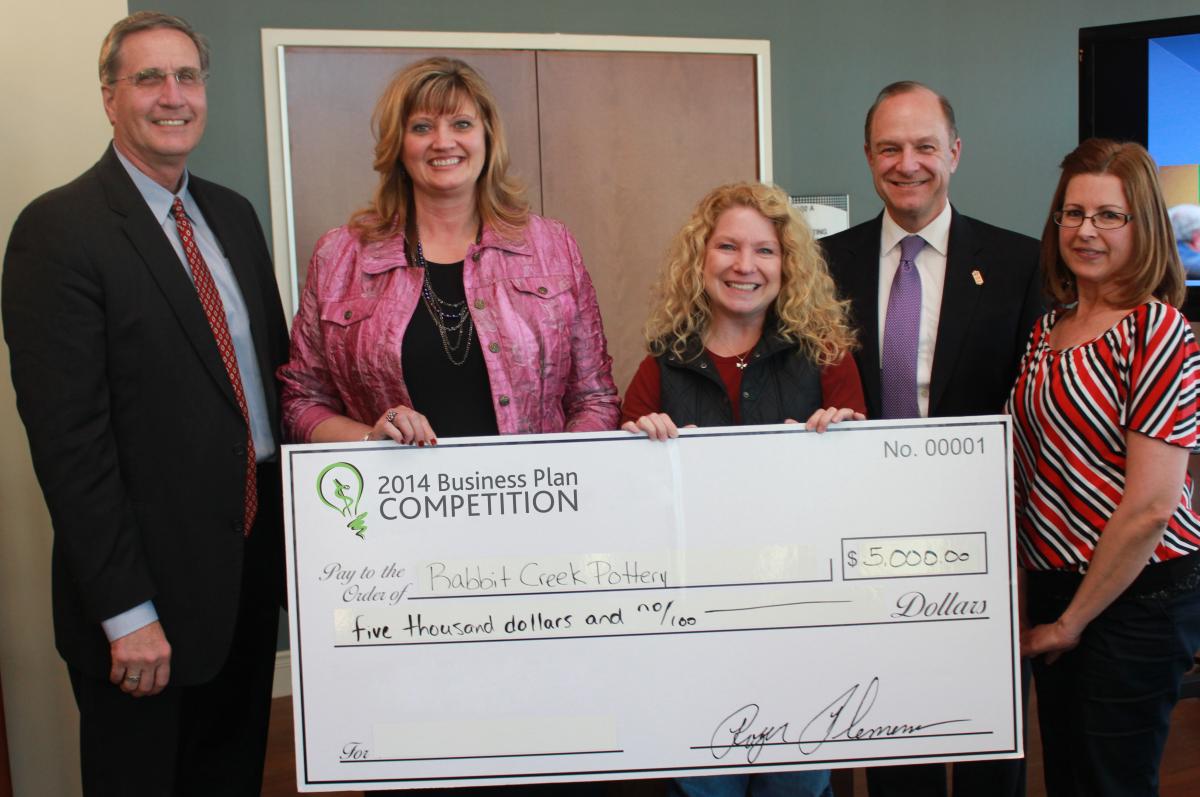 Annie Burrell (center), co-owner of Rabbit Creek Pottery, won the $5,000 grand prize in the Town of Dillsboro Business Plan Competition. She's pictured here with, from left: Dr. Don Tomas, SCC president; Sonja Haynes, dean of SCC's Workforce Innovations program; Dr. David Belcher, WCU chancellor; and Lisa Potts, judge and co-president of the Dillsboro Merchants Association.
As part of the Dillsboro Business Plan Competition, roughly a half-dozen aspiring entrepreneurs and existing small business owners transformed their ideas into business plans over the past four month while regularly attending free weekly seminars through Southwestern Community College's Small Business Center.
Annie Burrell claimed the $5,000 grand prize during an awards banquet last month at SCC, but organizers said the town of Dillsboro will ultimately be the big winner as several viable business ideas emerged from the competition.
"We really hope everyone who participated will follow through and put the business plans they developed into action," said Sonja Haynes, SCC's dean of Workforce Innovations who spoke on behalf of the judges. "We feel like every single one of them has the potential to be very successful."
Burrell, who opened Rabbit Creek Pottery in October with sister Jenny Patton, entered the competition to help formalize a business plan.
Coordinated and overseen by Tiffany Henry – director of SCC's Small Business Center - and taught by Tonya Snider, the sessions gave participants an opportunity to collaborate with other aspiring entrepreneurs and existing business owners as they developed strategic plans for their business ideas. A project of the Dillsboro/WCU Partnership Committee, the competition was co-coordinated with WCU's Small Business and Technology Development Center.
The eight-week series covered topics such as "Zero in on Your Market" and "Financials for Small Business" and were part of the NC REAL (NC Rural Entrepreneurship through Action Learning) interactive, business planning series.
Winning the grand prize was a huge bonus for Burrell, who teared up while describing the impact that money will have on her business.
"I'm overwhelmed and overjoyed," said Burrell, who lives in Franklin. "My sister and I are potters, and we've been struggling because we haven't had a gas-fired kiln. I've had a kiln in the backyard covered up by a tarp because we couldn't afford to get the gas hook-up, and this is going to make it possible."
Attending the award presentation banquet were roughly two dozen community leaders, including the competition's sponsors and officials from both SCC and Western Carolina University – including Dr. Don Tomas, president of SCC, and Dr. David Belcher, chancellor of WCU.
Other participants who completed viable business plans while attending the series of seminars didn't walk away empty handed. Dillsboro Mayor Mike Fitzgerald offered to waive the license fees for each.
Also present were co-finalists John Faulk and Megan Orr of Sylva and Anthony Brown of Haywood County. Henry and Tommy Dennison, a business counselor at WCU, addressed the crowd prior to the announcement of the winner.
"It was such an honor to be a part of this," Henry said. "Watching these business plans come to life over the past few months has been very rewarding.
Dennison summed up the evening – and the competition – with a quote from Napoleon Hill: "It is literally true that you can succeed best and quickest by helping others to succeed."
Dr. Betty Farmer, a communication professor at WCU, has helped coordinate revitalization efforts with Dillsboro for years and was particularly happy with how the contest brought together several key partners.
"This project has been special because of the WCU/SCC connection and because of the way our local governments, chamber and business partners came together to sponsor this," Dr. Farmer said. "I'm really proud of this collaboration. I think it shows what can be accomplished when people work together for a common cause. We are all in this together!"
For more information about SCC's Small Business Center, contact Henry at
t_henry[at]southwesterncc[dot]edu
or 828.339.4211.
To learn more about WCU's Small Business & Technology Development Center, contact Dennison at
trdennison[at]email.wcu[dot]edu
.