Culinary students place high at statewide competition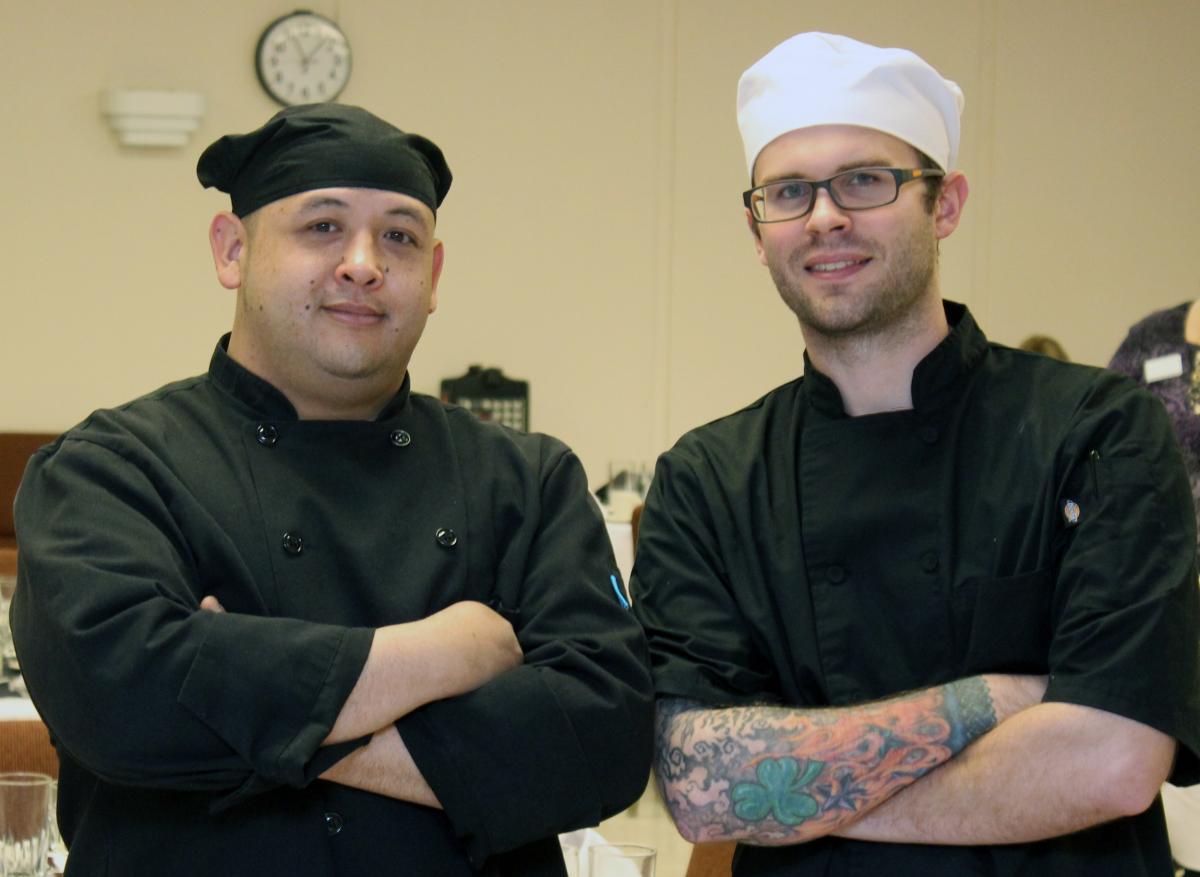 SCC culinary students C.J. Reum (left) and Scott Dolbee, both from Sylva, recently placed fourth at a statewide cooking contest.
Preparing a dish for a grade is often enough of a challenge for first-year students in Southwestern Community College's culinary program.
Place the aspiring chefs in a huge venue like the Raleigh Convention Center, throw in a time clock, sprinkle in a mystery basket of ingredients - and the pressure gets intense in a hurry.
That's what Sylva residents C.J. Reum and Scott Dolbee discovered earlier this month when they participated in Wake Tech's Culinary Arts Showcase. Despite taking on a number of veteran teams loaded with second-year students, SCC's first-time competitors overcame a key disadvantage to make the final round and ended up placing fourth out of 11 teams at the statewide competition.
Longtime program coordinator Ceretta Davis said it was the first time SCC students had competed at a culinary contest of this type.
"It was fun; nerve-wracking, but fun," Dolbee said. "They had all these prestigious chefs walking around taking notes on everything we did, and we were going up against other culinary schools. So it was pretty interesting. I was really happy and excited that we made it to the final round."
​Dolbee and Reum were dealt an unexpected blow before the competition when Davis had to leave the premises to be with another student who became ill and had to be taken to a hospital.
"Right after C.J. and Scott got their ingredients, they had a 30-minute window to write recipes," Davis said. "Other teams had instructors there to work with them, but I wasn't there to help my students.
 "I was at the hospital when I got a text saying they'd won, and I'm so excited for them," Davis added. "Both of them came into our program with a lot of knowledge. I felt they had enough knowledge and material to do well. They're already talking about doing it again next year."
For their first dish, Reum and Dolbee prepared an almond-crusted, hand-fried shrimp appetizer served on a bed of quinoa and key-lime kale topped with mango vinaigrette. Their entree of pork tenderloin and purple sweet potatoes was served with an asparagus/pear medley topped with toasted walnuts and a béarnaise sauce.
As one of five teams to make the final round, they opted for a striped bass appetizer with fresh pesto and a swiss chard salad. Their second entrée was a seared rack of lamb, basmati rice and sautéed parsnips with a citrus glaze.
Even better than dessert was hearing their names called among the winners.
"I was shocked and surprised," Reum recalled. "It felt great. We went with the best of intentions and did well. Once we made the finals, I think we were more comfortable cooking the second time. The nerves weren't quite as bad."
For more information about SCC's culinary program call 828.339.4000.