EDA awards $2 million to SCC, Jackson County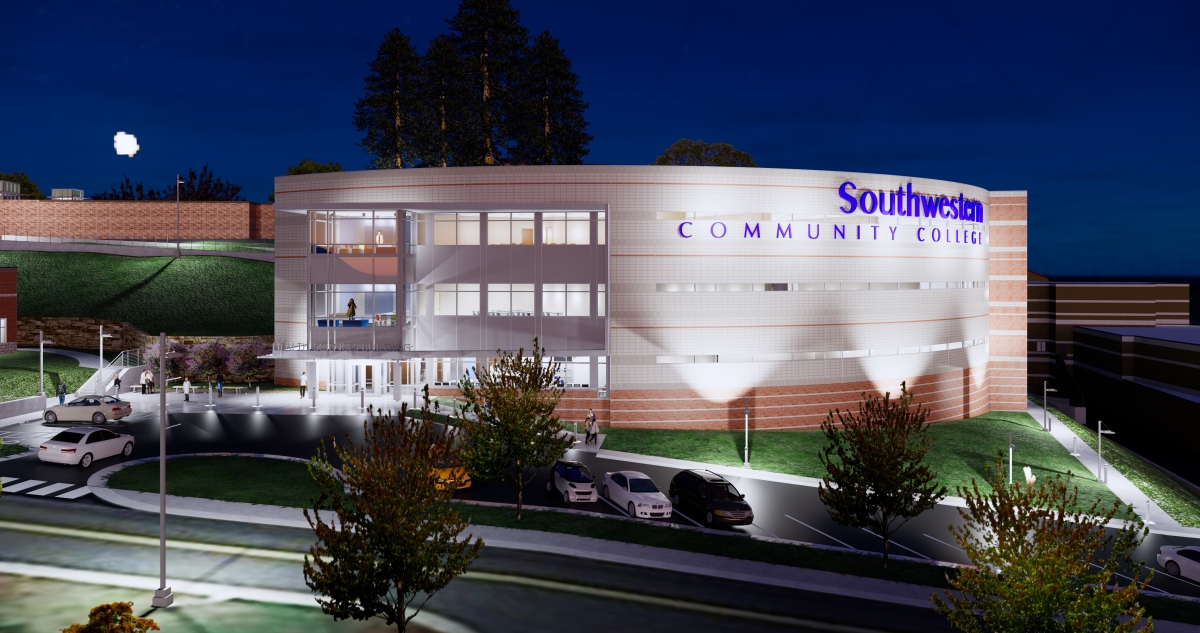 Provided by LS3P, this graphic rendering shows what SCC's new health sciences building will look like upon completion in 2021.
To assist with the construction of a new health sciences building, the U.S. Department of Commerce's Economic Development Administration has awarded a grant worth $2,015,395 to Southwestern Community College and Jackson County.
The new workforce training facility, which will be located on SCC's Jackson Campus, is on schedule to be completed in spring of 2021. It will allow SCC to admit 144 additional students in each of the first two years after the building opens, and the project is expected to create 236 new jobs within Jackson, Macon, Swain Counties and the Qualla Boundary.
"We are honored and excited that the EDA chose to help fund our project," said Dr. Don Tomas, President of SCC. "Our new health sciences building is a huge economic development opportunity for our region. There's a tremendous need for more healthcare professionals. A number of long-term care facilities have beds available right now, but they can't accept more patients because there aren't enough qualified individuals available to provide the necessary care. Our new facility will help change that."
In addition to the EDA grant, other funding sources for construction include the Connect NC Bond and the Jackson County one-fourth-of-a-penny referendum, both of which were passed by voters in 2016. Connect NC will contribute approximately $5.4 million, and Jackson County's investment will be between approximately $12.3 and $14.4 million – depending on bids.
College officials plan to bid the project out within a month.
"Investment in this new health sciences building is really an investment in our people, both locally and regionally," said Don Adams, Jackson County Manager. "The educational opportunities that will be made available through this new facility will empower our citizens to improve the quality of their lives for generations."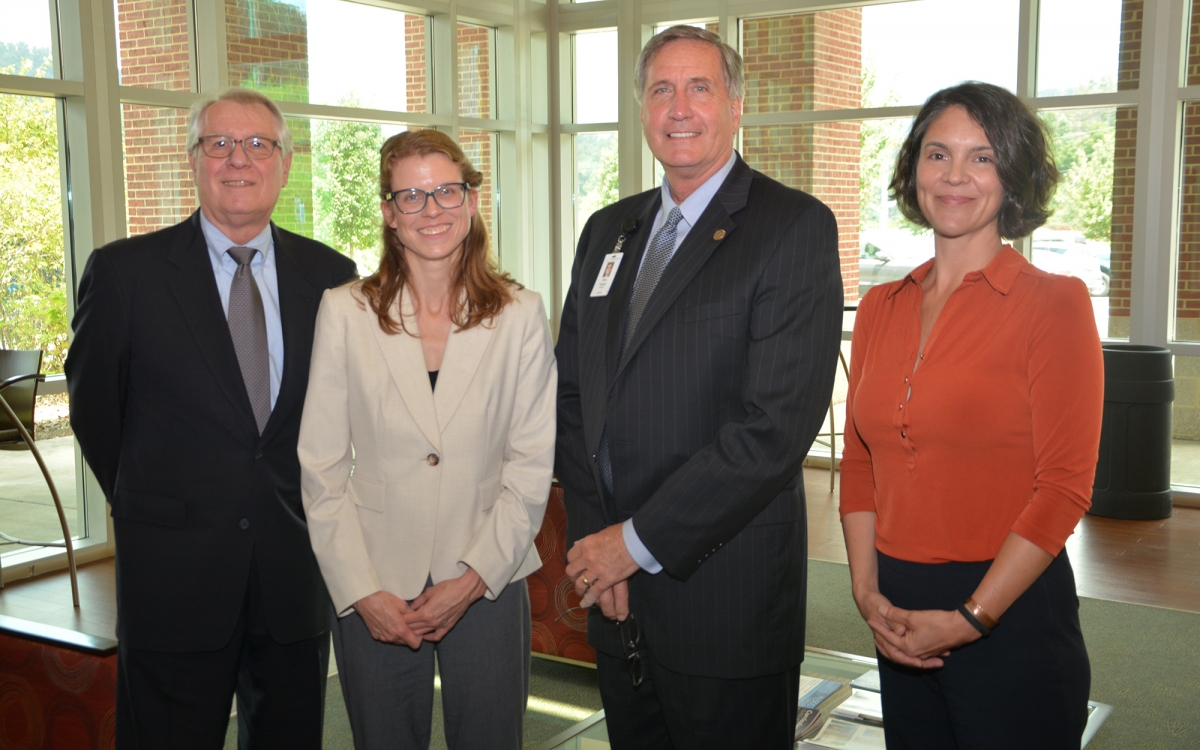 H. Philip Paradice, Jr., (left) Regional Director of the U.S. Department of Commerce's Economic Development Administration; and Hillary Sherman (second from left) N.C. Economic Development Representative of the Economic Development Administration – along with Sarah Thompson of the Southwestern Commission (right) recently visited Southwestern Community College's Jackson Campus in Sylva. Dr. Don Tomas, SCC President, is pictured between Sherman and Thompson.
SCC needs the new building as it has outgrown the Balsam Center, which was built in 1988 to accommodate four healthcare training programs. Southwestern now has 15 health sciences programs, and the new building will allow for three more once approved by the state.
According to research conducted by William Brothers, SCC's Vice President for Financial and Administrative Services, the average starting salaries for each of SCC's existing health sciences programs exceed the state's poverty level for a family of four. The proposed new programs also eclipse that same standard.
"We're training people for jobs that can change their lives," Brothers said. "Our graduates will find fulfilling careers, and they'll be able to provide for their families while remaining in this beautiful region we call home."
The proposed three-level building will be 55,411 square feet. It will house 23 classrooms and labs, and many of the college's health sciences programs will offer free community clinics. Among those are Physical Therapist Assistant, Occupational Therapy Assistant and Medical Sonography.
For more information about Southwestern and the programs it offers, visit www.southwesterncc.edu, call 828.339.4000 or drop by your nearest SCC location.


SCC & HEALTH SCIENCES
Following are the health sciences programs SCC currently offers as well as the ones that may be added following construction of the new building:
Current programs
Emergency Medical Science

Health Information Technology

Human Services Technology

Medical Assisting

Medical Laboratory Technology

Medical Sonography

Nursing

Nurse Aide

Occupational Therapy Assistant

Outdoor Leadership
Wilderness Emergency Medicine

Wilderness Therapy
Phlebotomy Certificate

Physical Therapist Assistant

Radiography

Respiratory Therapy

Therapeutic Massage
New Programs (pending state approval)
Surgical Technology

Opticianry

Speech Language Pathology Assistant