Franklin student becomes 1st from SCC to earn GED® under new guidelines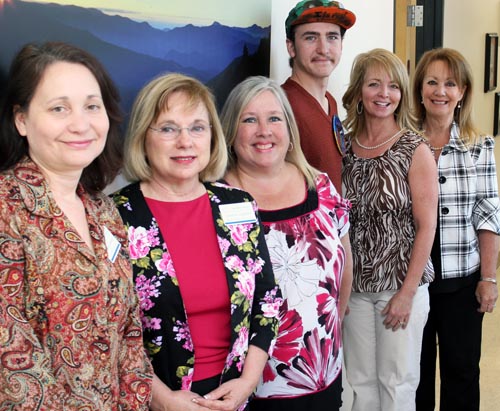 Last month, Ruedi Woods of Franklin (fourth from left) became the first Southwestern Community College student to earn his General Equivalency Development (GED®) under the new guidelines that went into effect on Jan. 1. Standing beside Woods are, from left: Darlene Anderson, SCC's educational opportunities director; Carole Langford, SCC instructor; Devonne Jimison, SCC's coordinator of high school equivalency testing; Rita Gregory, SCC's educational opportunities coordinator; and Nita Arnold, SCC instructor.
If the new guidelines for preparing to take the GED® seem intimidating, Ruedi Woods has some advice for you.
Just show up.
A Colorado native who moved to Franklin after dropping out of high school, Woods worked diligently in GED® preparation classes through Southwestern Community College's educational opportunities program and passed his exam last month.
"When you come in at first, it looks huge – like it's going to be a real challenge," Woods said. "But the key is to attend regularly. If you attend, you move forward fast. SCC's instructors did an extremely good job. They gave me help when I didn't understand something."
SCC offers GED® preparation classes in Jackson, Macon and Swain Counties - including the Qualla Boundary and Highlands. Classes are available in the day, evening and online.
The GED® testing process was overhauled starting on Jan. 2, but it took Woods less than four months to successfully prepare. He logged 113 hours of training between January and April.
His commitment to the program impressed SCC instructors, including Nita Arnold.
"With all the changes to the testing process, we didn't know what to expect," Arnold said. "Ruedi was here every day. It was very encouraging to see this could be done so quickly. We're so proud of him.
"We learned a lot through him," Arnold added. "We'll be even more efficient going forward now."
Besides earning his GED®, Woods took college and career readiness classes and prepared a resume that he hopes will help him find employment with a general contractor.
Darlene Anderson, SCC's educational opportunities coordinator, said her program does much more than prepare students to successfully complete their GED®.
"Students that are working toward their GED® with us will be part of a larger program that prepares them for the workforce or for continuing their college education," Anderson said. "They can even get college credit tuition-free while getting their GED® through several pathways including culinary, automotive systems technology, pharmacy technology, table gaming and many others."
For more information about the educational opportunities programs at SCC, contact Devonne Jimison at 828.339.4486 or
devonnej[at]southwesterncc[dot]edu
.