Grad attends Job Fair from a new perspective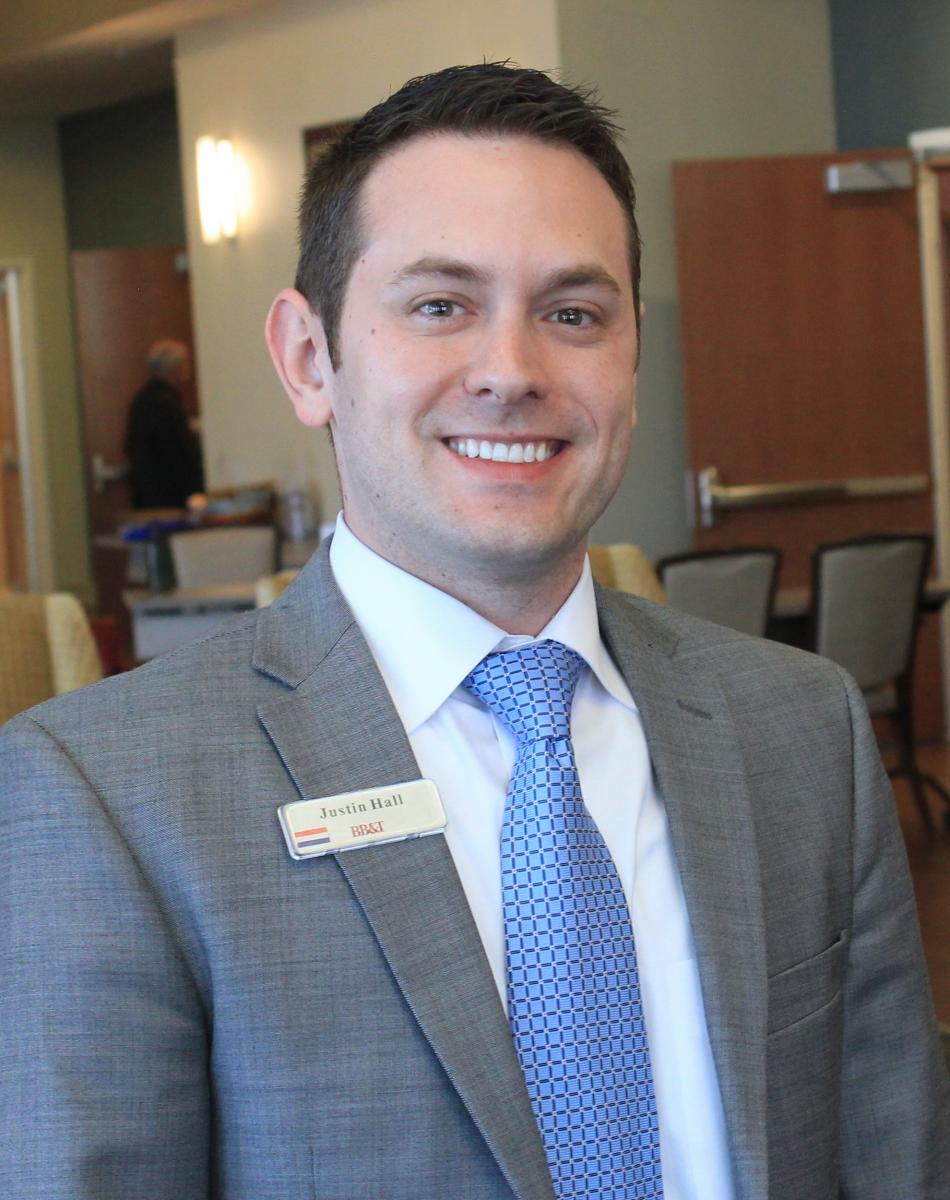 Justin Hall, a Southwestern Community College graduate and former New Century Scholar, is now the Jackson County Market Leader for BB&T. He originally found employment with BB&T as a result of attending SCC's Job Fair in 2008, and he returned in last month to help interview prospective employees.
Six years ago, Justin Hall was looking for a career path when he attended Southwestern Community College's Job Fair.
That's where the SCC graduate met Lucinda Austin, an employment consultant at BB&T. The two had a brief conversation, and within weeks, Austin called Hall and asked him to apply for a position that had recently opened up. Hall did and was soon hired.
Hall quickly moved up to his current role as BB&T's Jackson County Market and recently found himself back at Southwestern's Job Fair – but this time on the other side of the interviewing table.
Hall represented one of 53 employers that participated in this year's event, which drew more than 200 job-seekers. Several walked away with new jobs, and many more got promising leads just as Hall had done years ago.
"Sitting on the other side was very exciting," said Hall. "Patty (Kirkley, SCC's career counselor) asked if I could do that this year, and I was more than happy to. Lucinda usually goes to job fairs, but she was out of the office that week. It was like a full-circle progression after finding a job here. It goes to show what SCC can do for you, and it's an honor."
A 2006 graduate of SCC's college transfer program, Hall was a former New Century Scholar who had his last-dollar college tuition covered at Southwestern following his graduation from Smoky Mountain High in 2003. He initially pursued his bachelor's degree at WCU but stepped away from school to care for an ill family member.
He eventually returned to SCC and enrolled in its business administration program before instructors encouraged him to start attend the 2008 Job Fair.
"My instructors actually walked around with me and introduced me to several employers, Lucinda being one of them," Hall recalled. "I talked to other banks, people in the medical field, advertisers – just trying to get an idea for what I wanted to do. And when that job came open at BB&T, I fell right into it."
Patty Kirkley, SCC's career counselor, vividly recalls the year Hall attended the Job Fair as a student scoping out potential job leads.
Kirkley organizes the annual job fair and was thrilled to see Hall manning BB&T's booth last month.
"I was absolutely exhilarated," she said. "We knew back then that Justin had incredible potential, and he's certainly proven that. I clearly remember talking to Lucinda at the time about Justin and one other student who had really impressed us. I told her, 'We really want you to consider Justin.'"
With his unique perspective, Hall understood the range of emotions that job-seekers experienced at this year's job fair.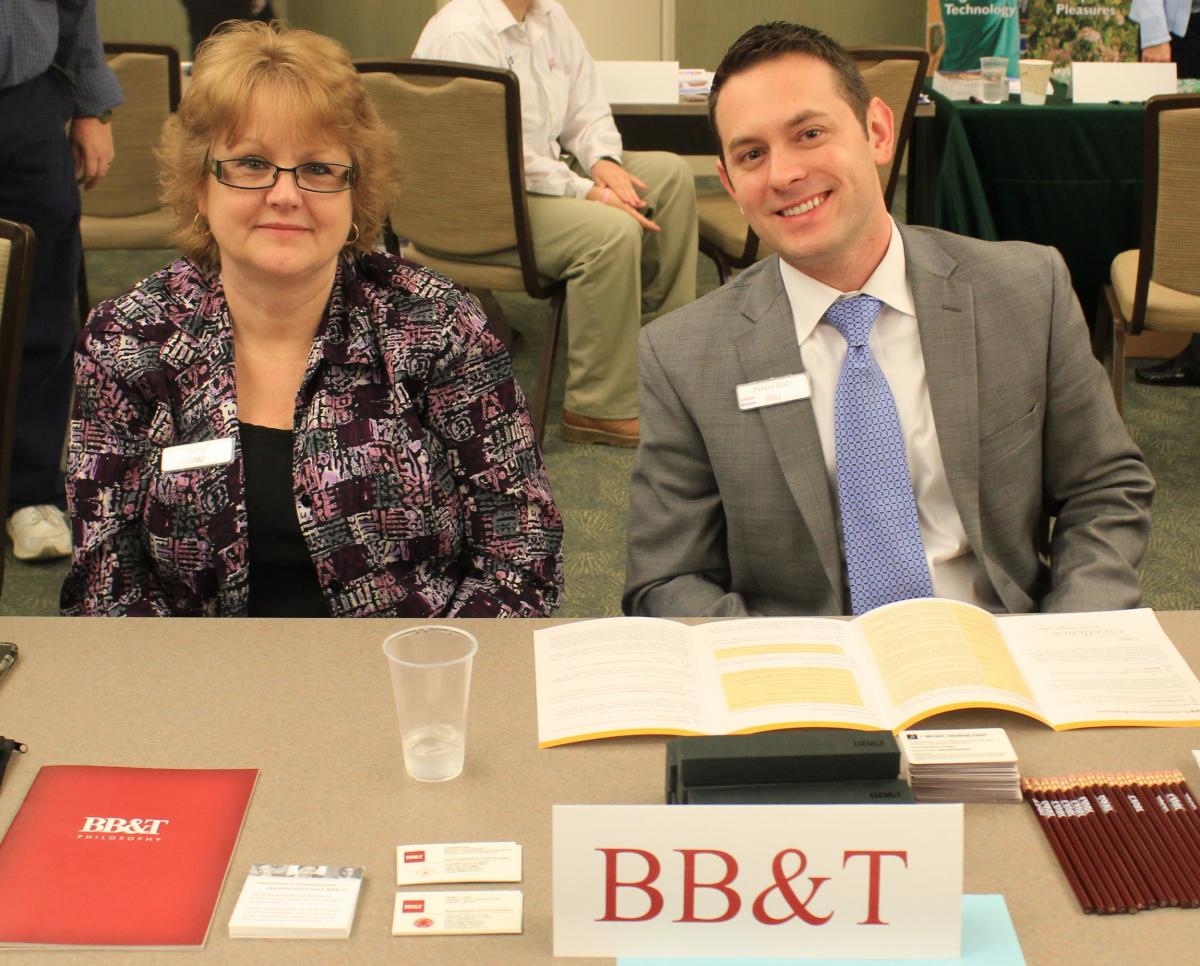 Justin Hall (right), a Southwestern Community College graduate who is now the Jackson County Market Leader for BB&T, was back on campus recently for SCC's Job Fair. He's pictured here with Lana Parton, Relationship Banker for BB&T.
"It's kind of like they're going through the same range of emotions as what I went through back then," Hall said. "At that time for me, it was all about seeing what their companies had to offer. I wanted to learn about their business. Sitting on the other side of the table, I could see where the prospective employees were coming from. The questions they had were similar to the ones I had. It was very exciting, almost surreal to think about it."
Hall said he interviewed several "great people" and collected roughly a half-dozen resumes to send to Austin.
Plus, he said returning to campus brought back positive memories from his years at Southwestern.
"I love SCC," he said. "It's the best school I could have gone to. I'm very proud to have graduated from Southwestern. … The culture here is very welcoming and encouraging. It feels like home."
For more information about SCC and its programs call 828.339.4000.