Kostas raises $850 for SCC's educational opportunities program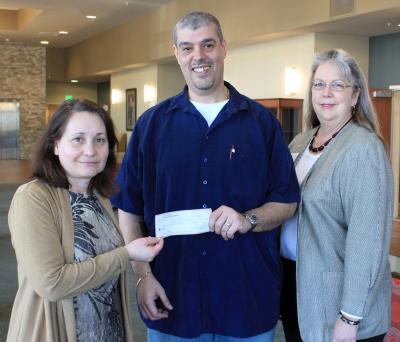 Dean Christopoulos (center), owner and manager of Kostas restaurant in Dillsboro, presents an $850 check to Darlene Anderson (left), educational opportunities director at Southwestern Community College, and Mary Selzer, director of the SCC Foundation.
In an effort to help Southwestern Community College students working toward their GED® or other educational opportunities, Kostas restaurant of Dillsboro recently raised $850 through a pair of fundraisers.
Dean Christopoulos, owner and manager of Kostas, gave 10 percent of all sales on Dec. 28 and Jan. 18 to the SCC HOPE (Helping Others Progress through Education) fund.
"In today's economy, it's not easy for many of our students to change their lives without some help," said Darlene Anderson, SCC's educational opportunities director. "When our students demonstrate a strong desire and the discipline to pursue their educational endeavors, we want to do everything we can to help. That's what SCC HOPE is all about.
"We can't thank Dean and all the folks at Kostas enough for what they're doing," Anderson added. "Their donation, and other gifts like it, will help hard-working students as they work toward their academic goals."
Money raised by SCC Hope will help students pay for tuition for occupational courses like Certified Nursing Assistant, Home Companion Aid, Professional Office Management and many more.
Other ways SCC HOPE will help is by covering the costs of taking the GED and state licensing exams as well as purchasing textbooks and supplies – along with additional student needs that other sources of financial aid do not cover.
For more information about SCC HOPE, contact Anderson at 828.339.4361 or
d_anderson[at]southwesterncc[dot]edu
.