Macon couple gives to Student Success Campaign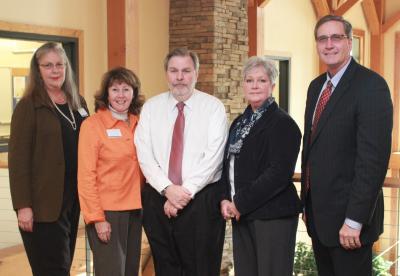 Macon County residents Vic (center) and Margaret (second from right) Perry recently pledged $1,500 to Southwestern Community College's Student Success Campaign. Pictured with the Perrys are, from left: Mary Otto Selzer, director of the SCC Foundation; Dr. Cheryl Davids, dean of SCC's Macon Campus; and Dr. Don Tomas, SCC's president.
When Southwestern Community College officials and students spoke last month about the extreme need for more scholarship funding, the message struck a chord with Vic and Margaret Perry.
That's why the lifelong Macon County residents recently pledged $1,500 to the Student Success Campaign – an effort by the SCC Foundation to bridge the gap between scholarship need and availability.
Of the 225 students who applied for financial assistance through the SCC Foundation, just 43 received funding this year.
"We thought, 'What a shame that students had applied for help but weren't able to get it,'" said Vic Perry, who's the clerk of superior court in Macon County. "It's a good investment. We want to do our part.
"SCC is a great asset to our community and to the region as a whole," Perry added. "I firmly believe in education, and SCC does a great job educating folks, spurring the economy and helping students become well-rounded and live fulfilling lives."
The Perrys made the gift in memory of Vic's late sister, Jane Perry Rollow.
Through a federal challenge grant, the U.S. Department of Education will match dollar-for-dollar the first $300,000 in gifts to the Student Success campaign. The effort aims to raise more than $1 million before Sept. 30, 2014.
All funds raised will go into a Student Success Endowment, which will ensure more students than ever before annually receive scholarship assistance to attend SCC.
"We're so thankful for the generosity of the Perrys and others in our service area of Jackson, Macon, Swain Counties and the Qualla Boundary," said Mary Otto Selzer, director of the SCC Foundation. "This campaign will help so many students get an outstanding education at SCC, and 90 percent of our graduates live and work in our area. It's hard to imagine a wiser way to invest in our communities."
For more information about the Student Success Campaign, visit
southwesterncc.edu/content/scc-foundation
or contact Selzer at 828.339.4241 or
m_selzer[at]southwesterncc[dot]edu
.