New Mechatronics program offered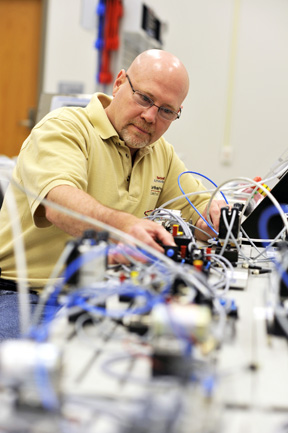 Jim Falbo, coordinator of SCC's mechatronics engineering technology program, is shown here with some of the equipment that will be used in the advanced manufacturing training.

The business of manufacturing has changed dramatically in recent years.
That's why Southwestern Community College is fundamentally overhauling the way it trains the manufacturing employees of tomorrow.
With more than $1.5 million in Golden LEAF grant funding secured over the winter, Southwestern has purchased advanced manufacturing equipment and hired longtime instructor Jim Falbo to coordinate a new mechatronics engineering technology program that will begin this fall.
"These aren't your grandfather's manufacturing jobs," said Sonja Haynes, SCC's dean of workforce innovations. "We're talking about more advanced automation and robotics. It's no longer a job where you sit at a workstation and assemble something with your hands all day. Everything is computerized and more technical, and we can get you ready to fill these jobs in a short amount of time."
This project received support from the Golden LEAF Foundation.
A majority of the classes will be at the Swain Regional Training Center with the remaining ones taking place at SCC's Jackson Campus. SCC also received a $250,000 Duke Energy Foundation Grant for advanced manufacturing equipment for the electronics program on the Jackson Campus.
Haynes said the starting salary for program graduates is expected to be between $40,000 and $50,000, depending on the plant and the worker's skills.
Falbo, who spent half his career as a controls technician at an Illinois nuclear power plant, holds an associate's degree in automated systems and robotics (from Joliet Junior College) as well as a master's in education (from the University of St. Francis).
"What really attracted me to this position was when I read a media report where a Swain County leader talked about understanding the need to diversify the county's economic plan and that they couldn't rely only on tourism anymore," said Falbo, who previously taught at Haywood Community College. "I realized this is a county that sees the long-term importance of these manufacturing jobs as well as continuing to attract more employers, and I want to be a part of helping prepare people to fill these positions."
In the same way as manufacturing jobs have changed, SCC has restructured its entire approach to delivering the training.
"It's a stackable program," Haynes said. "It means students can come in and get a certificate within 6-to-10 weeks, making them eligible for employment. They can then work toward another certificate in a similar time span, and they continue that process as they work toward a two-year degree.
"It's a new concept we're trying out," Haynes added. "It allows students to have a more flexible schedule, so they don't have to be in class for a traditional college semester. And it allows us to start classes when it makes the most sense for our students. Folks who are already working in manufacturing are a focus for us too, so we want to be able to meet their scheduling needs."
Graduates can seek employment in industrial maintenance and manufacturing including assembly, testing, startup, troubleshooting, repair, process improvement and control systems. They should qualify to sit for Packaging Machinery Manufacturers Institute (PMMI) mechatronics or similar industry examinations.
For more information about the mechatronics engineering technology program, contact Falbo at 
j_falbo[at]southwesterncc[dot]edu
.