Southwestern seeks assistance from NCDENR at firing range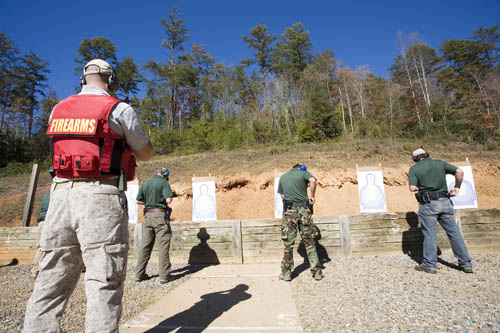 "Working with the local community college; I can't imagine going anywhere else for doing the stuff we do. We go there once a year. We pick out two dates – 1-9 or 10 p.m." We always fix a dinner, plug in a crock pot and eat together as a family; it boosts morale."- DavisWoodard
 
As part of ongoing efforts to enhance the firing range in Jackson County, Southwestern Community College has reached out to the North Carolina Department of Environment and Natural Resources (NCDENR) to ensure the college is complying with state guidelines, policies and procedures regarding its firing range in Jackson County.
Jackson County and SCC entered into a 25-year lease agreement in 1996. SCC pays $1 per year to use the property for training its own students as well as officers from more than a dozen area law enforcement agencies.
"We are so grateful that the Jackson County Commissioners continue to lease us this property at virtually no cost," said Curtis Dowdle, dean of public safety training at SCC. "For a number of years, we've wanted to improve the safety at the firing range while simultaneously enhancing our ability to serve the law enforcement agencies in Western North Carolina. While we've seen firsthand the need for significant improvements, we've also tried to be sensitive to the economic realities of our local and county governments in recent years. We want to be good stewards of this firing range and also of the taxpayers' dollars."
Davis Woodard, Sylva's police chief since 2010, said the proximity of the firing range is a huge advantage for his department.
"I wouldn't even begin to know where we'd have to go if we didn't use the one at SCC; going anywhere else would be such an inconvenience," Woodard said. "I've been using it 27 years and they've made a lot of changes and improvements down there. Along with that, not just the changes and improvements, it's the convenience of it. That's the main thing."
Major Shannon Queen of the Jackson County Sheriff's Department added: "I've been through BLET (Basic Law Enforcement Training) and up through now as a law enforcement professional, (the firing range) is how we stay on top of it is the training. Firearms is one of our most crucial pieces of the puzzle on how to survive if presented with a bad situation.
"It's great to have it right at your backdoor," Queen added. "I can tell you it's always kept clean and tidy, and I've noticed improvements over the years with different targets and safety barriers over the years."
Last spring (April 2013), SCC officials felt they could wait no longer to seek funding for addressing concerns at the firing range. To determine approximate costs for necessary renovations, Southwestern contracted with engineer Victor Lofquist to prepare a report on necessary upgrades.
SCC also requested a range visit by the National Rifle Association, which subsequently issued a report indicating that the facility is "clean and neat" while also recommending upgrades.
Additionally, the Tuckaseigee Water and Sewer Authority (TWSA) requested that SCC construct a new road that bypasses TWSA's wastewater treatment plan that borders the range. The only current access to the range is a road that runs through the treatment plant, which presents a homeland security issue for TWSA officials.
Factoring in the reports by Lofquist and the NRA as well as TWSA's request and a need for more shooting lanes to make training more efficient, SCC officials secured estimates for making necessary improvements and presented those figures to Jackson County Commissioners last month.
Among the options at this time are:
-It would cost $30,000 to remove the lead but make no other improvements. 
-Depending on the quality of trap used for the backstop, it would cost between $367,815 and $725,150 to add a safety berm, make storm drainage improvements, remove all lead and divert surface water while keeping the existing roadway and the existing 10 handgun/rifle shooting lanes. 
-To add a new entrance road and make other improvements, it would cost between $1,434,636 and  $1,974,737 – depending on the quality of trap used for the backstop. The improvements in this price range would include removing all lead, combining the handgun/rifle range with the shotgun range (10 of each are currently separate), bringing the total lanes to 15 adding the safety berm, making storm drainage improvements and diverting surface water. 
College officials have now sought the expertise of the NCDENR. A regional representative of that department is expected to be in contact with Southwestern this week.
In the meantime, SCC intends to continue working with Jackson County Commissioners and other local officials to determine the best long-term strategy for ensuring that all regional law enforcement agencies have the safest and best facility possible for firearms training.