Swain County resident joins board of trustees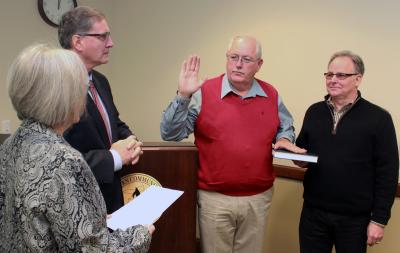 John Herrin (second from right) is sworn in as a member of Southwestern Community College's board of trustees by Ann Melton (far left), Jackson County clerk of superior court. Also pictured are Dr. Don Tomas (second from left), SCC president, and Lambert Wilson, a fellow member of SCC's board of trustees.
Longtime Swain County resident John Herrin has been sworn in as a member of Southwestern Community College's board of trustees.
Herrin was appointed by Governor Pat McCrory and replaces Kate Welch, who served on SCC's board from July 22, 1997 to June 30, 2013. Herrin's current term expires on June 30, 2017.
A project manager for NHM Constructors, LLC, Herrin has worked in the construction industry since 1979. He's built and designed projects in excess of $40 million across the state and in South Carolina.
"My wife (Pat Herrin) and I over time have come to realize that you've got to give back," said Herrin, a 1979 graduate of Swain High. "There are people in this world who take. There are people who sit on the sidelines. And there are people who get involved. … I've done volunteer work over the years and served on several boards because I want to give back to the community. I don't look to go through this world with a billion dollars. I don't look to have anything other than peace, happiness and knowledge that I might've helped someone."
The Herrins have been married for 24 years and are licensed as foster parents through Jackson County.
They have five children: Justin Fisher (30), Sarah McBride (30), John Herrin, Jr. (29), Robert Herrin (29) and Isaac Herrin (17).
John Herrin, Sr., also serves as a member of the board of trustees for Cornerstone Wesleyan Church in Bryson City. He's also served on various other boards in Swain County.
"We are honored that Mr. Herrin has accepted this appointment," said Dr. Don Tomas, SCC president. "He's given so much to our service area over the years, and he brings a valuable perspective to our board of trustees."